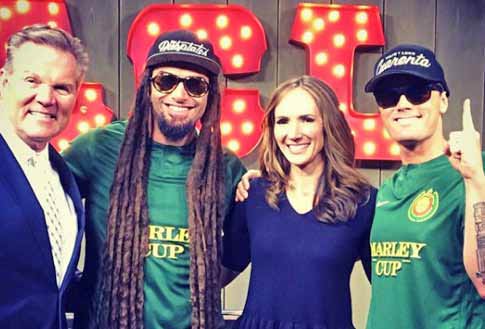 Because so many people move to Charleston from other places around the country and across the world, it's often difficult to find a born and bred native of the Holy City. The good news is that one local has not only stuck around but is also doing incredible things in local communities. Dave Brisacher – also known as Big Hair Dave, for obvious reasons – grew up on 41st Avenue in Isle of Palms with his dad, who taught at Laing Middle School for 30 years, and his mom, a newscaster for both Channel 5 and Channel 4.
From the Beginning
Brisacher's childhood was like any IOP kid's growing up in the 80s: lots of surf, sun – oh, and a little thing called Hurricane Hugo.
"We had a two-story house during Hugo, and the entire first floor was covered with water and pluff mud. We had no electricity for at least three weeks, and we had to get food and supplies from the Salvation Army. It was obviously a very serious situation, but, as a kid, it was actually kind of an adventure," he remembered.
As he got older, Brisacher started working various jobs around Charleston. A black belt himself, he worked with his dad to help teach tae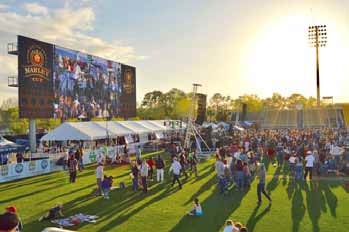 kwon do to kids at their after-school programs, followed by stints as a carriage tour driver, an extra hand at a boat dock and, ultimately, the place that would make the largest impact in his life: Jack's Cosmic Dogs.
"I met my wife working at Jack's. I threw her a free hot dog, and, 16 years later, we're still together."
But the Wando High School student class president and Mr. Wando winner got even more from that time in his life.
"We would have huge woods parties with pickup trucks and tons of music, and, honestly, it's where I really got into marketing. Eventually, the parties would draw in 400 to 500 high school kids, and we saw what was possible with a little hard work," he said.
As Big Hair Dave got older, his taste in music evolved as well, gravitating more toward the sounds of Rasta and hip-hop – and the cultures behind the music. In 2002, Dub Island Sound System was formed, inspired by Jamaican hip-hop.
"It was essentially DJs and emcees performing over instrumentals with whoever had the biggest stack of speakers in town. We opened for Damian Marley, played at South by Southwest and had our own regular show at Barrier Island Bar that brought in anywhere from 500 to 1,000 people," Brisacher pointed out.
Branching Out
After studying audio engineering, Brisacher got the opportunity to be a production design associate for one of the largest production companies in Charleston, which gave him a solid foundation in all aspects of running major events.
With a newfound appreciation and understanding for the behind-the-scenes action, Brisacher started Big Hair Productions in 2008, coinciding with the introduction of The Dubplates, a high-energy, fully instrumental band delivering the whole package for those looking to book with Big Hair Productions. Events such as the Skinful Halloween house parties originally started at Dr. Brian King's house eventually grew into festivals with Flava Flav, Mix Master Mike and more for crowds of over 5,000 people. The crazy costume party eventually ended in 2014, after 13 years of Halloween mayhem. In 2017, The Dubplates released their first full-length studio album, "Box Full of Steel," which hit No. 1 on Billboard's Reggae charts.
Happening Now
A devoted husband and father, Brisacher still somehow has time to put on major events such as The Marley Cup, held March 31 at MUSC Health Stadium. After making fast friends with Ky-Mani Marley, son of the late Bob Marley, at an event in the Outer Banks, Brisacher learned about the soccer team the Reggae legend's son had recently purchased in his hometown of Falmouth, Jamaica.
"I had the idea to combine a music festival with a soccer game, pitched the idea to Eric Bowman and Andre Bell of the Charleston Battery, and, with my partner Brady Waggoner, The Marley Cup brand was born. After Thanksgiving, we went down to Jamaica to meet Ky-Mani and his team, Falmouth United, and from there the rest is history," he said.
On March 31, I joined hundreds to celebrate a unique Charleston-area happening. With an exciting game between Falmouth United and a special Charleston All- Star team, great vendors and live music from Mix Master Mike of the Beastie Boys, King Yellowman, The Dubplates – and of course, Ky-Mani Marley – I can personally say this was truly a gift back to the Charleston community.
By Krysta Chapman