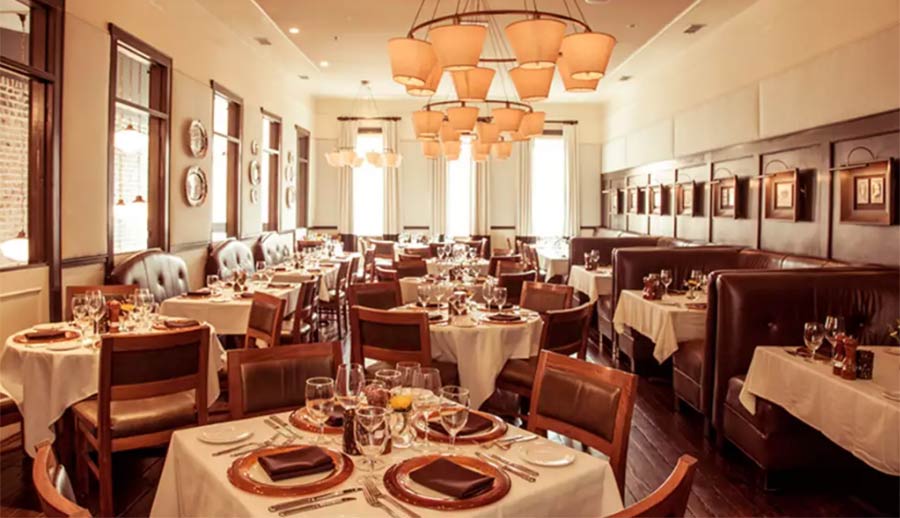 Halls Chophouse: It's pretty much a household name here in the Lowcountry. Even those planning their visits from out of town long for that special meal with loved ones in this family-style steakhouse located on King Street. How does Halls do it? What makes Halls different from other Lowcountry restaurants? They obviously have a recipe for success – our readers agreed that Halls Chophouse is the Best Downtown Charleston Restaurant.
"I think what sets Halls apart is our hospitality," stated Tommy Hall, a truth anyone who has been to Halls can attest to.
Most of us do love getting a good handwritten thank you note in the mail these days.
We can all agree the food is phenomenal, but the dining is an experience in itself, with multiple servers attending to each table: "There's three or four people serving the side dishes out by the table French style. … The quality of service at Halls really sets us apart," Hall explained.
Passion for the business runs in the Halls family and has for years, with Jeanne and Bill Hall Sr. setting the standard by being the backbone of their restaurant, doing everything from shaking hands to washing dishes.
"Halls on King Street Charleston is our baby – we are there. … Family is still there every night even though we have (several) other restaurants," stated Hall.
So whether you're looking for a Sunday Gospel Brunch with family or an intimate date night with your partner, complete with the finest steak and wine, Halls Chophouse fits the bill for any occasion – with a personal touch.
Visit www.hallschophouse.com for more information or call 843-727-0090.
By Helen Harris