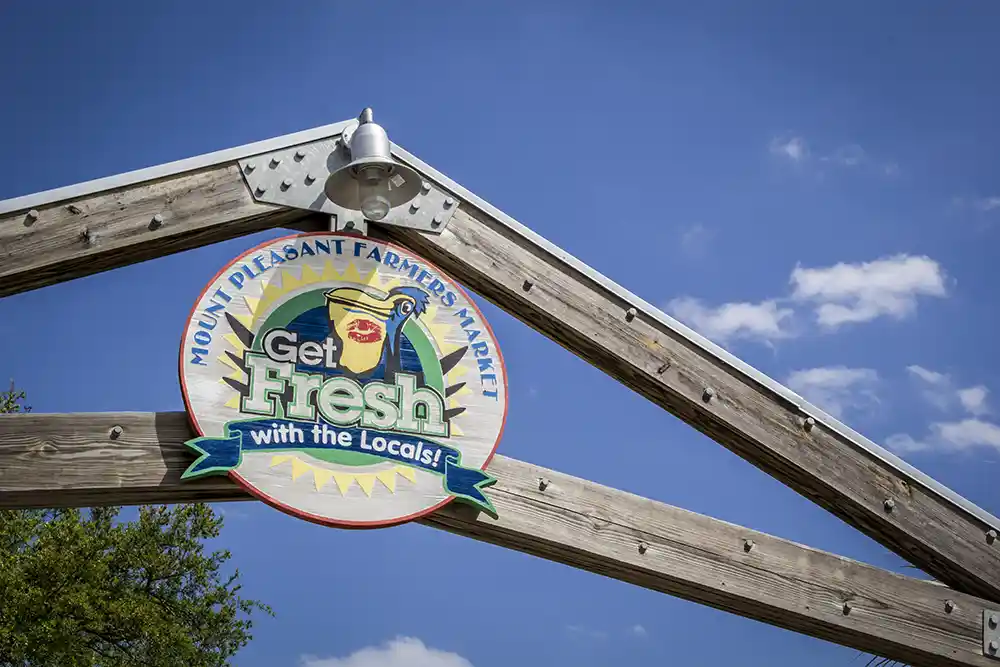 The Mount Pleasant Farmers Market is a treasured community event that has been a cornerstone of Mount Pleasant living since its first gathering in August 1998.
In those days, long before the market pavilion was constructed, farmers would set up tents on the Moultrie Middle School lawn. Hosted every Tuesday until the end of October, it offered locally grown produce from eight farms, sweetgrass baskets, fresh flowers, baked goods and peanuts. Mount Pleasant was led by then Mayor Cheryll Woods-Flowers, who also happened to be one of the first female mayors in the East Cooper area.
The tremendous growth the Mount Pleasant Farmers Market has experienced over the years has earned it recognition as one of the state's best examples of how farmers markets can serve the community well. Tracy Richter, events coordinator for the Mount Pleasant Recreation Department, has managed the market for 13 years.
"Something that makes us unique is that we are a traditional farmers market offering food only, aside from our annual Holiday Market & Craft Show," Richter said.
Nicole Harvey, MPRD Community Affairs & Marketing Division chief, appreciates that when vendors leave the farmers market, it is often because they have found great success. "Charleston Gourmet Burger Co. had a delicious burger seasoning that they introduced to the community by selling their signature burgers at farmers markets and other local events," Harvey recalled. "They were actually featured on the Food Network, and now you can buy their sauce in grocery stores! It's really cool to see these businesses grow their legs at the farmers market and go on to become super successful."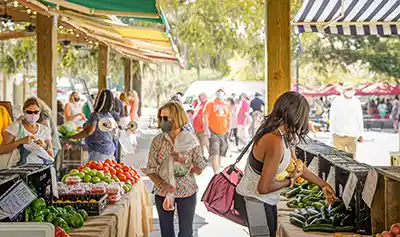 The Mount Pleasant Farmers Market has found a delicate balance between supporting local businesses and remaining committed to not becoming overly commercialized.
"Non-food companies frequently request booths," explained Harvey. "It's a good marketing opportunity, but we reserve the space we have for local food products so people can just enjoy community time and talk with the farmers and producers."
Preserving the tight-knit community feel of the farmers market is something that Mayor Will Haynie embraces, hosting regular Mayor at the Market outreach events where residents can ask questions and share ideas. "Mayor Haynie has been a huge supporter," said Richter. "He is always at the market. He loves connecting with farmers and local business owners."
When COVID-19 made coming together as a community nearly impossible, the Mount Pleasant Farmers Market was one of the first events to resume, with a carefully executed plan that included increased precautions and social distancing.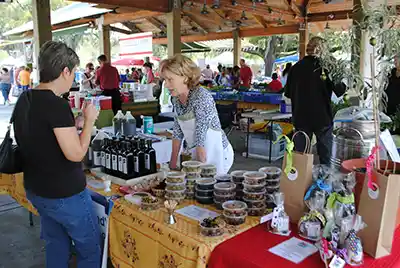 "As difficult as that time period was for people, the community was so grateful that we could keep this tradition alive in some form," Harvey reflected.
While the farmers market has evolved over time, Harvey wants to protect what it has become and keep it from growing too big and losing its charm.
"People appreciate how it feels like an old small-town market, with the beautiful oaks and a nice breeze off the harbor down the road," Harvey explained.
With a steady stream of visitors on market days joined by enthusiastic Moultrie Middle Schoolers stopping by for a cookie or a bag of kettle corn on their way home from school, where you can shake hands with the mayor and have a conversation with the farmer who grew your groceries, the Mount Pleasant Farmers Market is truly a special event.
Come visit the Mount Pleasant Farmers Market on Tuesdays April through September from 3:30-7 p.m. Learn more by visiting experiencemountpleasant.com/mount-pleasant-farmers-market.
By Heather Rose Artushin