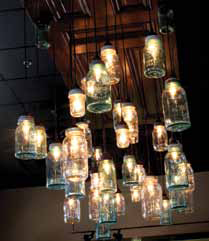 Heirloom eats, a newcomer to Mount Pleasant, engages guests in the simple pleasures of family, friends and nourishing meals prepared from scratch with local ingredients. Owner Jerry Crites and daughter Casey Crites have created an inviting vibe with both the food and the atmosphere. The restaurant is open for lunch and dinner and also offers fullservice catering and delivery.
One of Heirloom's popular recipes is seared fresh Mahi over roasted local corn, spinach and creamy Carolina gold rice, topped off with a spicy carrot and almond jam. The rest of the menu offers a wide range of tasty options, from braised short ribs to smoked and fried chicken. The "Jacked- Up Mac,"
Heirloom's version of a classic, is a savory blend of four cheeses, house-smoked bacon, charred onions and an herbal crust. Heirloom's executive chef, Kalen Fortuna, honed his skills in several local kitchens, including the Peninsula Grill and Grill 225 in Charleston and Crave in Mount Pleasant. A subtle Caribbean influence crept into his Southern style of cooking thanks to his time at Little Palm Island in the Florida Keys.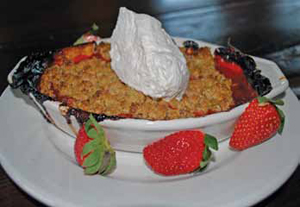 Crites and Fortuna strive to use as much homegrown produce and locally caught seafood as possible in Heirloom's dishes. In fact, Peace Haven Farms in Kingstree grows vegetables specifically for the restaurant. Try menu items such as the Farmhouse Salad, with its blend of local leafy greens, juicy tomatoes and cucumbers, plus a poached egg, and you can tell that produce is taken seriously at Heirloom.
On occasion, Chef Fortuna can be found in the dining area, interacting with customers and sometimes offering them a taste of something he dreamed up in the kitchen.
"I give them the opportunity to sample a new dish we're thinking of putting on our menu, and that way guests are involved in the creative process," he explained.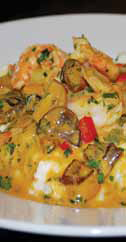 Yet Heirloom is more than creatively prepared Southern food. Customers are treated more like family than like visitors dropping by for a meal. The décor helps bolster the mood of community, with Casey Crites' knack for incorporating turnof- the-20th-century accents with a cozy atmosphere. On the walls are family photos of Crites' own relatives, as well as repurposed iron and wood pieces from the late 1800s and early 1900s. A door that once graced the Wentworth Mansion looks down on the room from above, supporting a chandelier of mason jars, many of them antiques.
Casey Crites pointed out that it's important to treat your customers like close friends: "It makes it all worth it when someone says they thoroughly enjoyed their meal and time with us," she said. "We want them to leave satisfied, not just with the food but with the whole experience."
Heirloom Eats is open for lunch Tuesday through Friday from 11 a.m. to 3 p.m., dinner Tuesday through Sunday from 4 p.m. until closing time and brunch Saturday and Sunday from 10 a.m. to 3 p.m. To find out more, visit www.heirloomeats.com or call (843) 284-8921.