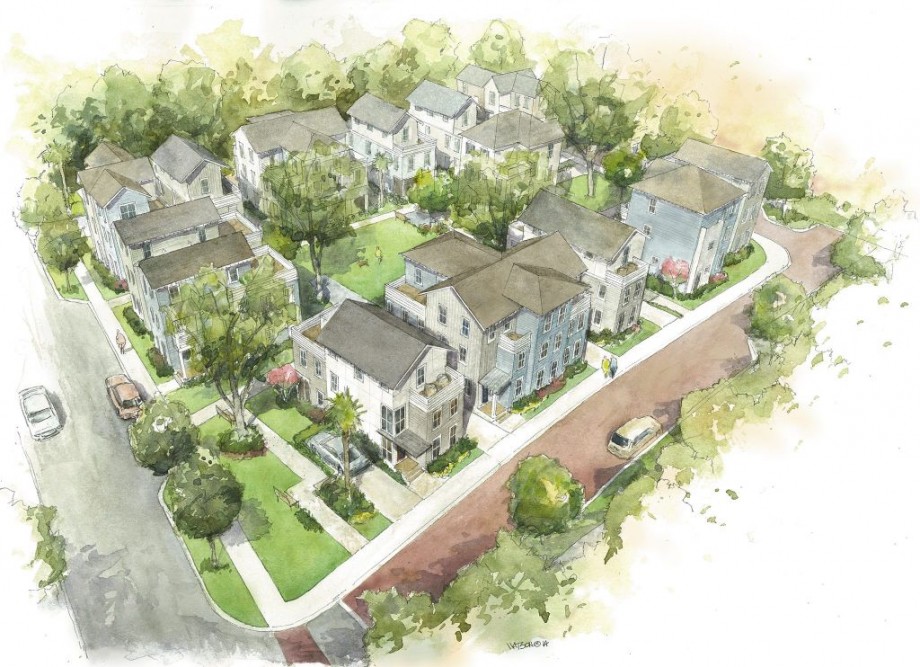 Let's say that you love being around people. You crave the bustle of city life with its proximity to businesses, shopping and restaurants. Yet during down time, you love nothing more than curling up on a patch of grass beneath a tree or tending the herbs and flowers in your garden.
In the past, many people had to make the tough choice between life in the heart of a city and life in its outskirts. The suburbs offered space for a larger home with all the luxury a family wanted plus inviting trees and landscape, but it wasn't necessarily close to a business district. Now we can have both, thanks to the vision of Fredda Culbreth, a boutique developer with a heartfelt story.
Culbreth spent her early years at her father's side working in their family garden. Her dad told her that a house is not about status – it's a home and living among nature is essential for well-being. Culbreth took those words to heart and grew up wanting to share that philosophy with others in the form of what is known as a "pocket neighborhood," a term coined by Ross Chapin, architect and creator of this traditional setting. He described it as "cottages tucked off of a busy street, like a pocket safely tucking away its possessions from the world outside."
Today, that busy street is in the heart of our beloved Mount Pleasant, and that pocket is called Village Park.
"It has taken me six years to develop Village Park," she said and pointed out that convincing the town, designing the land and working with numerous talented people were important parts of the process.
How will Village Park be distinct from other neighborhoods? For one thing, each home backs up to lush green space, brimming with trees, flowers and other natural elements. Culbreth stressed that this is one of the hallmarks of her design – part of the vision she brought to life.
"I dreamed of green space where each home would face a park," she explained. "There would be a community table awaiting impromptu invitations for supper and a corner for a fire pit for sipping warm libations in winter."
As exclusive as that sounds – and it is – residents of Village Park will also love how close it is to other businesses in Mount Pleasant, including grocery stores, pharmacies, independent retailers and the restaurants that put the Lowcountry on the map.
"That's what we mean by an urban setting," she said. "You can walk to meet friends for a drink and you won't need a car."
Located right off of Chuck Dawley Boulevard and behind the Sea Island Shopping Center near Sullivan's Island, Village Park is close to what is quickly becoming "downtown" Mount Pleasant – and Culbreth planned it that way.
"Ben Sawyer and Coleman used to be just a thoroughfare to the beach, but now they are becoming Mount Pleasant's main streets and business district," she pointed out. "This is a transitional street and a good place to put a pocket neighborhood. We're showing people its potential."
Sixteen homes will face the park in Village Park, each being three stories tall and with the special touches that Lowcountry residents typically seek, including large windows with ample natural light and multiple porches. The homes are affordable, starting in the $500s.
Meanwhile, what's next for Fredda Culbreth? She claimed "her light burns bright into the night," and she's always seeking ideas about how to transition an old setting into new possibilities. In downtown Charleston, for example, one historic building on Archdale Street – right off King – is awaiting upscale pied-a-terres.
"My intent has always been well-planned living spaces, with greenery and natural light, within an urban community," she said.
For more information, contact Edmund Major and Flyway Realty at 1630 Meeting St., Building 1, Suite 302, Charleston, South Carolina, or call 843-853-5557.
By Denise K. James.
Photo provided.