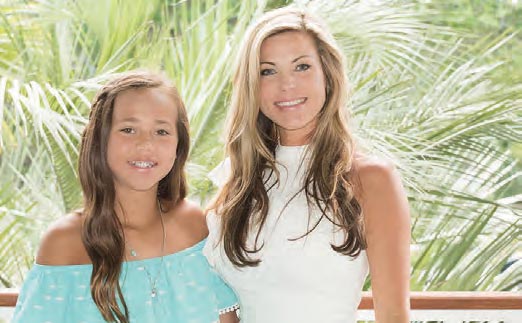 Who doesn't love a healthy dose of interior design? From a simple wall hanging to a fresh coat of paint – and, of course, the perfect accent piece in the corner of your favorite room – it's the decorative touches throughout a home that truly allow your personality to shine through while creating a welcoming environment for friends and family to enjoy for years to come.
For those of us who don't have the gift of design ourselves, we turn to the true creative minds to bring our visions and style to life, and no one understands how to do this better than Angie Balderson.
With over 20 years of interior design experience, coupled with her furniture staging background as a Realtor, Angie decided to turn her knowledge and passion into a second business, opening Consign Haven in 2016. Named after her 13-year-old daughter, Haven, this Mount Pleasant consignment furniture store has a little something for everyone, no matter the style: modern, retro, contemporary, chic vintage, re-purposed or recycled home furnishings. Thanks to Angie's connections from her hometown of High Point, North Carolina – also known as the Furniture Capital of the World – where she previously decorated model homes and put together furniture showrooms for magazine shots, Consign Haven, now Haven's Furniture & Home Decor, is able to proudly offer new pieces in addition to their trendy and updated consigned furniture.
Adding to Angie's list of talents and passions is refinishing gorgeous pieces of furniture. While clients love the refurbished items mixed throughout the newer and consigned pieces, an added bonus is the specialty Fusion Mineral paint that she uses that requires little prep work, no finishing coats or ongoing maintenance. For clients who catch the DIY bug themselves, they can visit one of the frequent classes held at Consign Haven, where Angie teaches everything from wood graining to distressing. Have a small piece you want to work on? Feel free to bring that in during one of the classes to get Angie's insider tips on the best methods to truly take the piece from worn down to wow!
While the store has been open only for roughly a year, locals are already hailing it as the cream of the crop for furniture options along the Carolina coast. In fact, Consign Haven won not one award but two – taking honors among Mount Pleasant Magazine readers for best consignment furniture and best furniture store.
It's easy to see why fans can't stop raving about the beautiful pieces, accessories, lamps and other home furnishings that are continuously rolling in, bringing new pieces to the showrooms daily for the person looking for that "perfect something." As a Lowcountry resident for almost 10 years, Angie takes pride in providing Southern hospitality for every client she meets, offering nothing short of exceptional customer service while using her experience to get top dollar for her clients for their consigned pieces that come through her store.
Consign Haven may have been created to fill a need in the market initially, but there's no denying that it's quickly grown to be a must-stop shopping destination for homeowners, interior designers and, of course, a bevy of Realtors also interested in staging their clients' houses to bring home the sale.
To learn more, visit HavensFurniture.com.