Kimberly Powell is looking forward to 2018 and is excited about expanding her businesses in Charleston. Approaching the third anniversary of her Woodhouse Day Spa in Mount Pleasant, Kimberly isn't showing signs of slowing down. She spent the better half of 2017 in negotiations for her second Woodhouse Day Spa, which will open downtown in late 2018.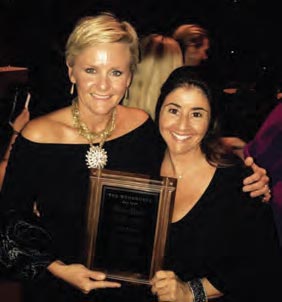 "I feel the timing is perfect to offer a downtown location to serve our guests in West Ashley, James Island, Charleston and beyond," she said. "I'm excited to share more details about it soon."
Another reason for her optimism was the two honors her spa earned recently. She was cited for having the top Woodhouse Spa in the company, and the readers of Mount Pleasant Magazine chose Woodhouse as the best spa in East Cooper.
It's also the second year for Charleston Women's Wellness Weekend, which will be held at the Cottages on Charleston Harbor the last weekend in January. The all-inclusive seaside retreat for 18 women was born out of Kimberly's desire to provide busy women with a chance to reflect, refocus and recharge their batteries. Guests are treated to gourmet dining, spa services, yoga, meditation, fireside serenades, wellness activities and celebrity speakers to help set intentions for the year.
"The first year was such a success that we sold out by June for the 2018 weekend. I'm excited to see what the future holds for this event in the coming years," she noted.
A lifelong entrepreneur, Kimberly is interested in continuing to learn and expand on product development. Her candle line, 1670 Charlestowne, is set to release two new scents and all-new packaging and design later this spring. In addition to the existing Sweetgrass and A Charleston Wedding scents, Holy City and South Of Broad will round out the collection.
"This continues to be our 'love letter to the Lowcountry' and a passion project for my business partner, Cara Florence, and myself," she said.
Candles are available at Woodhouse Day Spa or online at 1670charlestowne.com, and a portion of the proceeds from the Sweetgrass scent will benefit the International African-American Museum. Kimberly has spent much of her life volunteering for charitable organizations, and the Woodhouse Day Spa has a 100-percent yes policy when donating and supporting local charities.
"I moved here to be part of this community and support local organizations. We love this community and are grateful to the wonderful guests who share their lives with us," she said.
Outside of the spa business, Kimberly and her husband, Keith, own and operate Summit Industrial Flooring, a commercial/industrial concrete flooring company. Headquartered in Dayton, Ohio, the company has a second location in North Charleston and is approaching 30 years in business. The Powells are proud and excited to work locally for Volvo, Mercedes and Boeing.
"South Carolina continues to make strong economic decisions, and we are honored to continue expanding our business and sharing our expertise in this market," she pointed out.
The Powells have three sons, Buckley, Bowen and Christian, all who have chosen the College of Charleston for their education.
"We all love this city and all that it has to offer. The boys recognize how much opportunity is here and appreciate the quality of education and inspiration that lies all around them," she concluded.
To learn more, visit https://charleston.woodhousespas.com.
MORE WOODHOUSE DAY SPA