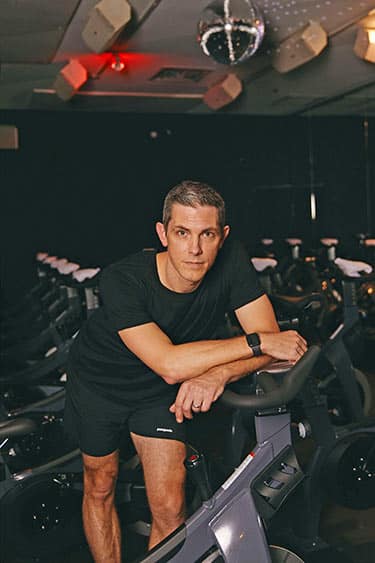 Brandon D'Agostino was a member of SOCiETY, formerly MethodRide, for two years before taking his biggest stride yet: buying the business. Having been named the best cycle studio in Charleston several years in a row, including 2022, D'Agostino was thrilled to take the MethodRide legacy to the next level under a new name.
"Our team and community are second to none," said D'Agostino. "I wanted to preserve that for Mount Pleasant and hopefully bring it to other cities in the future."
D'Agostino initially discovered rhythm-based cycling by accident. A friend turned him onto it after buying a Peloton, a popular subscription-based stationary bike that is designed to bring the cycling studio home. D'Agostino wanted to try a live class before investing in a bike, and now, he's glad he did. That small decision turned into fate.
By trying an in-studio class, D'Agostino discovered the unique magic that happens inside a cycling studio, in the dark, when working alongside a team that tends to grow into a bona fide community.
"I have a musical background," explained D'Agostino, "so riding to the beat of amazing playlists is what attracted me to becoming an instructor. Our coaches put a lot of thought into their playlists, curating an experience for every ride— it might make you laugh or even cry. It gets deep in there sometimes," he said, only half kidding.
While many online and app-based workout subscriptions aim to create interactive and community-based experiences, nothing can replace the face-to-face, side-by-side energy of a group of riders working toward similar goals. D'Agostino chose the name SOCiETY because he believes that the studio exists for the community.
"Even the logo and how we spell it is significant," he stated. "The I in SOCiETY is lowercase on purpose—it represents our members, who are at the center of everything we do."
D'Agostino wants members to remain individuals and to be true to themselves while growing alongside the community they have so fervently built as parts of a unit.
He and his team are in the process of expanding their current location. They have leased additional space to provide functional strength training classes this fall. The innovative classes will be high-energy, athlete-style training which will sculpt the body while providing functional benefits that promote longevity and energy. They have also started offering childcare during many of their classes, which the kids love. D'Agostino loves seeing the kids get excited to visit the studio alongside mom and dad.
Looking ahead to next year and beyond, D'Agostino would like to expand to several locations in South Carolina and around the Southeast. There are many places where he believes SOCiETY would thrive in offering indoor cycling, strength training, childcare and the luxury boutique experience. Most of all, there are many places he can see building community through the love of the sport.
For more information, please visit SocietyCHS.com, or call 843-867-3339.
By Isabel Alvarez Arata