One fine afternoon a few months back, local designer Megan Hewitt received a phone call from a sales representative at her children's apparel company, Shrimp and Grits Kids. She was amazed at the good news that her rep – an ardent fan of AMC's television show "Mad Men" – had spotted Megan's clothing designs in a recent episode. Though Megan was not a regular viewer of the show at the time, she knew enough to be excited – and to promptly tune in and "binge watch" the entire series. Today, post-series-finale, Megan not only appreciates "Mad Men" but revels in the fact that her homegrown designs found a national audience."I'm obsessed with the show now," she admitted. "I love the aesthetic."
The classic look that Shrimp and Grits Kids is known for caught the eye of "Mad Men" costume designer Janie Bryant as early as season two. Megan suspects that Janie and her team likely performed a simple Google search for "traditional boys' smocked outfits" or something similar and stumbled upon her website. Baby Gene, Don and Betty's love child from the end of season three, ended up wearing several of the Shrimp and Grits Kids outfits – five total throughout the show.
"It's interesting," mused Lauren Fairbanks of Stunt & Gimmick's, the advertising firm that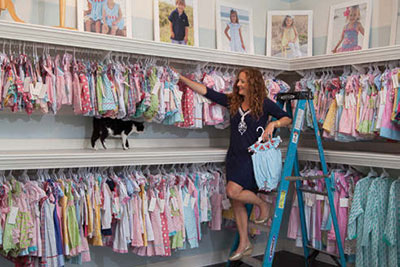 represents Shrimp and Grits Kids. "The folks at 'Mad Men's' costume design had been using Shrimp and Grits Kids since 2010, a time when the company was only 3 years old, and the show was fairly new as well."
Megan started Shrimp and Grits Kids after leaving her job as an art teacher when her daughter, 10-year-old Ella, was just a year old. Fast forward to the present, and Shrimp and Grits Kids has found a wider fan base – the storefront and warehouse located in the Watermark community of Mount Pleasant are testaments to that.
Megan grew up on Sullivan's Island and attended Sullivan's Island Elementary School. She enjoys owning a business that is family-owned and operated with the help of her husband, Pitts, and brother, Mike. Favorite designs that honor the Southern aesthetic have included Carolina blue crabs, Edisto alligators, the Morris Island Lighthouse and the Charleston pineapple.
"I've always incorporated a lot of Lowcountry scenes into my designs," she explained. "I love the traditional look." "When Megan and Janie finally talked, they agreed the Shrimp and Grits Kids designs were a great fit for 'Mad Men,'" Lauren pointed out.
Both ladies mentioned that they've noticed more traditional, rather than trendy, styles resurfacing for children.
"It's kids dressing like kids," Lauren said. "And it's classic – the equivalent of a little black dress on a woman."
Though the show is over now (sniff), Lauren and Megan agreed that it's great to get Charleston on the national style map – and with an Emmy award-winning show at that.
"I love period pieces," Megan commented, citing other television shows such as "The Goldbergs." "Being a clothing designer, I enjoy creative costuming."
"It's great to see a local clothing company getting that kind of exposure on the national level," Lauren added.

By Denise K. James
Photos by Cassandra Michelle Photography