Welcome to our 6th BEST OF Mount Pleasant results for 2018! In the last six years, 226,300 votes have been cast for the Best of Mount Pleasant, and we could not be more excited.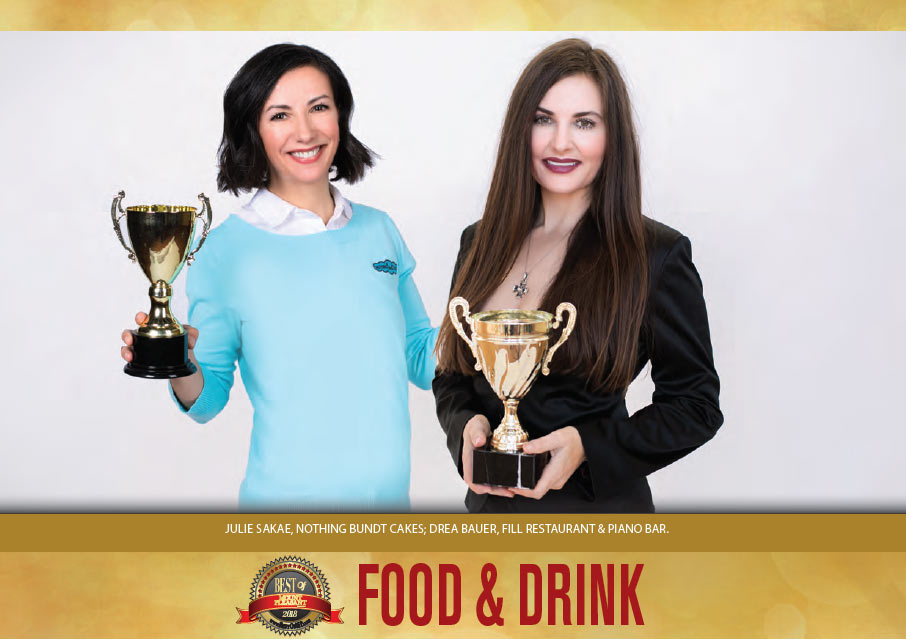 Best Asian
When Photographer Jenn Cady and I get together for a brainstorm session over a shrimp spring roll or some coconut chicken soup, Basil hits the spot for all that and then some. Of course, we try to get there early, since our readers are already there for dinner, too.
Second – P.F. Chang's
Third – The New Asian Flavor
Best Bakery
Growing up, my grandmother wasn't one to keep junk food in the house, but there was always cake – usually a yummy pound cake or chocolate cake that she made herself. Times have changed since the '80s, but craving sweets hasn't. That's why our readers suggest Kudzu for the busy person in search of baked goods.
Second – Sweet Southern Bella's Bakery
Third – Cupcake DownSouth
Best Bar
Drinking is practically an acceptable hobby in Charleston – particularly at Red's Icehouse, where the gorgeous weather and scenery and all your friends hanging out, including our readers, will convince you that you don't need another hobby.
Second – Charleston Sports Pub
Third – Locals
Best Barbecue
There's recently been a barbecue restaurant explosion in Charleston and beyond – we can hardly get the sauce from under our nails. But for reliable, delicious grub that keeps our readers coming back, Home Team BBQ on Sullivan's will make you hog wild.
Second – Melvin's Barbecue
Third – Jim 'N Nick's
Best Breakfast
In a community that loves a great breakfast spot, winning best breakfast is no easy feat. Yet, time and time again, people fill up the seats as early as can be for one of the signature breakfast dishes at Page's Okra Grill. Anyone care to wake up to the Redneck Benedict or good ol' fashioned country fried steak and eggs?
Second – Eggs Up Grill
Third – Charleston's Cafe
Best Brunch
There's nothing trendier than casually rolling into your favorite brunch place in town ready for a delicious serving of crab cakes and eggs – with a bloody mary, of course. Whether you're brunching with the family or recovering from a long night out, one stop at Page's Okra Grill and you'll agree – they're the best brunch winners for a reason.
Second – Crave
Third – Red Drum
Best Budget-Friendly Meal
It's not about who takes the cake in this case, but who makes it – and we're talking about the coconut cake to be exact. Add it to the list of shrimp 'n' grits, biscuits and other Lowcountry favorites you'd expect to pay an arm and a leg for elsewhere, it's no wonder Page's Okra Grill won (again) for best budgetfriendly meal.
Second – Chick-fil-A
Third – Cook Out
Best Burger
What's more American that a truly tasty, juicy burger? Sure, vegetarians may be shaking their heads, but everyone else is perfectly fine salivating over the deliciousness that is Sesame Burgers & Beer, winner in the best burger category. But have no fear, fierce veg heads – they also serve up a mouthwatering black bean burger, in addition to chicken, turkey and even elk!
Second – Coleman Public House
Third – Five Guys
Best Caterer
Who's ready to get mellow? We know we are, and, with their title of best caterer, you don't even have to leave the company meeting or family gathering to enjoy some of your favorite Mellow Mushroom pizzas, salads and appetizers.
Second – Dish & Design/The Shelter Kitchen + Bar
Third – Charleston Bay Gourmet/Coastal Crust
Best Cocktail
Seems like SOL really knows the key to our hearts, making the hands-down best margaritas, sangria and mojitos around. Voted the title of best cocktail by the readers of Mount Pleasant Magazine, SOL uses the freshest ingredients to make drinks that pack a punch. Happy hour anyone?
Second – The Shelter Kitchen + Bar
Third – NICO Oysters & Seafood
Best Coffee
Grabbing a hot cup of java early in the morning (or let's be honest, midday, too) is not only preferable but necessary for most of us trying to be productive human beings. Where do Mount Pleasant Magazine readers get their caffeine fix? Starbucks, of course, voting them best coffee in the area to get their mocha on.
Second – Vintage Coffee Cafe
Third – Collective
Best Craft Beer
With hilarious names such as Weisse Weisse Baby, Grumpy Old Time and The Raver, one would hope that the taste of their beers would live up to their christening creativity – and thankfully they do! Voted best craft beer in Mount Pleasant, Westbrook Brewing Co. delivers flavor in every pint of yeasty tastiness.
Second – Two Blokes Brewing
Third – Ghost Monkey Brewery
Best Deli
Freshly sliced pastrami, thinly shaved prosciutto or the classic roast beef – it doesn't matter what you get from the deli counter at Mozzo, it's bound to be the best. Voted best deli, you can channel your inner Italian as you marvel over the assortment of meats waiting to be sliced, diced and devoured.
Second – East Bay Deli
Third – Jersey Mike's
Best Dessert
If we got nothing but cake to celebrate every occasion, we'd chalk that up to a great time – and Mount Pleasant locals agree, naming Nothing Bundt Cakes as the best dessert for every birthday, shower or party. There's nothing boring or cookie cutter about these bundt cakes, so make sure you have enough to go around.
Second – Cupcake DownSouth
Third – NICO Oysters & Seafood
Best Food Truck
Dishing up all of your favorite cuisines in one on-the-go food truck, Roti Rolls is this year's best food truck for good reason. Maybe you love on their Shrimpin' Ain't Easy because of the succulent pickled shrimp – or maybe you have a hankerin' for their braised short ribs, the Thurman Merman. Whatever you're in the mood for, you can catch them rolling down the street ready to make your taste buds dance.
Second – Immortal Lobster
Third – Brava Bowls/Dashi
Best French Restaurant
Bonjour to all of our French-food enthusiasts throughout Mount Pleasant who helped us cite Bistro Toulouse as the best French restaurant in town. With classics such as escargot, duck breast and ratatouille, every bite transports you to the bustling sidewalks of Paris.
Second – NICO Oysters & Seafood
Third – Saveurs du Monde
Best Fried Chicken
When it comes to chickens, some questions can never be answered. Like, why did the chicken cross the road? What came first, the chicken or the egg? Luckily, our readers answered one important question with ease – Publix has the best fried chicken, six years running.
Second – Page's Okra Grill
Third – The Kickin' Chicken
Best Frozen Yogurt
The movie "Frozen" was one of Disney's best-loved of all time – but even that flick doesn't compare to the frozen yogurt at TCBY. The toppings and flavors are so amazing, our readers can't "let it go."
Second – Publix
Third – Island Ice
Best Grocery Store
I'm the kind of person who shops for meals as they happen, rather than a week's worth of food on Sunday. Since I'm at Harris Teeter every morning, I can vouch for how the staff there is always helpful and friendly. Our readers agree.
Second – Publix
Third – Aldi
Best Happy Hour
Not every day can be a happy one – as my father says, some days are diamonds and some are stones. For the days when rocks are hitting the windshield, head to Pier 41 with our readers for a jolt of joy. But drink responsibly or tomorrow will suck, too.
Second – Tavern & Table
Third – Water's Edge
Best Hot Dog
It's my theory that Anthony Weiner would have a lot more friends if he had texted pictures of hot dogs instead of his you-know-what. And according to our readers, the dogs at Jack's Cosmic Dogs are worth posting on social media.
Second – Skoogie's
Third – Johnnie's
Best Ice Cream
Ice cream sundaes, banana splits, milkshakes – whatever form you scream for, it's at Ye Ole Fashioned when that craving hits. Our readers say it's the cherry on top of Mount Pleasant – if Mount Pleasant were actually a mountain.
Second – Marble Slab Creamery
Third – Baskin Robbins
Best Italian
When you crave something Italian that's a little more upscale than spaghettiOs, head to La Pizzeria for a meal along with our readers. Their menu will have you saying "that's amore" – and their desserts will leave you speechless.
Second – Bricco Bracco
Third – Amalfi's
Best Kid Friendly Restaurant
There's always a line out the parking lot to get Chick-fil-A during weekday lunchtime. So even though the place was voted best kid-friendly restaurant by our readers, I think the adults like it, too.
Second – Steel City Pizza
Third – Moe's
Best Mac 'N' Cheese
It's funny – noodles and cheese are two of the most versatile foods around – but they make the most sense when they're together. And when they're together at Crave, the results are downright award-winning. Just ask our readers.
Second – Graze
Third – Page's Okra Grill
Best Mexican
It's no secret that beans are good for your heart. So if your heart is feeling broken lately, head to Guadalajara Bar & Grill for some tastiness, along with our readers, who say that dinner there is a real gas.
Second – SOL
Third – Mex 1 Cantina
Best New Restaurant
People like to joke that couples constantly ask, "What's for dinner?" to the response, "I don't care." Well, next time surprise and impress your significant other by suggesting Wood & Grain, the best new restaurant, according to our readers, who all understand how to solve dilemmas.
Second – NICO Oysters & Seafood
Third – Grace & Grit
Best Pizza
People love to talk about their differences these days, rather than their similarities, like loving pizza. And if you're similar to our readers, then you know Mellow Mushroom is a great place to meet friends and feel unified.
Second – Wood & Grain
Third – Andolini's
Best Place to Dine Outdoors
There's something inherently whimsical about a picnic – the checkered cloths, perhaps, or the draping trees over your head as you spread mayo on your sandwich. For that same feeling AND the bonus of someone else making the food, head to Rusty Rudder. Our readers say it's a breath of fresh air.
Second – Tavern & Table
Third – Vickery's
Best Place to Take an Out-of-Town Guest
Things can get awkward with your family visiting. But chances are, they won't stay awkward if you take the crowd to Tavern & Table. One meal there and, according to our readers, you might just ask them to stay a little longer. Just kidding.
Second – Shem Creek Bar & Grill
Third – Red's Icehouse
Best Raw Bar
Part of the appeal of living by the ocean is seafood is so insanely fresh, you don't need to cook it. But don't just grab something out of the ocean and chow down; go to Pier 41, where our readers say they hand-select the best shellfish.
Second – NICO Oysters & Seafood
Third – Wood & Grain
Best Restaurant Service
A friendly and well-informed server can brighten your whole day, and the staff at NICO Oysters & Seafood wisely understand this. According to our readers, they genuinely care about your dining experience. But they probably want a tip, too.
Second – Langdon's
Third – Page's Okra Grill
Best Ribs
The Bible says God created Eve from Adam's rib – so who knows what kind of awesomeness you'll be capable of after eating the ribs at Home Team BBQ! According to our readers, it's the best place to meditate on good food and good folklore.
Second – Sticky Fingers
Third – Melvin's Barbecue
Best Seafood
The old saying states if you teach a person to fish, they'll eat for a lifetime. But our readers think that's also true if you teach a person to dine at Pier 41. Even the lousiest fishermen and fisherwomen can have a delicious dinner there.
Second – NICO Oysters & Seafood
Third – The Wreck of Richard & Charlene/Shem Creek Bar & Grill

Best Shrimp 'n' Grits
People ask all the time about where to get shrimp 'n' grits. It's kinda like a cheesesteak in Philly or avocado toast in California – it's our iconic cuisine. And for our readers' favorite take on the classic, go to Page's Okra Grill. It's voted best year after year for a reason.
Second – Grace & Grit
Third – Acme Lowcountry Kitchen
Best Steak
Some advertising campaigns live on forever – like, "Got Milk?" or "Beef – it's what's for dinner." If you're sitting around the house and thinking about those words, there's only one thing to do, according to our readers: Schedule dinner at LongHorn Steakhouse.
Second – Langdon's
Third – Opal
Best Sushi
Sushi comes in many forms and beautiful colors. But it's not just the color and form that matters – it's the amazing, mouthwatering taste that trumps all else. That's why if you want to "roll" with our readers, you should go to Locals, where you'll enjoy the top-notch sushi in Mount Pleasant.
Second – Kanpai
Third – Fuji
Best Taco
Tacos have recently risen to their 15 minutes of fame – or maybe it'll be longer – in the American consciousness. And in the consciousness of Mount Pleasant Magazine readers, Mex 1 Cantina has the best tacos around. Meet us there and lets "taco bout it," shall we?
Second – SOL
Third – Carmen Y Juan's
Best Upscale Restaurant
When someone else is paying for dinner, eating fast food burgers and delivery pizza are simply insults to their generosity. Show the person you have taste, and insist on Langdon's, voted best for an upscale meal by our readers. Just don't answer the phone when it's your turn to treat.
Second – Opal
Third – Red Drum
Best Wings
When I was a young teenager, I listened to Casey Kasem on the radio – and cheesy ballads like "Wind Beneath My Wings" were my jam. Nowadays, the wind beneath my wings – and our readers' wings – is Wild Wing Cafe in Mount Pleasant. Without them, we'd probably remember chickens can't fly.
Second – Home Team BBQ
Third – Kickin' Chicken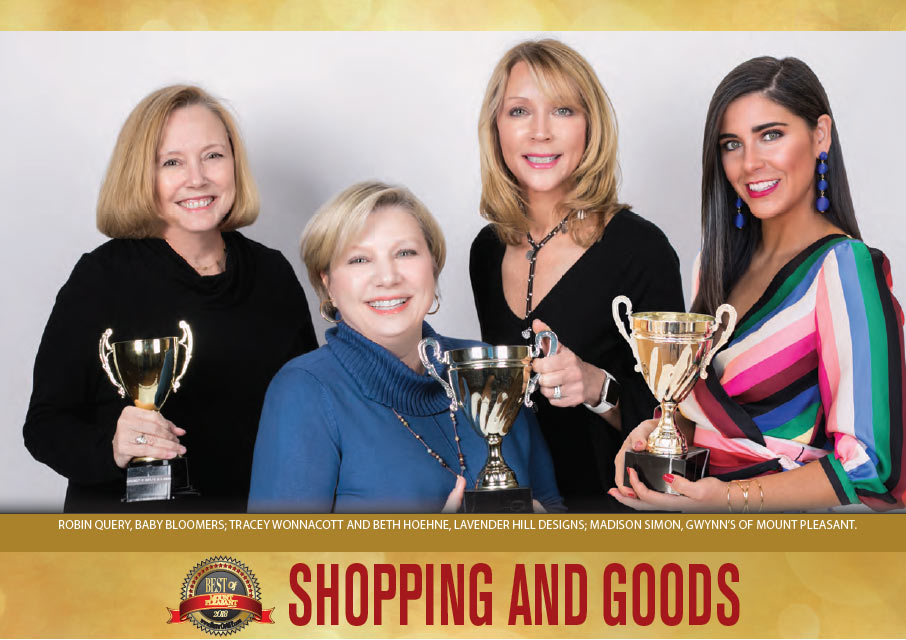 Best Antique Store
Home of one of the longest standing antique and auction stores around town, Page's Thieves Market wins again for the best antique store in East Cooper. Linda Page, former mayor of Mount Pleasant, is always on the hunt for the best treasures around to sell, appraise or auction.
Second – Mount Pleasant Antique Mall
Third – Six Mile Antiques
Best Art Gallery
Who doesn't love a little bit of local art to spruce up their home? Apparently the community agrees, naming Karen's Korner – home of paintings, sculptures, photography and more by local creatives – as the best art gallery in town. Whether you're looking for a giant oil-based painting of a crab or simply need custom framing, Karen's Korner fits the bill.
Second – Treasure Nest
Third – Charleston Artist Collective
Best Baby Goods
Nine months is a long time to wait for your tiny bundle of joy – good thing you can head to Baby Bloomers to pass the time designing the ultimate nursery from their wide variety of quality baby products and furniture. The next time you think "baby," swing by their Coleman Boulevard boutique.
Second – Target
Third – Ragamuffin Children's Boutique
Best Board Shop
Headed to the beach but forgot your wax? Have no fear, Parrot Surf and Skate has all you need to hang 10 and more. Voted Best Board Shop, Parrot does indeed have boards of all sizes, as well as apparel, wet suits and skate gear. Just remember, if the waves are completely epic, they, too, will close shop and hit the surf.
Second – Odyssey Board Shop
Third – Sealand Adventure Sports
Best Boutique
It doesn't get more chic than a quick stop at one of the many locations of Copper Penny located throughout Mount Pleasant and Charleston. Voted best boutique by the most stylish of shoppers, you're guaranteed to always leave with that little something you just had to have.
Second – II Brunettes
Third – Gywnn's
Best Bridal Store
Turning every bride's dreams of the picture-perfect wedding dress experience into reality, White on Daniel Island understands how to make every occasion leading up the big day special. As the best bridal store in the area, White takes dress shopping to a whole new level.
Second – Jean's Bridal
Third – Palmetto Bridal Boutique
Best Children's Clothing
Whether it's the must-have outfit for school photos or unique threads for the annual family card, Ragamuffin Children's Boutique – voted best children's clothing – has exactly what you seek for every occasion! School clothes, holiday wear and even a touch of Southern style – if you're looking for it, Ragamuffin has it.
Second – Gap
Third – Southern Belles
Best Cocktail/Dress Attire
There's a time to be fashionable – and then there's a time to be flawless – and if you're looking for the latter, Gwynn's of Mount Pleasant will not disappoint. Winning best cocktail/dress attire, locals have been wearing Gwynn's extravagant cocktail garb since 1967 – and looking fabulous doing it!
Second – Belk
Third – Stylexchange
Best Consignment Clothing
Take a spin around your closet and you'll probably find a large selection of "gently loved" – but never worn – clothes and accessories. Instead of letting them take up space, take them to Butterfly Consignment, which was voted best consignment clothing by the readers of Mount Pleasant Magazine. Remember: One woman's forgotten dress can be another women's go-to LDB.
Second – Uptown Cheapskate
Third – Angels & Rascals

Best Consignment Furniture
If you're looking to spruce up your living space but prefer one-of-a-kind quality pieces of furniture, Consign Haven has exactly what you need to make your living room or bedroom stylish and complete. With brand-new items coming in every day, Consign Haven buys, sells and restores furniture to truly be the statement piece of any room.
Second – Next to New
Third – Mount Pleasant Antique Mall
Best Department Store
Known as the Macy's of the South, Belk is a staple for all your retail needs. A new bedspread for the guest room, a tie for your father or shoes for the kids, it's easy to see how a trip to Belk – voted best department store in Mount Pleasant – becomes an all-day shopping event.
Second – Nordstrom Rack
Third – Gwynn's
Best Fish and Tackle Shop
With a repair shop and a shop that sells both frozen and live bait, there's officially no reason not to get your fish on any time soon, ladies and gentlemen. Voted Best Fish and Tackle Shop, Haddrell's Point on Ben Sawyer Boulevard is the stop you need to make before grabbing the cooler and heading out to cast your fishing pole next weekend.
Second – Charleston Angler
Third – Atlantic Game and Tackle
Best Florist
Yes, CC Bloom is a fictional character from the iconic 1988 film "Beaches." But it's also the name of this year's winner for best florist. With their gorgeous bouquets and bright, custom arrangements, CC Bloom is without a doubt just as bold and showstopping as the character from the movie.
Second – Belva's
Third – Harris Teeter
Best Furniture Store
No, this is NOT a repeat – Consign Haven is just THAT good. Already taking home one award for best consignment furniture, now locals have named Consign Haven as best furniture store. Looks like we all know where our next bureau or accent chair is coming from!
Second – Celadon Home
Third – GDC Home
Best Garden Center
Helping locals to start, grow and perfect their gardens throughout the Lowcountry, Abide-A-While was voted best garden center for more reasons than we can count on our two green thumbs. As a familyowned operation for six decades, Abide-A-While provides every plant, tool or piece of advice you'll need to up the ante on your curb appeal.
Second – Lowe's
Third – Royall Ace Hardware
Best Hardware Store
Whether you're looking for the tiniest of thingamajiggers or just need someone to point you in the right direction for your next do-it-yourself backyard project, Royall Ace Hardware has what you're looking for. They know a thing or two about household projects – and how to get them done right the first time, every time!
Second – Lowe's
Third – TruValue Ace Hardware
Best Home Goods
Let us count the ways we could get lost in Marshalls for hours on end! With the most adorable additions to your home, for a fraction of normal prices, it's clear why our readers chose them as the best in the home goods category. Second – Lavender Hill Designs
Third – GDC Home
Best Jewelry Store
Sure every kiss may begin with "K," but every piece of fine jewelry comes from Loy Harn Jewelers in Mount Pleasant. From engagement rings to cufflinks and everything in between, you voted and we agree – Loy Harn is the best in town!
Second – Polly's Fine Jewelry
Third – Diamonds Direct
Best Lighting Store
Who knew there were so many options to find the best lighting to enhance your space? Apparently, Carolina Lanterns did – along with everyone that voted them best lighting store in Mount Pleasant. From simple space-savers to ornate chandeliers, Carolina Lanterns literally makes your home light up and shine.
Second – Pier One Imports
Third – Candleabra
Best Liquor Store
It's called Bottles Beverage Superstore – do we need to say more? Basically an adult's version of a candy store, Bottles has the best variety of wine, beer and spirits for your next celebration. As the best liquor store in town, we all know where to go when the tequila's running low!
Second – Six Mile Wine and Spirits
Third – Palmetto 80 Liquors/Dante's Spirits
Best Menswear
There's something about a suit that makes a man stand taller, isn't there? While there may not be an occasion to get dressed to the nines every day, Belk – voted best menswear in Mount Pleasant – has just the right threads to help any man get his swag on when necessary.
Second – Men's Wearhouse
Third – Jos. A. Bank
Best Place to Buy a Boat
"Come sail away, come sail away, come sail away with me" – after you buy your brand-new or used boat at Seel's Outboard. As the best place to buy a boat, we suspect they have everything you need to officially hit the seas. Bon voyage!
Second – Palmetto Boat Sales
Third – Sea Fox Boats of Mount Pleasant
Best Place to Buy a Car
Skip the "new car smell" air freshener this year, and just opt for the real thing at Low Country Volkswagen in Mount Pleasant. Voted best place to buy a car, you can drive away in style and safety from a dealership known to put its customers first every time.
Second – Mercedes-Benz of Mount Pleasant
Third – Mount Pleasant Chevrolet
Best Place to Buy a Gift
Greeting cards and picture frames are so last year. Now it's all about gifting what people truly want: a gift card to the Lash, Brow & Botox Bar in Mount Pleasant. Voted best place to buy a gift, people finally understand that giving the gift of health, beauty and confidence says "I love you" more than a fruitcake ever could.
Second – Palmetto Moon
Third – Lavender Hill Designs
Best Place to Rent a Paddleboard or Kayak
While editing an article recently, I had to call Brian, the other editor, and clarify whether "paddleboard" was supposed to be two separate words. He told me the style book had changed it – go figure! But whether you keep up with modern grammar or not, our readers suggest Nature Adventures Outfitters for getting out of the office and onto a board.
Second – Coastal Expeditions
Third – Half-Moon Outfitters
Best Retail Customer Service
It's human nature to flinch when someone gets too close to your eyes. That means, of course, you have to really trust the person beautifying your lashes and brows – and our readers tell us that the Lash Brow & Botox Bar is the best at customer service. One visit and you'll "see."
Second – Consign Haven
Third – Ragamuffin Children's Boutique
Best Shoe Store
Think of all the folk and fairy tales involving footwear – from Cinderella to the Elves and the Shoemaker to Puss in Boots. To create your own epic tale, our readers suggest a trip to Designer Shoes Warehouse. After all, one pair can change your life.
Second – Phillips Shoes
Third – Copper Penny Shooz
Best Sporting Goods
I was always picked last in PE class as a child. Perhaps I would have been picked sooner if I had shopped at Dick's Sporting Goods for all things related to friendly competition and solo challenge. Our readers think so – and they're clearly cooler than I am.
Second – East Cooper Sporting Goods
Third – Haddrell's Point
Best Swimwear
Teeny bikinis had their day. Then retro pieces made a comeback. Now it's tanks with cutouts. Whatever your personal style is, our readers say the friendly folks at Drift have you covered for swimming and sunbathing. But not too covered – that wouldn't be sexy.
Second – Belk
Third – Las Olas
Best Thrift Store
I had this brilliant idea earlier in the year that I wanted to recreate my 1990s bedroom stereo setup. We're talking giant speakers and threedisk changer – no bluetooth, cause I still got CDs. So I took our readers' advice and headed to Goodwill. It was voted best for nostalgic people. And thrifters.
Second – Habitat ReStore
Third – Uptown Cheapskate
Best Toys
Remember Christmas and birthdays of your childhood, when a box that sounded like it had clothes inside instead of toys was a real bummer? Well, stop bumming out your children and go shopping at Wonderworks Toys – guaranteed to make them shake, rattle and roll!
Second – Hollipops
Third – Target/Walmart
Best Women's Accessories
I love accessories, mostly because you never have to "fit" into them – from necklaces to sunglasses, it's one size fits all – and all of us, our readers included, find the best stuff at Versona. It's why I keep donating older handbags to my petite sister – gotta make space!
Second – Gwynn's
Third – Lavender Hill Designs/Loy Harn Jewelers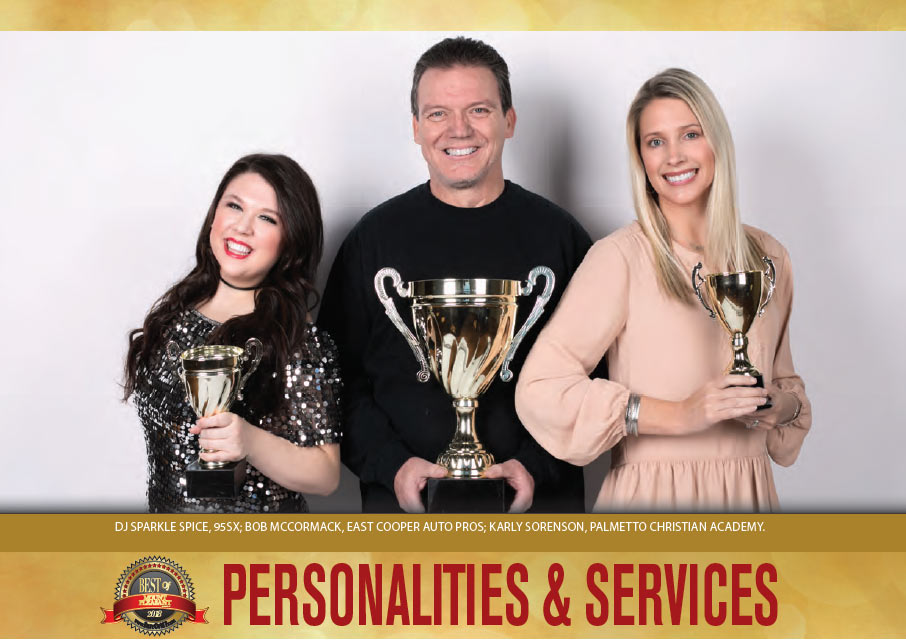 Best Attorney
Between the billboards around town and endless commercials on TV, you would think we all knew who the No. 1 lawyer was in town – but ask the people themselves and they'll tell you it's Walt Harris. He sounds like a good friend to have – you just never know!
Second – Pflug Law Firm
Third – Charlie Condon
Best Auto Glass Company
If you're flying down Interstate 526 and a large tractor-trailer throws a rock at your windshield, have no fear: Glasspro is here! Voted best auto glass company, Glasspro is the call to make when you need your windshield fixed by the pros who know all things glass.
Second – Lowcountry Auto Glass
Third – Pit Stop Safelite/East Cooper Auto Glass/First Choice Auto Glass
Best Auto Repair Business
It's too hot to drive around Charleston in the summer without a properly working AC if you ask us. Why wait to have your car fixed no matter the issues – when East Cooper Auto Pros has been named best auto repair business and can fix your lemon?
Second – Gerald's Tires
Third – Zip's Kar Kare/Hudson's Import Service/ Automotive Excellence/Arnold's Automotive
Best Bank
Who said big banks could have all the fun? Skip the corporate chaos and get ready for a more intimate experience with South State the reader's choice for best bank. With locations throughout Mount Pleasant and Charleston, you'll have a friendly teller wherever you are.
Second – Wells Fargo
Third – Bank of America
Best Body Shop
Ran into another mailbox, we see. Don't worry; it happens to the best of us, and, as long as you call Fender Mender – voted best body shop in Mount Pleasant – you won't have to worry about driving around like that much longer.
Second – Ascue's Auto Body & Paint Shop
Third – East Cooper Paint & Body
Best Car Wash
You know how it goes, right? You put off washing your car for three weeks of straight sunshine, only to wash it the day it ends up raining. It's frustrating, we know, but at least a quick trip to Cactus Car Wash solves all your woes without costing you a fortune.
Second – Liquid Highway
Third – Wash Wizard
Best Certified Public Accountant
Math… who has time for that? Well, thankfully the CPA's at Hyland, Ruddy and Garbett do because they take the guesswork out of things like estate planning, Quickbooks for business owners and especially the stress of tax season. Voted best certified public accountants in the area, we'll leave the numbers to them!
Second – Moody & O'Neal
Third – Brian Kurtz
Best Child Care
Voted best child care location in Mount Pleasant, Primrose School is both parent and kid-approved, offering classes that embrace collaboration and balanced learning for their youngsters.
Second – Park West Preschool
Third – Children's Discovery Center
Best Credit Union
It's not just our readers who love being members of the South Carolina Federal Credit Union but also the employees who consistently name the local credit union as a great place to work. From loans to checking or savings accounts to credit cards, the South Carolina Federal Credit Union is here to help make our lives simplified with their Lowcountry style and attention to customer care.
Second – Heritage Trust Federal Credit Union
Third – Navy Federal Credit Union
Best Dance Studio
Looking to get your little dancers moving and shaking? Sign them up at Tapio School of Dance & Gymnastics in Mount Pleasant for classes that will teach them tap, ballet, hip-hop and more. Voted best dance studio, Tapio's instructors know how to turn clumsy hopefuls into graceful performers.
Second – Peace Love Hip Hop
Third – Creative Edge/Elite International Dance Studio
Best Driving School
Grab the "Oh no handlebar," because your kids are officially learning how to drive – but does it have to be you who teaches them? We think not. Instead, take them to 911 Driving School, voted the best by Mount Pleasant Magazine readers, and watch them weave in and out of cones or attempt parallel parking 200 times. It's a good day when someone else gets paid to have that kind of patience and nerves of steel.
Second – Rusty's
Third – aLord Ashley/Premier
Best Electrician
Who should you call when the lights go out? No, not the Ghostbusters but Frampton Electric Co., voted best electrician in the area. Whatever project is on your honeydo list, they can help knock it out safely and quickly.
Second – Mount Pleasant Electric
Third – Stonestreet Electric
Best Financial Planner
If budgeting for the future isn't your talent, it's time to find someone who can manage money. According to our frugal readers, the folks at J. Benjamin Financial fit the bill – pun intended – and will keep you from going broke.
Second – Troy Barrentine at Oak Capital
Third – Ross Evans at Edward Jones
Best Gymnastics Facility
Everyone loves watching gymnasts. The way they defy gravity when they flip through the air is downright awesome. If you're feeling airborne yourself, check out Tapio School of Dance & Gymnastics. Your heart – and feet – will be soaring in no time.
Second – The Little Gym
Third – Rock Solid Gymnastics
Best Hair Salon
Hair is having a moment – you can now sport it any way you like – short, curly, big or bobbed. Whatever your tastes, Vanity Salon will get your strands in shape. Our readers have "crowned" them the winning salon after all.
Second – Alexandria's Salon
Third – Salon Vantaggio
Best Heating and Air
In Charleston and the whole Lowcountry, we need air conditioning all year long. And since our systems don't get a break, it's good that C&C Myers is there to keep us (and our readers) feeling chill. I hear they do heat, too, but I can't recall a time I needed it.
Second – Carolina Custom Air
Third – LimRic
Best Home Cleaning Service
So the houseguests (or the kids) left a ring around the bathtub, a sticky film on the kitchen counters and a coat of dust on the cherry bookcase. No problem – call MaidPure. Thanks to their all-organic cleaning methods, you'll be able to put your food and your feet back where they belong.
Second – Molly Maids
Third – Cleaning Authority/East Coast Cleaning
Best Hotel
You love your family members and your friends; there's no doubt about it. So why not put them at the Hilton Garden Inn, rather than in your crazytown household? Our readers say the comfy beds, sleek amenities and distance from, well, you, will keep everyone happy.
Second – Shem Creek Inn/Hampton Inn
Third – Courtyard by Marriott/Holiday Inn Express/ Homewood Suites
Best Insurance Agent
There are no guarantees that life will go as planned, but there's good insurance to cover our rear ends, thanks to Billy Swails. Our readers named him top-notch in helping us prepare for the worst but expect the best.
Second – Sam Schirmer
Third – Heather Bosse
Best Insurance Company
The Grateful Dead once sang "When life looks like easy street, then there's danger at your door" in their song "Uncle John's Band." Well, don't be fooled by your easy life – be prepared and call State Farm, voted best insurance company by our readers. That way, if danger knocks at your door, you'll be ready.
Second – Atlantic Shield
Third – Allstate
Best Interior Decorator
If your house looks more like a hodgepodge garage sale than a chicly designed home, take a tip from our readers and call Joy Lang. She'll make it look like you have taste – even if you don't.
Second – Whitney Hinson/Anne Kelley
Third – Heidi Walker/Domain Interiors/Consign Haven
Best Landscaper
They say the grass is always greener on the other side, but they clearly don't have landscapers like Grandscapes, who, according to our readers, will keep your side green as well. Feel free to tell your neighbors – if you want to, that is.
Second – YardWorks/Pleasant Places
Third – Green Grass /Rebearth/Bumblebee Landscapes
Best Loan Officer
You don't have to be rich to own property – you just have to know Wes Sellew. Our readers voted him best for helping you get a loan – so get in touch and prove to your parents you don't need them anymore.
Second – Bob Tennyson
Third – William Duc
Best Local Celebrity
Seriously, who else would it be? We all love the lead singer of Hootie & the Blowfish, but it's not just his music that impresses us. Born and raised in the Charleston area, Darius Rucker goes out of his way to be an active member of the community (when he's not winning Grammys, duh) and comes back to play shows in the area as much as possible.
Second – Brooke Ryan
Third – Bill Murray
Best Nail Salon
No stranger to Best of Mount Pleasant honors, Princess Nails has won best nail salon again for their service, cleanliness and overall hospitality. When a day at the spa is just what the doctor ordered, a mani or pedi from Princess will send you into full-blown relaxation mode.
Second – Sandals
Third – Mylkbar
Best Nonprofit
Born as a result of Hurricane Hugo in 1989, East Cooper Community Outreach remains dedicated to the community to this day. ECCO gives assistance to those that need support with basic needs, health and empowerment.
Second – East Cooper Meals on Wheels
Third – East Cooper Habitat for Humanity/Pet Relief
Best Pest Control Company
If you're not a native of the South, your first encounter with the almighty Palmetto bug likely had you shaking in your boots. A warning to those glorified cockroaches and all their pesky friends: You can count on Terminix to get rid of all the creepy crawlers in your home.
Second – Atlantic/Palmetto
Third – Mosquito Joe
Best Pool and Spa Company
When liquid luxury is what you're after, look no further than Atkinson Pools and Spas. Looking at their sleek designs, we're already dreaming up our calming backyard oasis.
Second – America's Swimming Pool Company
Third – Aqua Blue
Best Place to Worship
Going to church looks a little different these days, thanks to places of worship like Seacoast Church. With camps, live music and engaging sermons that reach people from every walk of life, Seacoast understands how to connect with the community in ways that are fun yet purposeful.
Second – LifePark
Third – St. Andrew's
Best Place to Get a Mortgage
Mortgage Network, which has won four years in a row, knows that customer service is their most important tool. Dedicated to helping their clients find the loan that fits best in every situation, Mortgage Network takes the stress out of the loan process every time.
Second – Carolina One Mortgage
Third – Lucey Mortgage/South State Mortgage
Best Place to Have a Wedding
Locals think that no matter what the season is for saying your "I dos," the Boone Hall Plantation Cotton Dock is the best place to have a wedding all year round. For those looking for the perfect rustic-chic Southern location, "The Belle of the Hall" as it's called, definitely fits the bill.
Second – Alhambra Hall
Third – Dunes West Country Club
Best Place to Hold an Event
Planning an invite that absolutely has to wow the guests? Check out Red Drum on Coleman Boulevard to find everything you need to be the "hostess with the mostess" at your next shindig.
Second – Alhambra Hall
Third – Boone Hall
Best Plumber
(Insert expected joke about seeing a plumber's crack here.) Now that we got that out of the way, you can always count on Atlantic Plumbing for all of your busted pipes and clogged drains. And remember: A good flush beats a full house every time!
Second – Blitch Plumbing
Third – Coastal Plumbing and Mechanical
Best Private School
Palmetto Christian Academy delivers a Christ centered education to its students. From pre-school all the way through senior year, PCA students develop a community to learn and grow with through the years.
Second – Coastal Christian Prep
Third – Bishop England
Best Public School
Wando High School works hard to provide a quality education through a combination of academics, arts and athletics. As a school that has had its share of successful students and athletes go on to do big things, it's clear that the education and guidance they receive at Wando is fundamental to their growth.
Second – Charles Pinckney Elementary
Third – Mount Pleasant Academy
Best Radio Personality
If video tried to kill the radio star, it didn't do a very good job. According to our readers, Brooke Ryan still takes the spotlight on local airwaves, and, let's face it, MTV sucks nowadays anyway.
Second – Richard "Box" Bachschmidt
Third – Bert Weiss
Best Radio Station
I've been subjected to 95sx by many fans – my boyfriend, my teenage buddies and various business intercoms – and, overall, I guess it's OK. It doesn't matter what I think anyway though – our readers voted it the best.
Second – MIX 95.9
Third – The Bridge 105.5
Best Real Estate Company
Good Realtors like to stick together – like the parts of a house, you might say. And around here, good Realtors like to work for Carolina One. Our readers tell us they've "built" a great company. Pun intended.
Second – The Cassina Group
Third – The Peninsula Company
Best Real Estate Team
Think about your favorite teams in sports – Gamecocks, Tigers, Eagles, whatever. Now think about your favorite team in real estate. And if you don't yet have one, consider the Ed Hunnicutt Team, worth your undying fandom, according to our readers.
Second – The Cassina Group
Third – Charleston Fine Homes
Best Realtor
During the home buying process, your Realtor becomes your best friend, the very person you share your sorrows and triumphs with. For that kind of emotional support, call Del Shaffer to be your sidekick in your home purchase. Our readers still send him Christmas cards.
Second – Brian Mello
Third – Dru Dubois
Best Tanning Salon
We live in the South, where no one wants to be pale. We also live in 2018, where no one wants melanoma. How to solve this dilemma? Call Vanity Salon, where our readers can get that healthy glow all year, every year.
Second – Charleston Glow BrushPro
Third – Ultra Tan/Sun Station Tanning
Best TV Personality
Despite the popularity of Netflix and Hulu, people in Mount Pleasant still love to see local TV personality Rob Fowler on the screen – talk about nostalgic. But we wouldn't be surprised if Netflix doesn't offer him a show one day soon.
Second – Josh Marthers
Third – Tom Crawford
Best Website
Surfing the web to find what you need is synonomous with life in 2018. And our readers, who are all web surfers, told us that LowcountryPlasticSurgery.com is one website that gets it right.
Second – SearchMountPleasant.com
Third – MountPleasantChiro.com
Best Dog Walker
Entire movies and books have been written about dog walking and the magical opportunity it gives dog owners. To share a little of that magic when you're overworked, call Milo Country Pet Care. They'll give your pooch the long leash he deserves.
Second – Jeannie Franco
Third – Pam's Pet Services
Best Pet Boarding
Going on a fancy vacation without the kids AND without the animals? Leave the kids with Grandma and leave the animals with Pooch Palace. Our readers say they're going to treat your pup or kitty so well, it'll be like they're on vacation, too.
Second – My Three Dogs
Third – Best Friends Boarding
Best Pet Friendly Community
If you're moving to the area and need a place that welcomes your two-legged AND four-legged family members, Belle Hall Apartments is just the spot, according to our readers. You'll probably meet new friends, and so will Fluffy and Fido.
Second – Daniel Island Village / Hibben Ferry / Park West Madison/Riviera at Seaside / Sabal Palms / Windward at Longpoint
Best Pet-Friendly Restaurant
Who doesn't want to grab a beer with man's best friend? The next time you're thinking about dinner with friends, you can do just that at Red's Icehouse without trying to hide the fluffy, wagging tail beneath the tabletop.
Second – Dog & Duck
Third – The Shelter Kitchen + Bar
Best Pet Groomer
Offering grooming and luxury boarding for dogs, Ziggy's Dog Parlor in Mount Pleasant was voted best pet groomer by thankful owners that can now skip the hassle of trimming nails or brushing stinky dog teeth.
Second – aFORTable Grooming
Third – Yuppie Puppy Pet Salon
Best Pet Photographer
Known for her deep love of senior dogs and rescue animals, Jeanne Taylor is like the dog whisperer of photography, making her a clear choice for best pet photographer. Her natural talents paired with her passion for animals helps her capture the treasured photos of our favorite four-legged friends.
Second – Jenn Cady
Best Pet Store
Voted best pet store in Mount Pleasant, Hairy Winston – not to be mistaken for the jewelry store Harry Winston – is the pet boutique and grocery of every pup's dreams. Food, supplies, accessories and more, Hairy Winston's has "everything you never knew you needed for your dog and cat."
Second – PetSmart
Third – Indigo Creek Pet Supplies
Best Place to Walk Your Dog
We'll leave it up to you about who the walk is really for, but nothing beats a stroll along the Isle of Palms coastline, especially early in the morning. Voted best place to walk your dog, the IOP Beach is calm, expansive and beautiful – and the perfect place spend time with your fur baby.
Second – Pitt Street Bridge
Third – Palmetto Islands County Park
Best Veterinarian
If you thought picking names for your beloved pets was hard, good luck finding someone you trust to care for them, too. Thankfully, Park West Veterinary Associates, voted best veterinarian, knows how to love and help your pups, cats and parakeets just as much you do.
Second – Pet Vet
Third – Advanced Animal Care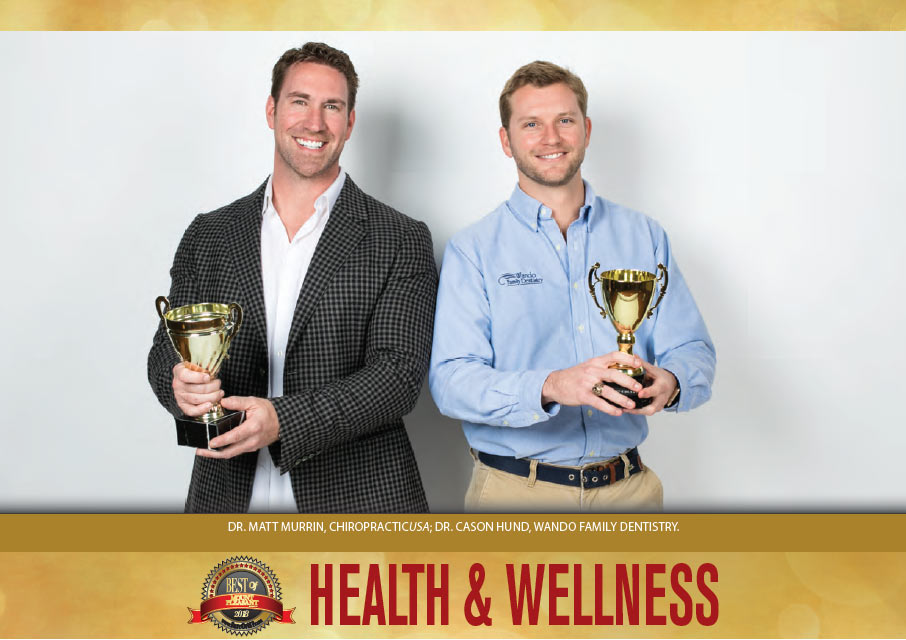 Best Allergist
With this crazy Charleston weather, you never know what season will be sending your allergies into a tizzy, so don't wait until you're two packs of tissues deep to contact Dr. Bruce Ball for all of your pesky sensitivities. Voted best allergist by our local readers, Dr. Ball is who to call when your eyes won't stop watering or the family dog makes your skin break out in hives.
Second – Dr. Ned Rupp
Third – Dr. Maria Streck
Best Audiologist
Can you hear that? That's the Mount Pleasant community screaming "Advanced Hearing Care for best audiologist"– and you probably can if you've ever been a patient of theirs.
Second – Charleston ENT
Third – Dr. Juliette Gassert/Dr. Kim Davis/Dr. Jennifer Esse
Best Hearing Aid Provider
You're not seeing double – and, yes, you heard that clearly – Advanced Hearing Care is sweeping the hearing category.
Second – Miracle Ear Hearing Aid Center/Charleston ENT
Third – Daniel Island Hearing Center
Best Chiropractor
Snap, crackle and pop. Dr. Matt Murrin at ChiropracticUSA is ready to adjust your bones back into working order. Voted best chiropractor according to Mount Pleasant Magazine readers, Dr. Murrin's office helps to realign your back and neck, instantly helping you to feel 10 years younger.
Second – Stone Chiropractic
Third – BL Black Chiropractic
Best Colon and Rectal Surgeon
It's not the most pleasant appointment to make, but it's necessary, and, if there's anyone we trust to get the job done, it's Dr. Margarita Murphy at Colon Surgeons of Charleston. Dr. Murphy and her team are this year's best colon and rectal surgeons – and to that we say bottoms up!
Second – Dr. William Bulsiewicz Third –
Dr. Theodore Gourdine/Dr. Brendan Murphy/Dr. Jorge Legares-Garcia/Dr. Jeff Joyner
Best Dentist
If our eyes are windows to the soul, then our mouths are windows to our health. To stay healthy, a good dentist like Pleasant Family Dentistry is more than necessary. Our readers say so, and they tell the "tooth."
Second – Wando Family Dentistry
Third – Water's Edge Dentistry
Best Dermatologist
The skin is our largest organ, so we need to take care of it, right? Our readers say to call Dr. McLean Sheperd for an all-over glow that comes from within.
Second – Dr. Marguerite Germaine
Third – Dr. Lesly Davidson
Best Eye Doctor
Remember the old game Eye Spy – a childhood road trip favorite? Think how hard it would be to play it without calling Dr. Brad Bodkin at Vision Center at Seaside. Get your eyes checked out by him and you'll win every time.
Second – Dr. Brad Majors
Third – Dr. Kerry Solomon
Best Fitness Center
What's the old saying? Shape up or ship out? Well, if you don't want to be shipped out, join our readers at O2 Fitness, voted best Fitness Center and best place to work on those angles.
Second – Orange Theory
Third – Planet Fitness

Best Gerontologist
We hear all the time that Americans are obsessed with youth culture. That might be the case in some places, but not at the office of Dr. Rex Morgan. Our readers say he'll help you embrace the later years with wisdom.
Second – Dr. Scott Evans
Best Hospital
A great bedside manner is important, particularly during a hospital stay. Our readers voted Roper St. Francis the best hospital, so we know theirs will put you at ease.
Second – East Cooper Medical Center
Third – MUSC
Best In-Home Health Care
Home is definitely where the heart is, and it can be where your health is, too, if you happen to call Continuum Home Health Care. Our readers say they'll raise the roof, so to speak.
Second – Amedisys Home Health
Third – Roper Home Health
Best Lasik Surgeon
Sometimes your eyes need a little help from someone with vision. If this describes you, give Dr. Kerry Solomon a call. He was voted best by our readers for helping you see the light at the end of the tunnel.
Best Massage Therapist
The old saying, "No pain, no gain," is an important reminder to banish those aches and pains with regular massage therapy. Our readers suggest Althea Donahue at Nature Health Center for helping hands that heal.
Second – Massage Envy
Third – Sheila Burdon/Bob Hamilton
Best OBGYN
Tabloids love to publish stories about who has the latest "baby bump" – but Mount Pleasant Magazine likes to publish who's behind the baby bumps, from conception to birth. Our readers told us Dr. Karen Hallmark lives up to the hype – now, if only People magazine would take a hint.
Second – Dr. Natalie Gregory
Third – Dr. Bridget Williamson
Best Oral Surgeon
Open minds are not an easy thing to find – but open mouths are, especially at Dr. Courtney Shelbourne's office. Our readers say that his surgery skills are worth talking about – once you can talk again, that is.
Second – Dr. Matthew Barefoot
Third – Dr. Philip Prickett
Best Orthodontist
Brace yourself for this awesome news – our readers voted Nash Orthodontics the best once again. And if your kids don't want to be called metal mouth, we hear he's got all the newest options to keep you straight.
Second – Kelley Orthodontics
Third – Pierce & Pierce
Best Orthopedic Surgeon
Everyone has their thing: Some people are artists, some are math whizzes and others, well, they can literally fix your bones, ligaments and muscles. Voted best orthopedic surgeon in Mount Pleasant, Dr. Brodie McKoy is known for his incredible work getting people back on their feet in no time.
Second – Dr. John Graham
Third – Dr. Billy Estes/Dr. William Carroll
Best Pediatrician
As a parent, there are few things in life as scary as your child being sick or hurt. To say you feel useless is an understatement, but, thankfully, there are amazing doctors such as Dr. Janet White at Seaside Pediatrics who can heal our babes – and our anxieties – all in one fell swoop.
Second – Dr. Matthew Davis/Dr. Neill Herring
Third – Dr. Bobby Weaver
Best Physical Therapist
Sure, our bodies may be "made to move," but that doesn't always mean they like to always work that way. Voted best physical therapist in Mount Pleasant, Made2Move will change all of that, getting you back in swingin' shape for the New Year.
Second – Imagine
Third – Atlas
Best Plastic Surgeon
There's nothing wrong with a little tuck and pull every now and then. Dr. Jack Hensel of Lowcountry Plastic Surgery in Mount Pleasant will help you determine exactly what you need to snap a healthy pep back in your step. Voted the best plastic surgeon in the area, Dr. Hensel helps men and women feel comfortable celebrating the bodies they have and the bodies they want.
Second – Dr. Thomas Funcik
Third – Dr. Patrick O'Neill
Best Primary Care Doctor
Our readers think Dr. John Knepper is East Cooper's best primary care physician. As a family generalist, he stands on the front line, seeing patients for every bump, bug and cough – and the community appreciates knowing they have a doctor they can count on.
Second – Dr. Jason Stroud
Third – Dr. Lee Allison/Dr. Richard Mills
Best Spa
If a day of luxurious pampering is in your future, Woodhouse Day Spa is where you need to book an appointment ASAP. Their divine treatments and therapeutic massages are just two glorious reasons they were named best spa in Mount Pleasant. If you don't know … now you know, so don't miss out.
Second – Lowcountry Beauty and Wellness
Third – Urban Nirvana
Best Urgent Care
When you find yourself in an emergency situation – or perhaps without health care – HealthFirst is ready to help you with any medical problem without a visit to the ER. Voted the best urgent care center in Mount Pleasant, readers count on HealthFirst for their knowledge, experience and care.
Second – Doctors Care
Third – Roper Urgent Care/MUSC After Hours
Best Urologist
Respected throughout the community, Dr. Stanley Hall delivers superior attention to his patients, easily naming him the best urologist in Mount Pleasant. Affiliated with many prestigious hospitals in the area, Dr. Hall helps both men and women with everything from kidney stones to incontinence – and everything in between.
Second – Dr. Allen Fogle
Third – Dr. Kelly Shaffer/Dr. David Brandli
Best Weight Loss Program
Voted the best weight loss program in Mount Pleasant, Lowcountry Beauty and Wellness helps locals battle the bulge and truly get on track to a healthy lifestyle that works long-term – no fad diets here!
Second – Palmetto Women's Health
Third – Metabolic Medical Center
Best Yoga Studio
Offering both classes and treatments, it's no wonder Breathe Pilates Studio and Day Spa was voted best yoga studio by our Mount Pleasant community. At Breathe, you can work up a sweat, then unwind and relax – sounds like a no brainer to us!
Second – Charleston Power Yoga
Third – Gaea Yoga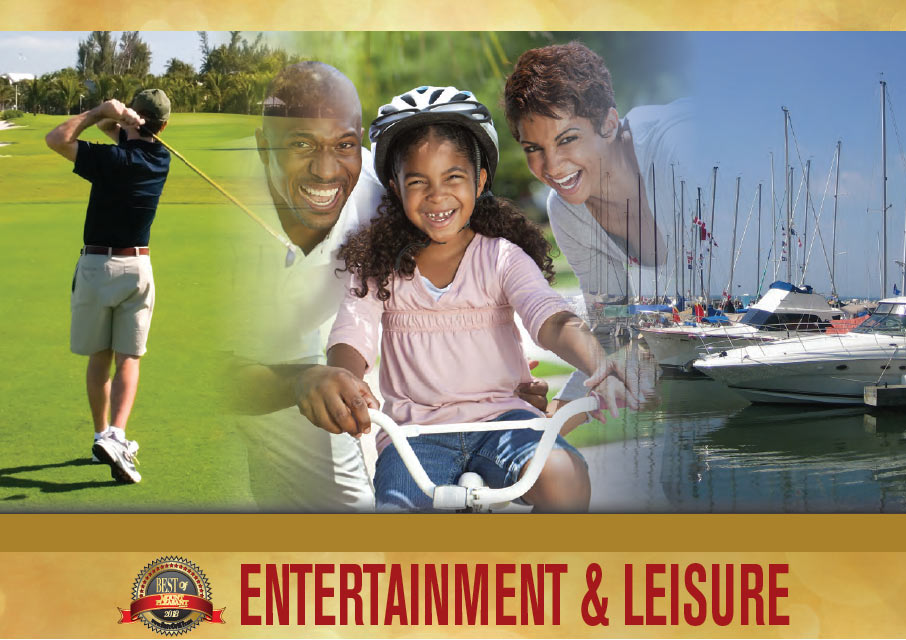 Best Annual Event
If you live in Mount Pleasant, then you already know: The Blessing of the Fleet is easily the best annual event in town each year! With live music, a boat parade, food vendors and more, the Blessing of the Fleet is what everyone waits for each spring.
Second – Town of Mount Pleasant Christmas Parade
Third – Lowcountry Oyster Roast
Best Apartment Community
A 3,200-square foot fitness center? A saltwater pool? An electric car charging station? Why would anyone ever live anywhere else than The Boulevard in Mount Pleasant? And don't even worry about the location – that's impossible to beat too! Located near Shem Creek and Memorial Waterfront Park, it's obvious why The Boulevard was voted best apartment community.
Second – Bridgeside at Patriots Point
Third – Riviera at Seaside/Gregorie Ferry Landing
Best Boat Ramp
Whether you're docking or setting sail, you'll probably want to do it from the Isle of Palms marina if you haven't been making that your go-to ramp already. Locals voted – and they should know – that it's the best place to put your boat in the water.
Second – Goldbug Island
Third – Shem Creek
Best Concert Venue
With the capacity to hold 10,200 music-craving fans, Volvo Car Stadium on Daniel Island has quickly become the area's preferred concert location. With shows by performers such as Jimmy Buffet, Third Eye Blind, and, of course, Hootie and the Blowfish, Volvo Car Stadium is this year's best concert venue.
Second – The Groves at Patriots Point
Third – Boone Hall Plantation
Best Custom Builder
If you're in the market for a custom home built exactly as you've always envisioned, you should probably call Marsh Construction, which has been turning dreams into reality for families throughout the Charleston and Mount Pleasant areas. Marsh Construction takes your list of must-haves and makes it happen.
Second – David Weekley Homes
Third – Cline Homes
Best Facebook Group
Let's be honest: If there's one thing moms know, it's how to get things done! And with the power of Facebook at their fingertips, nothing is beyond their reach, thanks to the Mount Pleasant Mom Swap, a Facebook group dedicated to buying, selling and swapping items. Mount Pleasant Mom Swap helps busy moms to find the things they need – and get rid of the things they don't.
Second – Save Shem Creek
Third – Shem Creek Fisheries
Best Kids Activity
To get kids moving and having fun, put down the remote control and head over to Palmetto Tribe for triathlon coaching programs for kids 7 to 15. Voted best kids activity, Palmetto Tribe helps to motivate, stimulate and show kids how sports can be fun and good for the bones!
Second – Going to the beach
Third – The Boone Hall Pumpkin Patch
Best Marina
We're starting to see a trend here – locals love the Isle of Palms marina! We're pretty sure it has something to do with the water-related activities, great waterside eats and picturesque views.
Second – Charleston Harbor Resort at Patriots Point
Third – Shem Creek Boat Landing
Best Movie Theater
Forget going to dinner and a movie when you can eat dinner while you watch a movie – it's a win-win! The ultimate place to catch a flick in Mount Pleasant, there's a good chance that Cinebarre won best movie theater for reasons such as: legitimately great food, strong drinks and a little thing they call the "Cry Baby Day" that regulates which days kids under 3 can come to the movies. You mean no crying during our favorite scenes? Sign us up!
Second – Palmetto Grande
Best Neighborhood For Families
While there are many neighborhoods to love throughout Mount Pleasant, apparently Laurel Grove has what it takes to be the best neighborhood for families. We're curious to know more. Perhaps it's the pristine yards or the sounds of children playing tag. All we know is it's the place everyone wants to live.
Second – Creekside
Third – Park West
Best Neighborhood For Retirees
It's probably safe to assume that retirees would want to spend their days strolling the sidewalks or visiting the nearby shops and restaurants if they had the extra time on their hands. With the gorgeous houses lining the spotless streets, by all means let I'On be the neighborhood I retire to in the future.
Second – Dunes West
Third – Old Village/Park West
Best Place to Fish
Looking for your favorite new fishing hole? If you haven't lived here long, you may not know about the local favorite – the Pitt Street Bridge. So grab your bait and your pole and head on out.
Second – Waterfront Park Pier
Third – Shem Creek
Best Place to Go for a Run
The Ravenel Bridge is an icon of the Lowcountry – but it's not just for driving and posting on Instagram. According to our readers, it's also a great place to go for a run. Who knows – with practice, maybe you'll beat the Kenyans this spring and really rise to social media fame!
Second – Pitt Street Bridge
Third – Old Village
Best Place for a Children's Birthday Party
Adults don't always celebrate their birthdays to the fullest – but their kids do. And kids need a venue that can handle all that celebrating: For a memorable event, our readers say The Little Gym gets the party started. It's just up to you on when to end it.
Second – Teacups & Trucks
Third – Sky Zone Charleston
Best Place to Meet Singles in Person
The world is full of pairs. From Noah's Ark to shoes to Hostess cupcakes, two is sometimes better than one. If you're seeking a plus-one lately, give Charleston Wine Pairings a call. Our readers say they'll help you find a match.
Second – Charleston Sports Pub
Third – The Shelter Kitchen + Bar
Best Place to Paddleboard or Kayak
Perhaps your resolution for 2018 was to exercise more or get outdoors more, or perhaps you just want to ogle cuties in swimwear. Either way, head to Shem Creek with your board or kayak, our readers' favorite spot to travel by water.
Second – Intracoastal Waterway at Isle of Palms Marina
Third – Nature Adventures Outfitters
Best Place to Golf
I don't even play golf, but some of my fondest memories involve golf courses, golf shops and golf carts. So, I can only assume that if I'd learn the game and play at Dunes West along with our readers, my whole life would be a ball. Pun intended.
Second – Patriots Point
Third – Charleston National
Best Place to Play Tennis
I once had a discussion with my friend Ava about how if banks told you there was love in your bank account, rather than zero dollars, life would be better. Alas, banks don't do that – tennis does. So get on a court at Snee Farm with our readers and play the game. Remember, love means never having to say you're a sorry tennis player.
Second – Creekside
Third – I'On
Best Place to Take a Date
I've heard the old timers say that dating is a thing of the past, but we in Mount Pleasant know that's not true. For a lovely evening for two, take a tip from our readers and head to The Wine Bar at Belle Hall, where a splash of California red will open the door to romance.
Second – Pitt Street Bridge/Shem Creek
Third – FILL Restaurant & Piano Bar
Best Place to Watch Sports on TV
Our lives are busy in Mount Pleasant. And sometimes, even when we want to make it to the game, we end up not having the time for a road trip. Luckily, there's Big Game Bar & Grill, where our readers say you can catch the whole thing in a room full of your fellow shouting fans. It's almost like the real thing.
Second – Charleston Sports Pub
Third – Wild Wing Cafe
Best Place to View the Ravenel Bridge
There is no doubt about it – the Ravenel Bridge is part of Charleston's skyline. You can see it from most places, and it represents the Lowcountry on T-shirts and posters. If you're in need of a worthy view of our famous skyline, head to the Waterfront Park & Pier, along with our readers.
Second – The Fish House
Third – Patriots Point
Best Playground
Playing outside is one of the precious parts of childhood. So if your kids are sitting in front of screens more often then you'd like, bribe them and take them to Waterfront Park. Our readers say it's the best place to play in the wild blue yonder and leave the devices at home.
Second – Alhambra Hall
Third – Palmetto Islands County Park
Best Volume Builder
Congrats – you're buying a house! And double the congrats for staying within your budget with David Weekley Homes. With a variety of modern floor plans and above average craftsmanship, our readers say you'll feel right at home.
Second – Pulte Homes
Third – CalAtlantic Homes/Crescent Homes/D.R. Horton
Best Assisted Living
The golden years are best spent in a place that treats you like gold. For a shiny start, head to Franke at Seaside, where our readers go to retire in style.
Second – Somerby
Third – Savannah Grace at the Palms