Welcome to our 5th BEST OF Mount Pleasant results for 2017! In the last five years, 184,973 votes have been cast for the Best of Mount Pleasant, and we could not be more excited.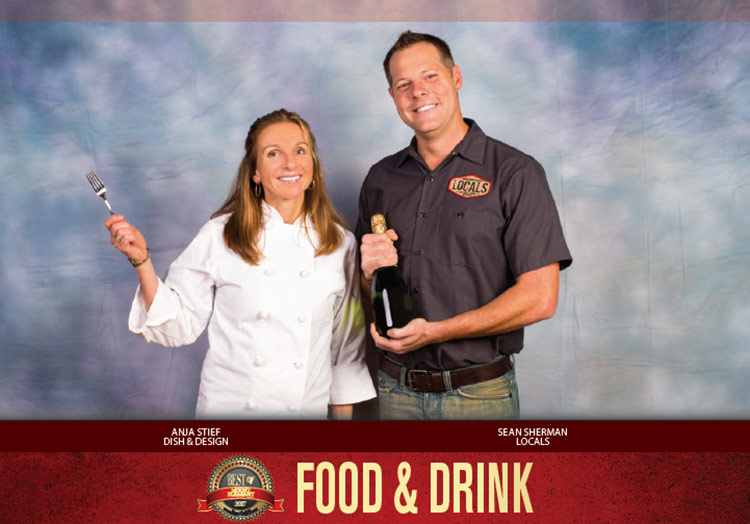 Best Asian
Like other starving artists, I've never been to Thailand. I just can't cough up the dough for a plane ticket, you know. But it's all good: Our readers pointed me in the direction of Basil in Mount Pleasant for all the flavors of the land at a fraction of the travel cost. Heck, at happy hour we can enjoy ourselves for less than the gas it takes to drive to the airport.
Second: Asian Flavor
Third: P.F. Chang's
Best Bakery
Hardly anything is a "piece of cake" once you hit adulthood – except, of course, finding premium baked goods at Kudzu Bakery in Mount Pleasant. They make it easy as pie to get your hands on cookies, pastries and everything in between, according to our readers. You can even pretend it's from scratch at your next party. We won't tell.
Second: Nothing Bundt Cakes
Third: Cupcake DownSouth
Best Bar
Unwinding after a tough day in the business-savvy streets of Mount Pleasant is simple, thanks to the picturesque views and refreshing cocktails at Red's Icehouse on Shem Creek. Our readers can be found there regularly, mingling with their neighbors and watching the boats go by. Just don't let your friends try to sneak onto a stranger's boat after they've had a couple.
Second: Fill Restaurant & Piano Bar
Third: The Shelter Kitchen + Bar
Best Barbecue
On Christmas Day, my dad's side of the family serves up an entire hog. It's pretty special and festive, but every day can't be Christmas. That's why when our readers are in the mood for delicious barbecue, they head to Fiery Ron's Hometeam BBQ on Sullivan's Island. It's the perfect place to pig out – pun intended.
Second: Melvin's Barbecue
Third: Sticky Fingers
Best Breakfast
At Page's Okra Grill, the watchwords are "local food for local folks," and you can start your day with hearty servings of staples from three-egg omelets to a Southern fried chicken liver breakfast, steak and eggs or even a Redneck Benedict. You can get some okra for breakfast, too, but you'll have to accept a salmon steak or some crab cakes on the side.
Second: Eggs Up Grill
Third: Sea Biscuit Cafe
Best Brunch
Just what the heck is a "brunch" anyway? And why isn't it called a "lunfast"? Well, a "brunch" turns out to be a little of this and a little of that from the customary breakfast and lunch items on the menu – maybe a cheeseburger smothered in buttermilk pancakes. Since Page's Okra Grill already has the best breakfast in town, this "best of" choice is a no-brainer.
Second: Triangle Char + Bar
Third: Red Drum
Best Budget Friendly Meal
When you want to fill your belly without emptying your wallet, head for Chick-fil-A at Oakland Plantation or Johnnie Dodds Boulevard to feast on just about everything chicken in sandwiches, wraps, strips, salad, nuggets – even breakfast items. Remember, there are no long lines at Chick-fil-A on Sundays. They're closed so staff can have a day of rest and dream of roast beef.
Second: Page's Okra Grill
Third: Wendy's
Best Burger
At Sesame Burgers & Beer, chances are you have a taste for … burgers and beer. Both are available in abundance, and it's fun to create your own burger by choosing among beef, chicken, turkey or even elk and black bean, making your bun selection, then layering on cheeses and some of their more than 30 other toppings. After all those decisions, you'll probably need a beer.
Second: Poe's Tavern
Third: Melvin's Barbecue
Best Caterer
For a business luncheon or a gala at home, you're ready for a caterer – and none rises above the standard set by Dish & Design. Comments range from "Food arrived early and was set up just like I asked" to "The caterer was fantastic to work with" to "I look forward to using Dish & Design again." Need we say more?
Second: (Tie) Charleston Bay Gourmet
Second: (Tie) Crave
Second: (Tie) Home Team BBQ
Best Cocktail
At SOL Southwest Kitchen + Tequila Bar, they take their mixology seriously. No surprise, libations based on spirits distilled from the blue agave plant are their especialidad. With more than 70 premium tequilas on hand, you'll never have to settle for some "generic" tipple. Try a Prickly Pear Margarita or a Blackberry Vanilla Mojito, and you'll want to kiss the nearest mariachi.
Second: Tavern & Table
Third: The Granary
Best Coffee
In Vancouver, British Columbia, there are two Starbucks' directly across the street from one another. Some say that one day there'll be a Starbucks located inside another Starbucks. Mount Pleasant hasn't seen such a proliferation … yet. We have six or so stores and counting. But who's counting? All Starbucks fans are looking for is excellent coffee and coffee drinks, and that's exactly what they'll find.
Second: Metto Coffee and Tea
Third: Vintage Coffee Cafe
Best Craft Beer
If you had a hankerin' for an Orange Bliss, a One Claw or a Bearded Farmer, where the heck would you go to find them??? Westbrook Brewing Co., of course. It's the home of craft beers in Mount Pleasant, and they'll happily pour you all of the above and more from an extensive menu that's earned high honors from the authoritative website Beer Advocate.
Second: Two Blokes Brewing
Third: House of Brews
Best Dog Friendly Restaurant
What could be better than watching the sunset at Red's Icehouse, outstanding bar food on your plate and your favorite beverage in your glass? Well, how about all that plus your faithful canine companion by your side? That's what you can have when you're a guest at Red's, where whippets are welcomed and dachshunds are always de rigeur.
Second: Dog & Duck
Third: The Shelter Kitchen + Bar
Best Deli
If you're craving an American cheese on white with mayo, you've come to the wrong place. Momma Goldberg's is the closest to a New York deli that you'll find south of Jersey City. A wide variety of wraps and other sandwiches festoon the menu here, but start with the Pastrama Momma or the authentic Reuben first. Fugeddaboudit!!!
Second: Mozzo
Third: East Bay Deli
Best Dessert
Recent studies claim that eating dessert first – as in before dinner – can assist those who are looking to slim down. We fully support this theory, and we're testing it out at Basil, where our readers love to order dessert. From homemade green tea and coconut ice cream to cake, it's sure to whet your appetite.
Second: Page's Okra Grill
Third: Nothing Bundt Cakes
Best Food Truck
Food on the go used to mean a soggy hamburger or a flavorless wrap from a quick service restaurant. But thanks to food trucks, you can grab a quick meal without even sitting down. When our readers are busy, they keep an eye out for Roti Rolls. Then, after a satisfying meal, everyone can roll on.
Second: Brava Bowls
Third: (Tie) Mac Daddy
Third: (Tie) Charleston Bird
Best French Restaurant
We owe a lot to the French – the Statue of Liberty and a good make-out session for starters – but nothing is as valuable, according to our readers, as the delicious French cuisine available at Bistro Toulouse. Pair it with a great glass of wine from their bar, and it's almost like a night overseas. Except in English.
Second: Saveurs Du Monde Café
Third: Annie's Bistro Francais
Best Fried Chicken
There's nothing more Southern than a dish of fried chicken served with a glass of iced tea on the front porch. And our Southern readers (along with the Yankee wannabes) love to get their fix at Publix, where bird is the word – and a fried word at that.
Second: Page's Okra Grill
Third: Chick-fil-A
Best Frozen Yogurt
It's fun to think of all the different phrases "TCBY" could stand for. Today could be yesterday? Teeth crave being yanked? Our readers, however, know it stands for "the country's best yogurt" – and they believe those words wholeheartedly. (Or lowfat-heartedly, shall we say?)
Second: Ye Ole Fashioned Ice Cream and Sandwich Cafe
Third: Marble Slab Creamery
Best Grocery Store
They say you can learn about a person's life by looking at what's inside their grocery cart. Frozen pizza and beer, for example, says something entirely different from organic kale and green tea. When it comes to our readers, the kale fans and the pizza fans find what they want at Harris Teeter. It's the perfect common ground.
Second: Trader Joe's
Third: Publix
Best Happy Hour
Here's a riddle: How can you be happy all day without carrying a flask to work and being improperly drunk at meetings? Our readers say the answer is looking forward to a beverage at Water's Edge. The anticipation will get you through anything, even boring Mondays.
Second: The Shelter Kitchen + Bar
Third: SOL Southwest Kitchen & Tequila Bar
Best Hot Dog
My co-editor recently acquired a new member of his family: an adorable dachshund who refused to be dressed as a hot dog this past Halloween. Luckily, the hot dogs at Jack's Cosmic Dogs don't feel that way. Our readers say they're the perfect wieners to heap with mustard, chili and onions. And they don't bark back.
Second: Skoogies
Third: Johnnie's
Best Ice Cream
Asking people to share their favorite flavor of ice cream is a surefire way to get the conversation going. And inviting people to go have ice cream at Ye Ole Fashioned Ice Cream & Sandwich Cafe ensures a long-lasting friendship. That's probably the reason our readers are never lonely.
Second: Marble Slab
Third: Baskin Robbins
Best Italian
Some of the best movie scenes ever involve Italian food. Think of that iconic pasta noodle in "Lady and the Tramp," for example, or the cozy kitchen in "Goodfellas." If you're ready for your life to feel film-like, have dinner with our readers at Bricco Bracco, where everyone is a star.
Second: La Pizzeria
Third: Carrabba's Italian Grill
Best Kid Friendly Restaurant
The name says it all – wings are the thing at Wild Wing Café. Among the 32 sauces offered, there's bound to be plenty you'll love. Don't forget the ribs and quesadillas, nachos and The Spud Zone. The welcome mat is always out for the young 'uns, which is terrific if you have kids and, possibly, a warning if you don't.
Second: (Tie) Steel City Pizza
Second: (Tie) Chick-fil-A
Third: Mellow Mushroom
Best Mac'n Cheese
What's the deal with mac 'n cheese down here below the Mason-Dixon Line? Everybody has a secret recipe, and everybody thinks theirs is the best. But year in and year out, Crave takes all the honors. As one reviewer put it, "The food here is delicious and the mac 'n cheese definitely should be winning all the awards it's gotten." So there.
Second: Coleman Public House
Third: Graze
Best Mexican
Having already aced the cocktails voting, SOL Southwest Kitchen + Tequila Bar takes the prize once again in the Mexican dining category. Many of their menu items are old favorites, but more than a few are exotic takes on typical dishes. How about Tuna Lollipops, Red Chile Bison Enchiladas or Lola's Steak Skewers? Ole!
Second: Santi's Restaurante Mexicano
Third: La Hacienda

Best New Restaurant
Mex 1 Coastal Cantina, on Sullivan's Island, lists among its attractions Baja-style fresh Mex and premium tequilas. Elements Social Bar, in Mount Pleasant, combines wine, cuisine, cocktails and beer. Our readers couldn't decide which was the best new restaurant.
Second: Congress
Third: Fill Restaurant & Piano Bar
Best Pizza
If you want to start an argument, just ask a group of your friends where to find the best pizza in town. If there are a dozen to choose from, you'll get two dozen answers! But the readers of MPM have put aside their crushed red pepper shakers and spoken. Mellow Mushroom is #1. Live with it.
Second: La Pizzeria
Third: Andolini's
Best Place to Dine Outdoors
Here in East Cooper, any day can become the perfect day to sit outside – even in the winter. Our readers take advantage of those times with a meal at Red's Icehouse, a fine place to feel the breeze while you eat. Just don't let the seagulls steal your French fries.
Second: Tavern & Table
Third: Vickery's
Best Place to Take a Guest from Out of Town
When my mom visited over the summer, my sister and I made sure to take her to impressive restaurants with tasty food and long wine lists. For the East Cooper pick, we ventured to Tavern & Table, along with many of our readers, for an experience that had them chatting the whole way home.
Second: Shem Creek Bar & Grill
Third: Red's Icehouse
Best Raw Bar
My favorite food as a child was cereal, particularly Cocoa Krispies. Now that I'm an adult, my favorite food is the iconic oyster, particularly raw and doused in hot sauce. And when I want good raw oysters, I head to Shem Creek Bar & Grill, along with our readers. It's the perfect place for shellfish by the seashore.
Second: Pier 41
Third: Water's Edge
Best Restaurant Service
My co-editor and I have reached VIP status at Page's Okra Grill. However, whenever we drop by for lunch, we get the distinct feeling that everyone in the restaurant is being treated like a very important person. I guess our readers are VIPs as well.
Second: SOL Southwest Kitchen & Tequila Bar
Third: Tavern & Table
Best Ribs
The best ribs I ever had in my life were cooked by a college buddy at a post-graduation soiree at another buddy's beach house. But as y'all know, everyday life can't always be a party. That's why we have Sticky Fingers, where our readers go for extraordinary ribs on any ordinary day.
Second: Home Team BBQ
Third: Melvin's Barbecue
Best Seafood
It's situated by the sea, and it serves food, so maybe that's why Red's Icehouse conquered the seafood category. But no. Just get past their popular burgers and other terrestrial items and you'll find a plethora of platters of shrimp, crab, oysters and scallops, plus a fish and chips that defines the dish.
Second: Shem Creek Bar & Grill
Third: The Wreck of the Richard & Charlene
Best Shrimp 'n Grits
Fans of this quintessential Southern dish will think they've stumbled into heaven when they taste Ashleigh's Famous Shrimp and Grits at Page's Okra Grill: "Lightly battered and fried cheese grits topped with a smoked andouille sausage cream sauce, and pan-seared shrimp, served with your choice of buttermilk biscuit or toast." Delish.
Second: Old Village Post House
Third: Acme Lowcountry Kitchen
Best Steak
Longhorn Steakhouse offers "legendary steaks," including such meat-lovers' favorites as the Outlaw Ribeye, the Renegade Sirloin and Flo's Filet. They're not quite as "legendary" as, say, Abe Lincoln or Jesse James, but they're mighty good. Also on the menu, plenty of options from chicken to salmon and shrimp. You could always try those. But why would you?
Second: Outback
Third: Langdon's
Best Sushi
Back when, if your buddy told you about a great sports bar with a rockin' happy hour, nightly specials and raw fish – you'd have said "what???" Today, sushi is as acceptable as meatloaf, and you won't find it done any better than at Locals. Not ready for some eel or octopus? Try the hibachi chicken. It tastes like … chicken.
Second: Tsunami
Third: Wasabi
Best Tacos
No tough choices to be made here. SOL Southwest Kitchen + Tequila Bar offers only a half dozen taco variations, but each one is superb. You'll want to try them all, but just pick your fave, wash it down with your margarita of choice and get to know what good is!
Second: Locals
Third: Mex 1
Best Upscale Restaurant
When you're trying to impress new clients or the parents of your future spouse, you don't subject them to a dive bar or a fast food joint. You take them to where our readers say you'll certainly make a splash: Langdon's Restaurant & Wine Bar. They'll be eating from your hand in no time – but they might use a fork at this swanky spot.
Second: Red Drum
Third: Old Village Post House
Best Wings
If it's true that birds of a feather flock together, our readers are all birds of the same chicken feather – and that chicken comes from Wild Wing Cafe on Coleman. With dozens of flavors, from hot to sweet, and prices that won't blow your nest egg, it's worth crowing about.
Second: East Coast Wings
Third: Home Team BBQ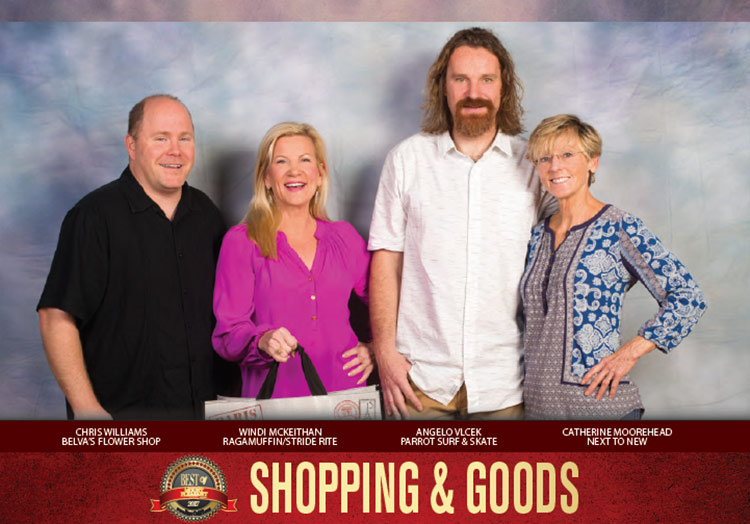 Best Antique Store
If you liked the Six Mile Antique Mall on 17 N, you'll love it at its great new location on Coleman between Subway and Red Drum. You'll find 6,000 square feet of everything old that's new again, from Civil War memorabilia to Charleston Bottles, Goat Island Treasure Boxes, jewelry, wicker and so much more.
Second: Mount Pleasant Mall
Third: Page's Thieves Market
Best Art Gallery
An ever-changing offering of oils and acrylics from the brushes of more than 100 artists worldwide, with a special emphasis on Charleston/Lowcountry scenes, is the high standard at The Treasure Nest Art Gallery. Have your own painting that needs to be hanged? It's also a terrific place to "get framed."
Second: Karen's Korner
Third: Sandpiper
Best Baby Goods
Any parent who has tried to keep up with a tiny trendsetter's fashionista needs can end that quest at Ragamuffin Children's Boutique. For tots to teens, they stock the latest, the greatest and the most practical, all from the best brand names in the business.
Second: Baby Bloomers
Third: Southern Belles
Best Board Shop
If Aquaman could leap off the motion picture screen and land anywhere, it would be at the Parrot Surf & Skate Shop. OK, the superhero might not need a wet suit or a fancy Nixon underwater watch, but did you know that when he's not on the job as the king of the seas, he's a board demon on land, too?
Second: Odyssey Board Shop
Third: (Tie) Half Moon
Third: (Tie) Force Kite and Wake
Best Boutique
Did you know that there's a real Penny behind the trademark of this elegant women's clothing and shoe store known as Copper Penny? She's the founder and fashion force behind bringing a European sensibility to classic Southern styles. For personal attention and a rich inventory of women's wear, you need look no further.
Second: Teal
Third: Gywnn's of Mount Pleasant
Best Bridal Shop
I'm lucky to have a large group of girlfriends. And that means, as y'all suspect, that I'm lucky to be in lots of weddings. When it's time for all of us to put on the glitz, I suggest Jean's Bridal to my gaggle of gal pals for looking gorgeous. They've got everything from yes-worthy bridal couture to formal accessories, so everyone, including our readers, will look photo ready.
Second: White
Third: Gown Boutique
Best Children's Clothing
All the awesome moms I know put their kids' needs first, including snazzy clothing and shoes for looking dapper in school photos. And according to our readers, awesome moms shop at The Ragamuffin Children's Boutique when the kids need to look good. The moms are another story – they're happy in their yoga pants and T-shirts.
Second: Southern Belles
Third: Pleasant Kids
Best Cocktail/Dress Attire
The hunt for dressy clothing is best done with a strategy, not a haphazard trip to every bigbox store's picked-over clearance rack. When a cocktail party invitation arrives in the mail, our readers hightail it over to Gwynn's of Mount Pleasant for formal shopping without the headache. After all, the headache should come later – after the party.
Second: Copper Penny
Third: Geneaology
Best Consignment Clothing
Cleaning out the closet between seasons (or anytime) is a fact of every fashionista's life. And smart, stylish ladies like our readers know that one woman's junk is another woman's chic outfit for date night. That's why taking the closet items to Uptown Cheapskate is a great idea for everyone involved. We can get rid of old clothes, make a few bucks and buy new clothes all in one place!
Second: Style Exchange
Third: Butterfly
Best Consignment Furniture
Remember that time your sister gave you a living room chair that wasn't your style? Or the year you needed a new dining room table to host your first holiday dinner? Our readers have similar stories – and now, they venture to Next to New for their consignment furniture needs. You don't want to tell your great-aunt you're out of chairs, right?!
Second: Mount Pleasant Mall
Third: Coleman Collection
Best Department Store
If you haven't noticed yet, the "old" Belk at Towne Centre is now exclusively for women, offering a wide variety of sizes and styles from the most popular designers and all at outstanding values. For purses to perfumes and everything in between, Belk is women's wardrobe central.
Second: Nordstrom Rack
Third: Gwynn's of Mount Pleasant
Best Fish & Tackle Shop
For inshore, offshore or fly casting in a mountain stream, Haddrell's Point Tackle & Supply has been the real deal in fishing since 1983. If you can't find the right gear here, it hasn't been invented yet. And Haddrell's is the place that helps you both fish and cut bait – live or frozen and always available in-store.
Second: Charleston Angler
Third: Henry's Marine
Best Florist
After weddings, anniversaries, birthdays and all special occasions, the accolades keep rolling in for the quality, variety and service at Belva's Flower Shop, our town's first and oldest florist. As one recent customer posted in a review, "We couldn't have been happier with their customer service and creativity."
Second: Buy the Bunch
Third: Out of Hand
Best Furniture Store
Some people love looking at furniture and home furnishings; some people would prefer a root canal. For the former, GDC Home presents an exquisite selection of both; for the latter, its expert design consultants can take over and create everything from a charming vignette to a whole home makeover. Either way, how can you lose?
Second: Celadon
Third: Stuckey Furniture
Best Garden Center
With a name that sounds, well, like a "final resting place," you'd expect Abide-A-While Garden Center to be a pretty placid place. Far from it, as customers from throughout the Lowcountry flock here for plant choices from the traditional to the exotic and gardening and landscaping advice from an all-pro staff of avid horticulturists.
Second: Lowe's
Third: Hidden Ponds Nursery
Best Hardware Store
I'm all for feminism, but sometimes I still get confused in the hardware store. And as for our readers, both male and female, they find what they're looking for at Royall Ace Hardware, a mainstay of Coleman Boulevard. They can help with projects from daunting to doable, no matter your level of experience.
Second: Lowe's
Third: Lowcountry True Value Hardware
Best Home Goods
Housewives of the 1950s often feared baseballs through the window, but, let's face it, they didn't have Marshalls, where they could run out and buy another lamp or vase in a hurry before dinnertime. Our readers claim it's the best home décor spot in town – and, let's face it, it's a small price to pay for a kid who prefers the backyard to game consoles.
Second: Bed Bath & Beyond
Third: GDC
Best Jewelry Store
Nothing makes an impression quite the way a sparkly gem on a finger or earlobe can. And whether you need that impression to be "I love you," "I'm sorry I drank too much last weekend" or "I'm open to your mother moving here," our readers claim that Polly's Fine Jewelry is the place to find it.
Second: Loy Harn
Third: Diamonds Direct
Best Lighting Store
The Grateful Dead famously sang, "Sometimes the light is shining on me. … other times, I can barely see," but they probably didn't have Carolina Lanterns & Lighting during those darker days. If you find that your path (or house) isn't illuminated lately, our readers insist that this local lighting shop will flip your switch.
Second: Candelabra
Third: Lyndon Leigh
Best Liquor Store
My favorite cocktail glass is one that belonged to my grandfather, etched with the illustration of a grouse. It's always right where I can put my hands on it, ready to be filled with top-shelf bourbon. For those of you seeking a similarly nostalgic moment, our readers suggest a trip to Bottles Beverage Superstore. They have everything you and your grandfather like to drink and then some.
Second: Egan's Spirits
Third: 6 Mile Wine & Spirits
Best Menswear
Gone are the days when the missus would roam Belk's aisles while telling her husband to "go look for some socks." Now the masculine agenda can be met in its own store, nearby but mentally a thousand miles away. Mr. Shopper can leave wifey home while picking out his own new wardrobe at this men's only store. On second thought … better bring her along.
Second: Gwynn's of Mount Pleasant
Third: Jos. A Bank
Best Place to Buy a Boat
Ahoy! All mariners, sailors and nautical wannabees! There's no place like Seel's Outboard for new boats, used boats, new and used trailers, accessories, electronics and any and all marine repairs. Landlubbers, find a friend looking for a yacht and take him out for really nice dinner before steering him over to Seel's.
Second: Hall Marine
Third: Longshore Boats
Best Place to Buy a Car
If Baker Motor Company were a restaurant, its menu would feature nothing but fine wines and champagnes. But it's a motor company, so it specializes in prestigious marques including Cadillac, Mercedes-Benz, Porsche, Maserati, Jaguar and more. For service as well as sales, Baker is Mount Pleasant's standard of excellence.
Second: Mount Pleasant Chevrolet
Best Place to Buy a Gift
If birthdays, holidays and other special occasions keep popping up, and you don't know where to turn for that perfect gift for someone on your list, let Palmetto Moon be your guiding light. There, you'll find a vast array of unique items for men, women and kids. For that budding scholar in the family, check out their collegiate displays.
Second: Zinnia
Third: (Tie) Coastal Cupboard
Third: (Tie) Raffia
Best Retail Customer Service
"I'm thrilled!" "The personal touch … is like having a stylist working alongside of you." "The girls working (there) were great!" Just a few excerpts from happy customers who posted reviews of Copper Penny, which offers both cosmopolitan styles and an expertly trained staff ready to meet every shopper's needs.
Second: Ragamuffin Children's Boutique
Third: Gwynn's of Mount Pleasant
Best Shoe Store
Cinderella based her entire destiny around a pair of shoes – for that matter, so did the old woman who lived in one – and you might be the same way, if you end up buying a pair at Phillip's. Our readers promise that this is the place to change your footwear and your life.
Second: Copper Penny Shooz
Third: Designer Shoe Warehouse
Best Sporting Goods
When someone asks you to be a good sport and you need a lil' inspiration, head on over to Dick's Sporting Goods, along with our readers. They've got everything from fishing poles to hunting gear, and you'll feel geared up in no time.
Second: (Tie) Play it Again
Second: (Tie) East Cooper Sporting Goods
Best Swimwear
If you haven't taken the plunge and bought yourself a foxy new swimsuit in the last year or so, now is the time, and, according to our readers, Belk is the place. They've got just the flattering scrap of fabric to ensure you're the resident beach hottie.
Second: Drift
Third: Parrot Surf & Skate
Best Thrift Shop
For those of us who enjoy the thrill of the hunt, it's time for a trip to Goodwill, where the hunt will literally never end. Unless your kid gets bored and demands you leave. Hire a sitter the next time!
Second: Habitat for Humanity
Third: Uptown Cheapskate
Best Toys
The wonder of childhood is something that cannot be replaced later in life. So make the most of it and take your well-deserving kids to Wonder Works Toys. Remember, a happier youth makes for more pleasant Christmas dinners when they're grown ups.
Second: Hollipops
Third: The Learning Express
Best Women's Accessories
They say the accessories make an outfit. And when I say "they," I mean our readers, who understand that the perfect pair of sunglasses, a statement necklace or a some snazzy stockings from Versona take an outfit from "meh" to "marvelous." Anything to breathe life into your gray T-shirt from before the kids were born, right?!
Second: Copper Penny
Third: Vanity Salon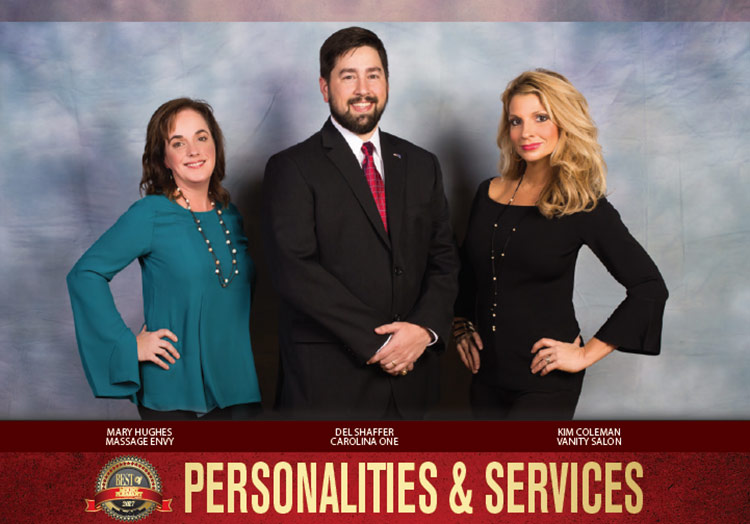 Best Auto Repair Business
Just like you need coffee and a shower to get going in the morning, your car needs a few things to get going as well. And for the car-equivalent of a hot shower and a strong latte, our readers suggest Gerald's Tires and Brakes. Your vehicle will be ready to roll – probably way before you are.
Second: East Cooper Auto Pros
Third: Automotive Excellence
Best Assisted Living Facility
At Franke at Seaside, their goal is for their assisted living residents to function at the maximum level of independence possible. To that end, they enjoy a complete meal plan, laundry service and round-the-clock staffing. The facility offers comprehensive nursing and medical services, including Alzheimer's care.
Second: Somerby of Mount Pleasant
Third: Sandpiper Village
Best Attorney
The Pflug Law Firm represents county and state agencies, railroad companies, wireless communications companies, buyers, sellers, landlords, homeowners, developers and investors and serves businesses of all types and sizes. They're great with estates and wills, too, but if you're arrested, you're on your own.
Second: Butler & College
Third: Dodds Hennessy and Stith
Best Auto Glass Company
Everyone knows that if an eagle flying over Route 17 drops a tortoise onto your Toyota that karate chops your windshield, Glass Pro is the local specialist in getting you safely back on the road with replacement glass – fast! They're not only the experts in auto glass repair, they're also one of the most civic minded companies around.
Second: Safelite Autoglass
Third: Lowcountry Auto Glass
Best Bank
Around here, we don't believe that money is the root of all evil – we believe that poorly managing your money is the real culprit. So take a tip from our readers and manage your money the wholesome way – open an account at South State Bank.
Second: Wells Fargo
Third: BB&T
Best Body Shop
So you were in the parking lot of your local watering hole when an acquaintance smashed right into your brand-new ride? Think rationally, and bring your poor baby to East Cooper Paint & Body, where our readers smooth everything over, from bumpers to disagreements with other drivers.
Second: Ascue's Auto Body
Third: Fender Mender
Best Car Wash
I once dated this guy who was obsessive about cleaning his car. Every Saturday morning he was soaping it down, drying it with a cloth softer than a baby's bottom and waxing it until it downright blinded me. For those of us who can't be bothered with all that – but still want to shine in traffic – there's Liquid Highway, recommended by our readers.
Second: Cactus Car Wash
Third: Wash Wizard
Best Certified Public Accountant
It was a smart person who decided to make April 15 Tax Day. It's the peak of spring, after all, and the perfect time to put that boat in the water or sit on the porch with a cocktail after the numbers are crunched. To get to the fun of spring faster, our readers suggest either Chris O'Neal or Frank Jackson, who tied for best CPA.
Best Child Care
Children's Discovery Center is more than a place to park Junior while you work, play or just ponder the meaning of the universe. It's an early care and education provider that respects each child and encourages learning through exploration. It offers the creative environment young minds need to grow.
Second: Annie's Nannies
Third: The Children's Center at Carolina Park
Best Credit Union
Everyone knows the expression, "That's like money in the bank." You never hear anyone say, "That's like money in the credit union." Maybe you should. A credit union is member-owned cooperative offering a wide range of financial service and South Carolina Federal Credit Union's track record is one of the best in the nation.
Second: Heritage Trust
Third: Navy Federal Credit Union
Best Dance Studio
Do you have a son or daughter who loves to move to the beat? Whether just for fun or as a prelude to a possible professional career, Creative Edge Dance Center's studio provides a positive atmosphere for aspiring dancers to thrive while discovering their own artistic voice under the tutelage of qualified and dedicated instructors.
Second: Tapio School of Dance & Gymnastics
Third: Elite Dance
Best Electrician
There are plenty of do-it-yourself projects that many homeowners can handle safely by themselves. Electrical work is not one of them. Leave it to the experts, like the professionals at Frampton Electric Company. Their certified technicians and maintenance specialists can handle your heating and air conditioning needs as well.
Second: Mt. Pleasant Electric
Third: (Tie) J. R. Wells
Third: (Tie) Mr. Sparky
Best Financial Planner
Put simply, few people have the time, energy and commitment to plan properly when it comes to their financial lives. That's E&R Wealth Management's forte. Their success isn't based solely on statistics and analytics. They treat you as a unique individual and tailor your portfolio to reflect your specific needs and financial goals.
Second: Oak Capital Management
Third: (Tie) Morris Financial Concepts
Third: (Tie) 360 Financial Partners
Best Gymnastics Facility
We aren't going to tell you that you're too old to live out your secret dream of being an Olympic gymnast just because you're over the age of 30. We're just going to tell you that our readers suggest Tapio School of Dance and Gymnastics to get the lessons started.
Second: Gymnastics Academy
Third: Rock Solid
Best Hair Salon
Hair styles change all the time – straight and flat, big and bushy, long, short and whatever else y'all can think of. To stay on trend, book an appointment at Vanity Salon along with our stylish readers, who claim it's the best salon to get the mane of the moment.
Second: Salon Salon
Third: Stella Nova
Best Heating and Air Company
I'm writing this in November, but it's darn near 80 degrees outside. And the night before last, I had my heat on! Moral of the South Carolina story? Have an HVAC unit that can keep up with the madness. Our readers suggest Carolina Custom Air for equipment and service.
Second: C&C Myers
Third: LimRic Plumbing, Heating and Air
Best Home Cleaning Service
Guests coming over for dinner? In-laws stopping by to pick up the kids for a long weekend? Don't bring them into a filthy house. Take our readers' advice, call Maid Pure, and let your visitors think that you're a neat freak. An organic neat freak at that.
Second: Molly Maid
Third: Service Master
Best Hotel
So your friends from college are driving into town so all of you can see a show at Volvo Car Stadium – but you don't want the one who never really grew up sleeping on your white couch? Book him a room at Comfort Suites in Mount Pleasant. It's a convenient compromise for everyone, including couches.
Second: Hilton Gardens Inn
Third: Charleston Harbor Resort and Marina
Best Insurance Agent
If the insurance industry handed out honors the way Hollywood does, State Farm agent Billy Swails would have a star on the Walk of Fame. His awards include Millionaire Club/President's Club Qualifier, Legion of Honor Qualifier, National Quality Award, National Sales Achievement Award and the list goes on. He's that good.
Second: Heather Bosse – State Farm
Third: Jack Tankersley – State Farm
Best Insurance Company
If you own a home, a car, a boat or a motorcycle and if you value your health or want to leave your family in good shape when you're gone, you need insurance. As the nation's #1 insurer, State Farm pledges it will there for you with the service and value you expect from a leader.
Second: Atlantic Shield
Third: Nationwide
Best Interior Decorator
To put a name to it, Joy Lang grew up as an armoire and side table brat in her parents' Georgia furniture store. She loved that business then and now she loves her husband, her Yorkie and helping others create custom décor that will truly make their houses elegant homes.
Second: CHD Interiors
Third: Elizabeth Stuart Design
Best Kennel
When you need a break from Rover or Rover needs a break from you, there's no better place for boarding and grooming than My Three Dogs. He'll have his own swimming pool, huge indoor and outdoor play areas and plenty of new doggie friends. It's Mount Pleasant's own Canine Club Med.
Second: Paws in Paradise Doggie Daycare
Third: Pooch Palace
Best Landscaper
It's a tie! Grandscape and Lawn Rangers are both top-quality, reliable and affordable landscaping and yard maintenance services that offer everything you need to make your outdoor living areas the envy of your neighborhood. Maybe they'll break their deadlock with dueling leaf blowers at 20 paces.
Second: Green Carolina
Third: Palmetto Green
Best Loan Officer
A few of us (well, a few of them) can pay for our dream houses in cash. For the rest of the homebuyers out there, including our readers, there's Wes Sellew at Mortgage Network.
Second: Peter Insabella
Third: Bob Tennyson
Best Local Celebrity
Not all celebrities live in Los Angeles or New York City; a few live right here in the Lowcountry of South Carolina. Our readers once again chose Brooke Ryan as their favorite local celeb, proving you don't have to be in Hollywood to be a glamorous star.
Second: Rob Fowler
Third: Josh Marthers
Best Nail Salon
I remember my first bottle of nail polish. It was the Tinkerbell kind that you can pull off your nails without any stinky polish remover, and it was awesome. But times have changed, and so have the standards for nails. That's why our readers recommend Creative Nails for a more adult manicure (or pedicure).
Second: Nails so dep
Third: Princess Nails
Best NonProfit
If what we earn makes a living but what we give makes a life, we are really living the life around here, where East Cooper Community Outreach makes us feel all warm and fuzzy inside. Whether you're donating dollars or time, ECCO is a solid choice, according to our readers.
Second: Meals on Wheels
Third: (Tie) Shem Creek Fisheries
Third: (Tie) Communities in Schools
Best Pest Control Company
One night my roommate was out of town and I waged war with a giant cockroach – and not just that night but into the next day. It was stressful and unnecessary, given the fact that I could have just called the trusty people at Terminix, voted best for battling bugs by our readers.
Second: East Cooper Termite and Pest Solutions
Third: Mosquito Joe
Best Pet Groomer
As owner of aFORTable Grooming and Mount Pleasant native Briggs Fort put it, "Whether you need a bath and brush, a full groom or even a walk-in nail trim, we can do it for you." As enticing as all that pampering sounds, she requires that you actually bring in your dog.
Second: My Three Dogs
Third: Ziggy's Dog Parlor
Best Pet Store
Looking for that great new collar for your dog? That purr-fect cat toy? Maybe a bubbler for your fish tank or a lounge for your lizard? Head for PetSmart in Belle Hall. From a wide selection of pet foods and treats to snazzy accessories to make your finned or furry friend a fashion plate, it's one-stop shopping here.
Second: Hairy Winston
Third: Dolittle's
Best Place to Have a Wedding
Charleston is one of the top wedding destinations in the country (probably the world, even) and Boone Hall Plantation is the top wedding destination East of the Cooper, according to our readers. Just think of all the selfies with a gorgeous oak tree backdrop, tagged with your own special Instagram handle.
Second: Alhambra Hall
Third: (Tie) Creek Club at I'On
Third: (Tie) Dunes West Golf & River Club
Best Place to Hold an Event
Nature calms people's nerves. Maybe that's why our readers choose Boone Hall Plantation for the best place to have any event you can think of, from family reunions to milestone birthday parties. The picturesque spot is bound to calm stressed-out relatives – maybe even turn them into tree-huggers!
Second: Alhambra Hall
Third: The Cooper River Room at Memorial Waterfront Park
Best Place of Worship
It's been said that no one needs to go to a church to fulfill their spiritual needs, but the truth is that most of us do. With five weekend worship services and two venues offering video services, Seacoast Church provides a welcoming atmosphere for all. Bring the kids; they'll learn and enjoy fun activities, too.
Second: East Cooper Baptist Church
Third: The Church at LifePark
Best Place to Get a Mortgage
For most folks, getting a mortgage is about as exciting as installing a sump pump. But if you're looking to buy or refinance a home or invest in a multi-family property or second home, Mortgage Network has the tools, the professional loan officers and the experience to make it all easy.
Second: South Atlantic Bank
Third: Benchmark Mortgage
Best Plumber
When there's a problem with your pipes, it's time to call in the professionals. And, since Mario and Luigi are fictional characters (and they'd be too busy rescuing princesses anyway), take a tip from our readers and phone Atlantic Plumbing Services. They'll get the water up and running properly in no time.
Second: (Tie) Coastal
Second: (Tie) C&C Myers
Best Pool and Spa Company
Want to make a whole bunch of new friends? Put a pool and/or spa in your backyard. Want to put a pool and/or spa in your backyard the right way? Choose Atkinson Pools & Spas. From design to construction to maintenance, Atkinson does it all. That whole bunch of new friends will be your problem.
Second: Aqua Blue Pools
Third: Meadow
Best Private School
When people who live East of the Cooper are asked what they love most about life in these parts, they inevitably name "great schools!" as part of that list. Likewise, when we ask our readers to name the best private education that East Cooper has to offer, Palmetto Christian Academy tops that list.
Second: Christ Our King/Stella Maris
Third: Bishop England
Best Public School
As public schools go, Wando High School is known for offering a lot more than just "readin' ritin' and rithmatic." Voted best by our readers for not only academic but also professional preparation, this is one school that will make sure your kid won't move into your basement after graduation.
Second: Oceanside Collegiate Academy
Third: (Tie) Mamie P. Whitesides Elementary
Third: (Tie) Jennie Moore Elementary
Best Radio Personality
When it comes to radio, there are two kinds of people – those who wake up to it and those who don't. If you're one who doesn't, you probably have no idea why Brooke Ryan is so wildly popular. If you're one who does, we need say no more. Catch her on "Two Girls and a Guy" on Mix 96, from 5 to 10 a.m.
Second: Box
Third: Ric Rush
Best Radio Station
A Clear Channel radio station, 102.5 is a family-friendly provider of a broad spectrum of the best in modern, contemporary music. Listen to all your favorite artists performing their hottest hits, catch up on all the latest doings around the Lowcountry and have a chance to win great concert tickets through their exciting promotions.
Second: 105.5
Third: 96.1
Best Real Estate Company
At Carolina One, their real estate sales associates, mortgage loan officers and insurance professionals are committed to providing the best real estate services throughout our area. Whether you're a buyer or a seller, you can't go wrong with the great men and women who fly the Carolina One flag. They aren't called "One" for nothing?
Second: (Tie) Keller Williams
Second: (Tie) The Cassina Group
Third: Berkshire Hathaway
Best Real Estate Team
Sometimes, it's hard to feel camaraderie with your fellow colleagues, classmates or whatever group you happen to be part of. But none of this is an issue for The Ed Hunnicutt Team – they get along beautifully with each other, and with clients, too.
Second: Caleb Pearson
Third: (Tie) Charleston Rental Properties
Third: (Tie) DeDe Warren and BV Messervy
Best Realtor
When it comes to knowing what's what East of the Cooper, Del Shaffer has roots. A graduate of Wando High and The Citadel, he turned to real estate three years ago for Carolina One and quickly built a reputation for honesty, reliability and competence. Clients say he's the best communicator around, and he boasts a 100-percent satisfaction rating.
Second: Dru Dubois
Third: (Tie) Sue Hensch
Third: (Tie) Heather Burton
Best Tanning Salon
SPF has become the lotion de jour, since everyone knows that skin cancer is a dark reality of, well, a dark tan. But fear not, my pasty friends! Vanity Salon, according our readers, can give you the spray-tan of your dreams, with no deadly side effects.
Second: Ultra Tan
Third: Sun Station
Best Television Personality
Netflix is great, but sometimes we still crave old-fashioned television with a feel-good personality like Rob Fowler. Voted best again by our readers, he might be the reason the public still tunes in for real TV – him, and The Walking Dead, which I'm too scared to watch.
Second: Josh Marthers
Third: (Tie) Erin Kienzel
Third: (Tie) Bill Walsh
Best Veterinarian
When Fluffy and Fido are feeling less than fabulous, it's time to give the four-legged doctor a call. Our readers are fans of Pet Vet in Mount Pleasant, known for getting your furry friends back to feeling fine.
Second: Tidewater Vet
Third: Advanced Animal Care
Best Website
Surfing the Web is one of Mount Pleasant's favorite sports, and our readers especially recommend the Coastal Expeditions and the In Town websites for a particularly satisfying experience.
Second: Advanced Animal Care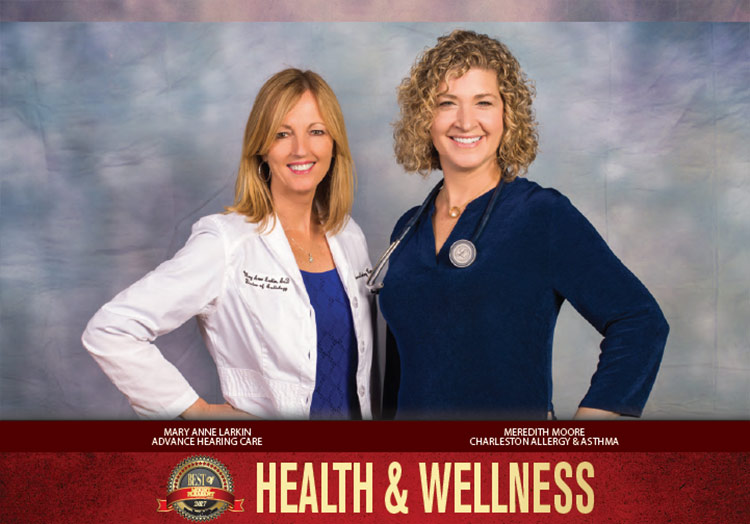 Best Allergist
Are your eyes watering so hard you need rain boots? Is your nose running like it's Cooper River Bridge Run Day? Then take our readers' advice and give Charleston Allergy & Asthma a call. They'll have you breathing easy again.
Second: National Allergy
Third: (Tie) Charleston ENT
Third: (Tie) MUSC Allergy
Best Audiologist
For audiometric testing, tympanometry, otoacoustic emission testing and tinnitus evaluation and management, top marks go to Advanced Hearing Care. If you've been watching the hit HBO series "Game of Thrones" but thought it was called "Flaming Bones," maybe it's time you paid their trained audiologists a visit.
Second: Charleston ENT
Third: Jennifer Esse
Best Chiropractor
Stiff neck? Lower back pain? Chronic headaches? Sports injuries? These are but a few of the conditions that can be alleviated through the thorough diagnostics and skilled hands at Accurate Chiropractic. Drs. Gina and Michael Courson provide superior patient treatment, education and satisfaction for a wide range of conditions that can diminish your quality of life.
Second: Chiropractic USA
Third: Dr. Edward Rak
Best Colon and Rectal Surgeon
Colon and rectal surgery are not topics usually discussed lightly over happy hour munchies. But when they become issues not to be avoided, you can turn to Dr. Margarita Murphy. She has nearly perfect patient ratings for their treatment of often life-threatening conditions that we usually don't like to think about until we have to.
Second: (Tie) Dr. Jeffrey R. Joyner
Second: (Tie) Dr. Jorge Legares-Garcia
Best Dentist
At Pleasant Family Dentistry, their goal is to help each patient achieve optimal oral health that can be maintained for a lifetime. This includes restoring each mouth with the highest quality materials and using the most sophisticated, up-to-date technology. If your own family isn't really all that pleasant, don't worry. They'll give your teeth great care anyway.
Second: RiverTowne Family Dentistry
Third: Wando Family Dentistry
Best Dermatologist
Your skin is your largest organ. So take care of it – and call Germain Dermatology when something looks or seems out of the ordinary. Our readers insist that it's the best practice for making sure skin issues get resolved smoothly.
Second: Sheperd Integrative Dermatology
Third: Mt. Pleasant Dermatology
Best Eye Doctor
If you've been losing at games of "Eye Spy" with the kids lately, it might be time to make an appointment with Dr. Brad Bodkin at the Vision Center at Seaside Farms. According to our readers, he's a regular visionary.
Second: Dr. Kerry Solomon
Third: Dr. Brad Majors
Best Fitness Center
Food is delicious in the Lowcountry, and there's no way we'd ever tell you not to enjoy it. However, delicious food means time spent at O2 Fitness, voted best by our readers. So go ahead and have that pasta – you can sweat it out later.
Second: Planet Fitness
Third: ECO Fitness
Best Gerontologist
The best years of your life can be even better, our readers say, if you call Dr. Rex Morgan, voted best for keeping your golden years shiny. After all, age is nothing but a number – and youth is a state a mind.
Second: Dr. John Kleckley
Best Hearing Aid Provider
If you'd consulted with Advanced Hearing Care, and their professionals have determined that you'd benefit from some hearing boost, listen up! (If you can). This Mount Pleasant office offers the best in digital hearing aids, batteries and assistive listening devices tailored to your own specific needs. Hear here.
Second: Charleston ENT
Third: Zounds
Best Hospital
Our readers don't wish a trip to the hospital on anyone – but when things happen, they're thankful for Roper St. Francis Mount Pleasant Hospital. It's the best place to get top-notch care.
Second: East Cooper Medical Center
Third: MUSC
Best In-home Health Care
Recovery, quality of life and independence are watch words at Amedysis. Services include skilled nursing, health care aides, physical therapy, medical social workers and more, and their clinicians are trained to ensure the patient has the appropriate health care in the comfort and convenience of their own home. Hospice care is also an Amedysis specialty.
Second: Continuum
Third: (Tie) BeWell Home Services
Third: (Tie) Gentiva
Third: (Tie) Roper St. Francis
Best Laser Surgeon
Hands in the air if you've ever heard any of Dr. Kerry Solomon's TV or radio commercials. Can't see 'em? Then you'd better book an appointment with the much-awarded ophthalmologist pronto. This highly-regarded eye surgeon is a world leader in LASIK and refractive cataract surgery, and he and his hand-selected team of professionals offer the gold standard in all eye care needs.
Second: Dr. David O'Day
Best Massage Therapist
Did you know that there are almost as many massage therapists in Mount Pleasant as there are banks? And we've got a lot of banks. That said, there's none that compares with our own Adam Bruxton. His skilled hands will work out all the kinks in your carcass as he meets your every massage knead.
Second: Massage Envy
Third: Don Burson
Best Primary Care Doctor
If you're yearning for a physician who offers more insight than "take two of these and call me in the morning," you're in luck, because East Cooper has just the man. Dr. John Knepper, voted best by our healthy readers again this year, will listen with a compassionate ear.
Second: Dr. Lee Allison
Third: Dr. John Rowe
Best OB-GYN
Dr. Bridget Williamson is one of those rare medicos who can seem to do no wrong. Her online reviews are 100-percent "Highly Satisfied." An example is "I have gone to Dr. Williamson for years. I would recommend her to anyone." Unlike some docs who have never had what you have, she has firsthand experience – four kids of her own.
Second: Dr. Natalie Gregory
Third: Dr. Laura Stickler
Best Oral Surgeon
Good news for all those patients who've heard about Dr. Courtney Shelbourne but were reluctant to travel downtown to hear "open wide." He has a new office right here on Johnnie Dodds Boulevard. For implants, wisdom tooth extractions and maxillofacial surgery, he's the oral surgeon other dental professionals recommend. And he looks just a little like Richard Gere.
Second: Barefoot Oral
Third: Dr. Philip Prickett
Best Orthodontist
A set of straight teeth gives the world the right impression – and speaking of right impressions, it sounds like Dr. Travis Nash gave our readers an impression that made them vote him best for getting your pearly whites in line.
Second- Dr. James E. Kelley
Third – Dr. Timothy M. Pierce
Best Orthopedic Surgeon
My favorite poem of the year was most definitely "Good Bones" by Maggie Smith. And speaking of good bones, our readers suggest that Dr. William Carroll is the best in town for keeping yours sturdy. Have a glass of milk and give him a call.
Second – Dr. Brodie McKoy
Third – Dr. William J. Estes
Best Pediatrician
When the kids are just pulling your leg to stay home from school, you can call their bluff. But when they're genuinely sick, call the caring physicians at Mount Pleasant Pediatrics. They're guaranteed to get them feeling spry again.
Second – Coastal Pediatrics
Third – Seaside Pediatrics
Best Physical Therapist
As their name suggests, Imagine Physical Therapy helps patients imagine the possibilities for a healthy, mobile body. Our readers suggest making the dream a reality and calling them.
Second – Rehabilitation Centers of Charleston
Third – Carolina Physical Therapy
Best Plastic Surgeon
Plastic surgery is an art form, allowing the body to become a medium for beautiful results. And those beautiful results are rendered by Dr. Jack Hensel of Lowcountry Plastic Surgery, our readers' favorite artist in the profession.
Second – Dr. Patrick O'Neill
Third – Dr. Ram Kalus
Best Spa
You deserve to put your feet up – and not just on the grubby couch that the kids spilled dinner on, but in a posh, quiet space, fraught with relaxation and offering wellness services such as massage therapy and sleep treatments. Sound good? Join our readers at The Woodhouse Day Spa.
Second: Massage Envy
Third: Urban Nirvana
Best Urgent Care
Where can you turn when you've stepped into a gopher hole and sprained an ankle? When Junior has walked into a tree playing Pokemon Go? When Aunt Sally feels queasy after eating your famous escargot pie? Health First, that's where. Their clinics are dotted throughout the Lowcountry and ours is right at routes 17 and 41.
Second: Doctors Care
Third: MUSC
Best Urologist
When it comes to issues in what we once coyly called the "nether regions," Dr. Kelly Shaffer of Lowcountry Urology Clinics is numero uno. Whether male or female urological dysfunctions are the issue, Dr. Shaffer has the training and experience to make them right. How appropriate that the clinic where she practices has the word "Lowcountry" in its name.
Second: (Tie) Dr. Jonathan Donaldson
Second: (Tie) Dr. David Brandli
Second: (Tie) Dr. Eric Rovner
Best Weight Loss Program
Favorite jeans won't button anymore? Your spouse grimaces when you ask "Does this make me look fat?" You can diet on grapefruit and work out twice a day and never get the reliable, sustainable loss in pounds and inches you'll achieve by restoring your body's natural balance through the programs at the Metabolic Medical Center.
Second: (Tie) Physician's Plan
Second: (Tie) Weight Watchers
Best Yoga Studio
Relaxation is essential in today's crazy world. So take a little time for yourself and go to Charleston Power Yoga, where our readers are busy stretching and breathing their way to a new state of bliss. Then preserve that bliss by not going to work the next day. Just kidding.
Second: (Tie) Birkam Yoga
Second: (Tie) Gaea Yoga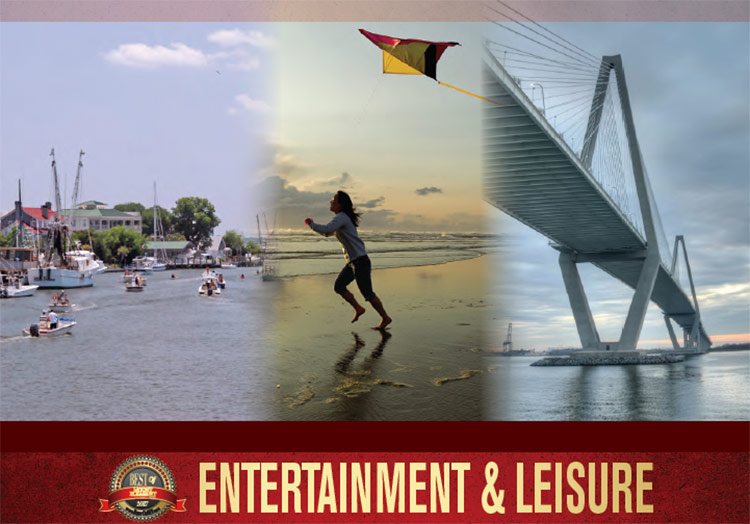 Best Annual Event
Chester the Cheetah is mostly correct – it's not easy being cheesy. Unless, of course, you happen to be at the Mac Off for a cheesy good time. Our readers say it's the perfect excuse to stuff your face with carbohydrates and say "Cheese!" for all those selfies at East Cooper's best event.
Second: Boone Hall Pumpkin Patch
Third: Blessing of the Fleet
Best Apartment Community
Imagine the perfect urban apartment right in the middle of a bustling town. Not only do you never have to touch a lawn mower, you're a few feet away from restaurants and bars. Those city dreams can come true at The Boulevard in Mount Pleasant, voted best apartment community by our readers. No more reasons to move to New York, freeze to death and get mugged!
Second: Gregorie Ferry
Third: Riverwalk
Best Boat Ramp
I had this friend in high school who always used the phrase "Whatever floats your boat." Around Mount Pleasant, it seems that Remley's Point is what floats the boats of our readers, who chose to vote it this year's best boat ramp. But don't just take their word for it – go out and launch your own watercraft. Or a friend's. Because #friendswithboats, right?
Second: Shem Creek
Third: Isle of Palms

Best Concert Venue
Where could you find Adele, Billy Joel, The Trans-Siberian Orchestra and the Rolling Stones all in the same place? Other than Darius Rucker's birthday party, that is. Why, at Volvo Cars Stadium, of course. It's where the biggest stars in the entertainment industry rock the house at one of the most welcoming outdoor arenas in the South.
Second: Party at the Point
Third: Boone Hall
Best Custom Builder
They say a house is not a home. And a home is just a home unless it's an Emerald home. This outstanding builder creates unique, highly livable custom homes offering luxury and function keyed to your individual tastes and designed with your specific lifestyle needs in mind.
Second: David Weekley Homes
Third: Naramore Construction
Best Facebook Group
How many vexed 4-year-olds have wanted to exchange their Mommy for a princess or a TV star or Hillary Clinton? Well, maybe not Hillary Clinton. That's not what the Facebook page Mommy Exchange is about. It's a Mommy-to-Mommy communication tool for all things … Mommy. Be careful accessing this site. A lot of distinctly non-Mommyish sites have very similar addresses.
Second: Mom Swap
Third: Save Shem Creek
Best Kids' Activity
Let your kids loose at Skyzone, and they'll head home exhausted from all the fun they've had soaring through the air at this premier trampoline park. Open jump gets them onto the Main Court, plus they can try freestyle jumping in the Foam Zone and challenge one another at Ultimate Dodgeball. You'll get tired out just watching.
Second: Songs for Seeds
Third: (Tie) Boone Hall Pumpkin Patch
Third: (Tie) Palmetto Island County Park
Best Marina
Isle of Palms Marina is a full-service, 50-slip marina offering well-lit, secure floating docks, city water, cable TV, complimentary wireless Internet and private showers for transient boaters. Plus, it's minutes from beaches, golf, restaurants and shopping. In addition, the marina has a double-wide public boat ramp.
Second: Charleston Harbor & Marina
Third: Daniel Island
Best Movie Theater
I had no date last Valentine's Day, so I went and saw a morning matinee by myself at Cinebarre in Mount Pleasant. Our readers say it's the best spot for theatrical entertainment, and I'm tempted to agree. Between the tasty mimosas and the breakfast biscuit, I was too happy to feel lonely – and the awesome sound quality didn't hurt, either.
Second: Palmetto Grande
Best Neighborhood for Families
When our readers think about neighborhoods suited for families, they ponder the television shows of yesteryear and how the kids played nicely together, all the adults shared similar values and nobody forgot to return a borrowed lawn mower. What comes close in 2017? Their answer is Park West.
Second: Hamlin Plantation
Third: The Old Village
Best Neighborhood for Retirees
After you leave behind the rat race of the working world, it's nice to be able to sit on a quiet porch, sip something cool and contemplate your next trip to the Virgin Islands – all without being interrupted. Our readers say that Oyster Point is the best spot for such a reverie.
Second: Park West
Third: Dunes West
Best Place for Children's Birthday Party
It's right there on their website. Skyzone Trampoline Park delivers "BEST.BIRTHDAY.EVER." How can they make that promise? Their birthday packages include an hour of jump time plus add-ons from pizza to drinks afterward, all in a private party room. Just BYO birthday cake, light the candles and let the fun begin!
Second: Teacups & Trucks
Third: The Little Gym
Best Place to Fish
We all know that if we simply let someone give us a fish, we'll only eat for one day. And our readers are pretty hungry; they had to learn to fish, and they learned to do it at the Pitt Street Bridge. It's the best spot for bringing home supper more than one time.
Second: Shem Creek Park
Third: Mount Pleasant Waterfront Memorial Park
Best Place to Golf
Every golfer has a list of his or her favorite courses in our area, and they all include this Willard Byrd designed links-style course on Charleston Harbor. The par 72 layout at Patriots Point Links offers four separate tees playing from 5,100 to 7,000 yards and including one of the most stunning holes ever, the par 3 17th.
Second: Dunes West
Third: RiverTowne
Best Place to Go For a Run
When Bruce Springsteen sang about being born to run, he wasn't talking about lacing up a pair of Asics and training for the Olympics. Even if that was his aim, he couldn't have found a place in central Jersey as great as the Ravenel Bridge for putting a few miles on his new running shoes. Our readers say it's an inspiring route.
Second: The Old Village
Third: Isle of Palms Beach
Best Place to Meet Singles in Person
Charleston Wine Pairings seeks to place singles matched by compatibility in an inviting atmosphere with wines selected to complement their encounter. Overheard: "I'll have the tall blond and a nice Shiraz." Steer clear of the guy in the corner with the 'shine in the brown paper bag.
Second: The Shelter
Third: Red's Icehouse
Best Place to Paddle Board
Top three reasons why Shem Creek is the place to paddle: 1) No cruise ships or container vessels; 2) Tsunamis only rarely recorded; 3) Lots of dolphins, manatees and shore birds to see and enjoy. If you can stand on a paddle board (or learn how to), Shem Creek is the premier place in the Lowcountry to get close to nature on the water.
Second: Isle of Palms
Third: Intracoastal Waterway
Best Place to Play Tennis
I have fond memories of trying to play tennis with various opponents over the years. Sure, I embarrassed myself, but the fresh air, sunshine and cute tennis skirts made it all worthwhile. And according to our readers, Creekside Tennis & Swim Club is the place to find fresh air and sunshine. Oh, and to actually hit the ball.
Second: Volvo Cars Statium
Third: I'on Club
Best Place to Rent a Paddleboard
What SUP? At Coastal Expeditions, it's stand-up paddle boards. They'll not only rent you everything you need to get on the water, they'll arrange for lessons if you need 'em, provide nautical charts and weather info and toss in some expert paddling tips. Ominous advice: Wear shoes that'll stay on your feet and quick-drying clothing.
Second: Nature Adventures Outfitters
Best Place to Take a Date
Regular date nights keep a marriage healthy and interesting. But let's face it: You can't take your date out for Taco Bell and expect that to count. Therefore, our readers suggest dinner and cocktails at Tavern & Table, the best place to woo your wife or husband so they'll forget about all the ways you've annoyed them over the years.
Second: The Fish House
Third: Fill Piano Bar
Best Place to Watch Sports on TV
Some of us don't have the money to go to the big game – or even to pay for a sports package on our home flat-screens – or, heck, even to have basic cable on our 1995 televisions. That's why there's Wild Wing Cafe for game day. Finally, you can get in on the action and excitement, along with our readers, for the price of some tasty chicken wings.
Second: King Street Grill
Third: O'Brions Pub & Grille
Best Place to Walk Your Dog
Friendship is a two-way street, including the one you share with your dog. But how will you ever repay your furry companion for all of the love, loyalty and face licks he or she offers you? Well, our readers suggest a day at the Pitt Street Bridge, voted best place to take a walk and show you care.
Second: Palmetto Islands County Park
Third: The Old Village
Best Place to View the Ravenel Bridge
Charleston isn't a city of skyscrapers, but we do have our own version of a skyline, and it's the Arthur Ravenel Jr. Bridge. So where can you go view this magnificent work of art against a cerulean backdrop? According to our readers, Memorial Waterfront Park is just the spot.
Second: Patriots Point
Third: The Fish House
Best Playground
You may think of Alhambra Hall as a fantastic place for a wedding, an anniversary party or some other special event. But don't forget its spacious lawns and play facilities. Let the children run free while you watch a glorious sunset over the water. Or climb a sturdy tree and feel like a kid again yourself.
Second: Big Toy Park
Third: Mount Pleasant Waterfront Memorial Park
Best Volume Builder
D.R. Horton has been delivering high-quality homes to buyers for more than 35 years. To date, the company has created a wide range of beautiful homes throughout the town, meeting the needs of young professionals, growing families and empty nesters. Their hallmark focuses on unique floor plans with an open design philosophy.
Second: David Weekley Homes
Third: Lennar