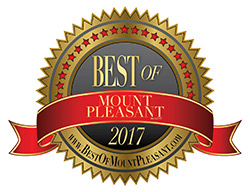 Voters are automatically registered for free dinners and prizes provided a total of 15 votes are entered. [Best of Mount Pleasant 2017 Results]
Rules for Participating in the Best of Mount Pleasant 2017
No purchase is necessary.
Each voter must vote only once
Each voter must provide a name, and email address. Your information will be automatically entered into our drawings for exciting prizes such as tickets to events and dinners.
Each voter must provide a total of 15 answers in order for his or her vote to be qualified.
Voting will end at midnight, Nov. 8, 2017.
All voters must keep answers within Mount Pleasant, Awendaw, Daniel Island, Sullivan's Island, Isle of Palms and McClellanville in order to be qualified.
If your vote in a category does not pertain to that category, the vote will be disqualified. Example: Voting for a steak restaurant in the Best Chinese Food category
Results will be printed in the January/February 2018 edition of Mount Pleasant Magazine as well as publicized on the web.