For this year's pet issue, we asked our loyal Mount Pleasant Magazine readers to submit stories about their favorite four-legged best friends. From comedic chickens to heroic pups, all of you shared heartwarming stories of loyalty, bravery and genuine love, and we saw some of the best pets in the Lowcountry.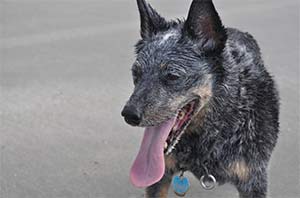 Pet Owner(s): Beau Evans
Pet: Argos the Australian Cattle Dog
Argos has been my best friend for almost a third of my life. During that time, we have had some amazing adventures, and he has made me a better person. We have canoed down the Green River in Utah for 80+ miles and backpacked in the Southeast for many more. He has been in the shotgun seat for more than 10,000 miles as I commuted back and forth to Florence for work. On the weekends, we lived on a sailboat and he learned how to jump in the forward hatch and climb up the stairs to get out. He is constantly on patrol for the sound of splashing water, whether it be breaking on the bow or driving through a puddle. Argos retrieves the ball with the best of them either on Sullivan's or diving off a dock. He has presided over the girls I dated and helped me propose to my wife by carrying the ring on his collar. When my twins were born, he welcomed them into my home and protected them while we ran around trying to keep the house together. He is an old dog now and is suffering from lymphoma. Despite that, he continues to show me how I should live. No regrets for what was undone yesterday and no anxiety of what is to come tomorrow. We tried chemo but the treatment was worse than the disease. So for these next few days, he will maintain his position as the best friend I've ever had and then will leave this world on his own terms while feeling good. He is a unique soul that I pray to meet again in heaven.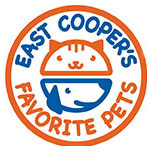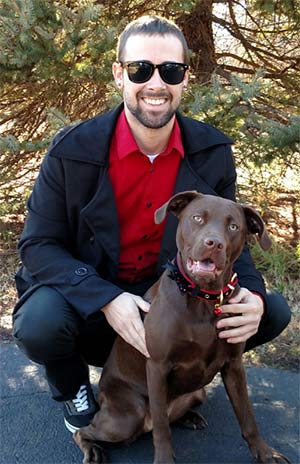 Pet Owner(s): Hunter Shaw
Pet: Reesie the Chocolate Lab
Reesie is unique for many reasons. I watched her be born on my birthday, and she was given to me by my close friend who died a few months later in a car crash. She brings so much love to our family. She wants to do everything that we are doing, right down to eating at the table (which we let her do occasionally). My mom loves pretending to put makeup on her when she's putting hers on or helping carve a pumpkin. She loves modeling for pictures, the beach, swimming, tricks, road trips, cuddling and tug of war. She waits for us to say blessing before she eats her food. I actually believe she thinks she is human. But most importantly, she helps put a smile on my mom's face. My mom has an incurable nerve illness called trigeminal neuralgia, which, according to the medical field, is the most painful condition known to man, so to us Reesie is unique and a special blessing.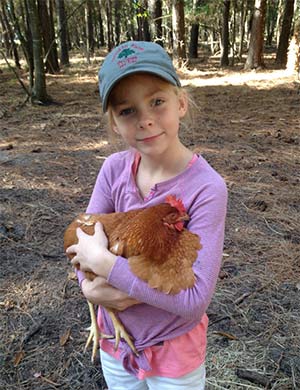 Pet Owner(s): Mary Claire Morgan
Pet: Brownie the Chicken
My name is Mary Claire Morgan. I'm 8. I love chickens. Chickens are funny animals with great personalities. My favorite, Brownie, loves to be hugged and loved. She knows she beautiful and likes to show off her feathers. Most chickens are, well, chicken. But not Brownie. She's brave. She recognizes me when I'm in the distance and she knows my voice. She gets excited to know that I'm coming to get her to give her a big hug.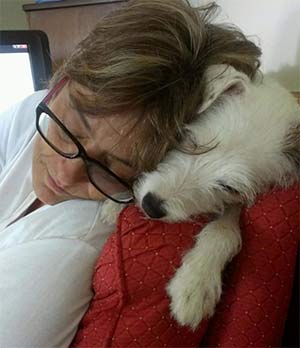 Pet Owner(s): Kieran Mays
Pet: CC Bloom the Jack Russell
There is never a dull moment in our lives with CC Bloom. After having a stroke in 2012, she has been my constant faithful companion. She woke me up in time to crawl out of a window when my house was burning down. She let's me know every morning that there are creatures outside ready to invade my home, and she fearlessly tracks them down and chases them away. She rests her head on my knee while I'm eating, making sure to gobble up anything I may let drop from my utensil and she always licks the bowl clean leaving it ready for the dishwasher with no hard crusty stuff. I never have to worry about snakes, rats, insects, or other vermin as CC makes a sweep of the yard a few times a day to keep me safe from intruders. CC stands guard at my chair making sure the other dogs don't get too close so I won't trip and fall on them. CC loves to swim, boat ride, and give kisses. I truly love my little darling CC Bloom.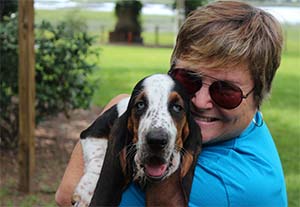 Pet Owner(s): Missy Johnson
Pet: Tides Sinatra the Basset Hound
Tides Sinatra is so special. From the tip of his nose to the end of his tail, he is nothing but love and kisses. I adopted Tides from the Carolina Basset Hound Rescue three years ago, when he was 4 months old. Actually, he picked me. Tides was all over me when we went to see the puppies for the first time. Of course, his standout feature is his ice blue eyes (hence the name Tides and Sinatra, because my husband said that people used to call Frank Sinatra "Old Blue Eyes") that lock on your heart. His sweet, friendly manner gives Tides a never-meet-a-stranger approach. He's a total clown and, even at 3 years old, is still all puppy! He loves to go for rides and enjoys playing at all the local parks, beaches and pet friendly spots around town. Everyone that meets him loves him, and he is my constant shadow and guardian angel. I lost my big dog, Wy, a few years ago and it feels like Wy sent Tides to watch over me here while he watches from heaven. Tides even does things that only Wy did, like squeaking toys, sleeping on my feet and staying by my side everywhere I go. Wherever I am, Tides is! I am so blessed to be a part of Tides' World. …he even has a growing social media popularity on Instagram and Twitter as Life of Tides and Facebook as Dogs for the Paws. He is an advocate for all fuzzy kids in need and works as a volunteer for his basset rescue. I worked in the pet industry as a graphic designer and Tides was my co-worker, so that's how he became known through social media. He is the social houndster of the Lowcountry.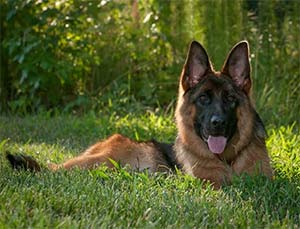 Pet Owner(s): Angi Duckwall
Pet: Malaika the German Shepard
Malaika is a handicapped German Shepard that uses a wheelchair. She was born with a spinal deformity that limits the use of her legs, but that doesn't slow her down. She was rescued through the Southeast German Shepherd Rescue's Phoenix Program for dogs who have medical conditions and might otherwise be euthanized in general shelters.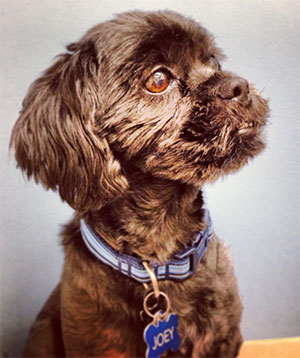 Pet Owner(s): Matt and Michelle Vitelli
Pet: Joey the Shih Tzu
Joey was abused as a young puppy. He came to live with our family around the age of 2. Because of his past, he suffers from severe anxiety. Last year I (Joey's mom) was diagnosed with a brain tumor and underwent brain surgery. Joey seemed to know that he had a job to do, and he took it very seriously. He stayed by my side during recovery while I regained my vision, hearing and learned to walk and do basic things again. Now, a little over a year later, we are adding a human baby to our family! Joey, once again, knew – even before we did – that something was going on, and he has become my little protector.
Through our love for each other, we both have recovered and are leading wonderfully happy lives.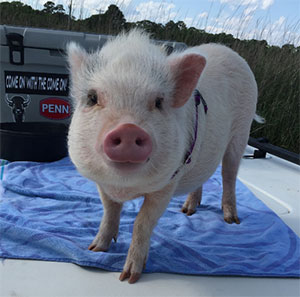 Pet Owner(s): Jaimie Hough
Pet: Daisy May the Potbellied Pig
Well, she's a potbellied pig for starters. And she is the coolest pig in town. She can shake, turn around, high five (it's actually a pretty low five) and she is potty-trained to go outside. She cheers us up when we are down and she loves her brother, our hound dog, Jackson. She also absolutely loves to go on the boat. We call her our "Bow Hog."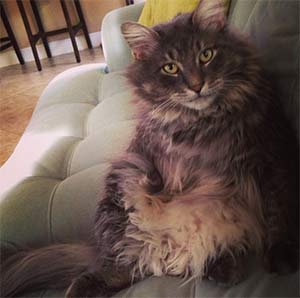 Pet Owner(s): Ashley
Pet: Gizmo the Maine Coon Cat
Gizmo has the quirkiest personality. Sometimes I swear he thinks he's human! He loves to eat popcorn and sit up right on the couch with the rest of the family.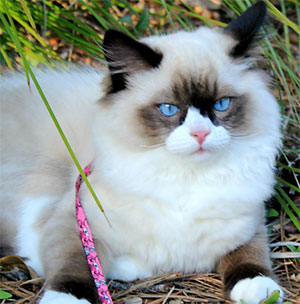 Pet Owner(s): Teresa Smith
Pet: General Sumter the Ragdoll Cat
Sumter loves walks with me, preferably in his carriage, but I also walk him on a leash. We were even on the news a couple of years ago when we ran into Bill Walsh on the beach at Fort Moultrie. That's as close to Fort Sumter as he will ever get since, unfortunately, no pets are allowed there.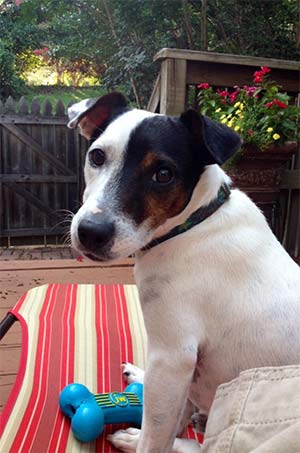 Pet Owner(s): Tami McCune
Pet: Tucker the Jack Russell
Tucker and I found each other almost three years ago. I rescued him from a shelter in North Carolina, but he actually rescued me, also. He is a loving, dedicated friend who loves the beach, his many toys and a good nap underneath his favorite blanket. He travels with me to sales calls across both Carolinas, where my clients are always eager to see him.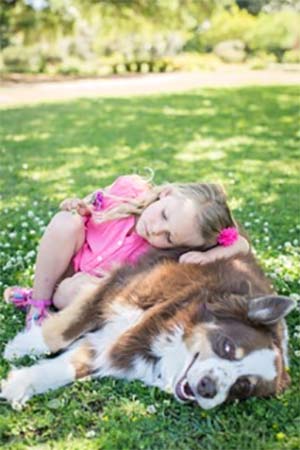 Pet Owner(s): Cara Heule
Pet: Pork Chop the Australian Shepard
Pork Chop is the most attentive, sensitive and sweet guy. Since my daughter was born, he took her on as his responsibility to look out for and keep safe. Pork Chop is selfless, and his greatest joy is to feel like he is helping or protecting in some way.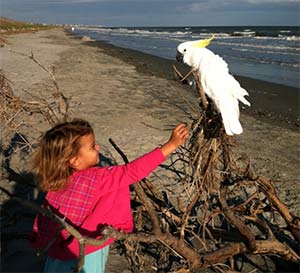 Pet Owner(s): Kristen Haynes
Pet: Eureka the Sulphur Crested Cockatoo
Eureka is one very cool bird. He does all sorts of tricks, like stretching his wings up and out ("Be an eagle!"), rock and roll (head bobs to music), waves "he-woo and bye-bye" (with his feet or wings), shakes hands, dances, sings and loves to entertain! He goes for daily walks in the neighborhood or on the beach, lets kids pet him and also visits various assisted living centers as a pet therapy bird. The residents love petting his soft feathers and seeing his tricks – it really brightens up their day!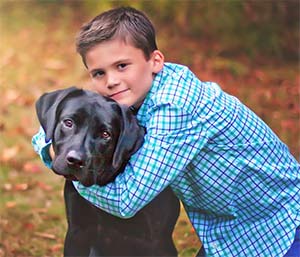 Pet Owner(s): Hadley Shaw
Pet: Bond the English Labrador
Bond (007) is unique because he is only 2 years old and he is old soul. He is so laid-back, yet he loves me and my younger brother and sister. He was brought to us on Christmas, and his name was chosen as my daddy is from the UK and loves James Bond films. We thought an English Lab should have an English name.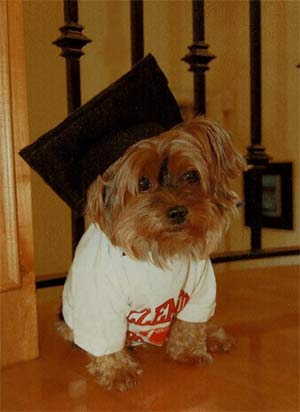 Pet Owner(s): Jenny Atkinson
Pet: Tiny the Yorkshire Terrier
She was a tiny dog but always acted like she was a lab. She went to Clemson and graduated with high honors! Seriously, she went with my daughter to school up at Clemson for a semester! Proof in the picture! Go Tigers!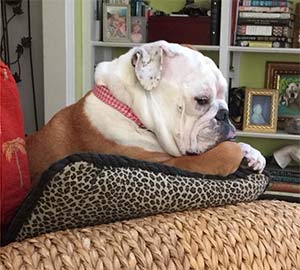 Pet Owner(s): Frank & Lisa Moore
Pet: Tiny Bubble the English bulldog
Tiny Bubble was the smallest in her mommy's litter, but her personality is larger than life! Everyone loves "The Bubble"! She is so kind and thoughtful. We snapped this picture of her praying for the families the night of the AME shootings in Charleston. She has also entered the Beautiful Bulldog Contest at the Citadel, and she won first place for costume design, while her mom won "Miss Congeniality"!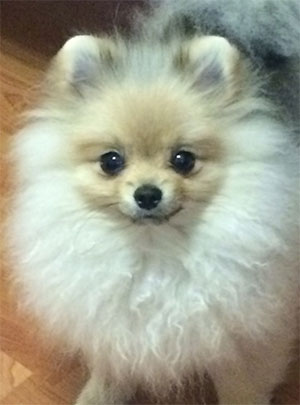 Pet Owner(s): Linda Hanf
Pet: Missy Hope the Pomeranian
Missy Hope had a rough beginning. Her mother tried to destroy her (bit her several times). She was removed from her mom and hand-raised, thus the name "Hope." She is a joyful girl and loves life.

---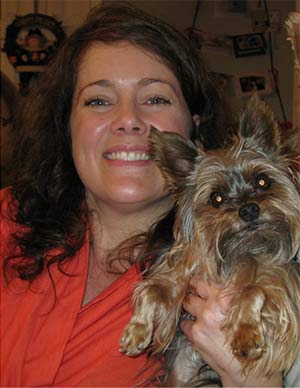 Pet Owner(s): Kim Stockwell
Pet: Winston (Yorkie)
I am married and I have two yorkies. I am a Charleston native. I am from James Island and moved to Mount Pleasant 2 1/2 years.
Where do I start?
Winston was an anniversary present from my husband.
My baby boy knows words. If he doesn't understand me at first you can see in his eyes and his head turns that he is listening intently to figure it out.
He tells me when he is hungry. He is hand fed because when he was three years old he almost died. He came down with some unknown stomach virus and lost two pounds in three days. He was 4 lbs then and went to two lbs. The day before the vet was going to do exploratory surgery on him he had a turn around and got better. He gained some weight back and I still have him today.
He is a quite dog most of the time. He barks when I take him out on his walks. He isn't barking at anyone or anything he is just so excited to be on his walk he barks. He isn't a whiner or a barker unless he sees another dog.
Winston is very independent. I have another yorkie at home and my mom has two yorkies but Winston prefers to be outside playing rather than with the pack. He does love when his brother comes out to play with him. But his brother doesn't love the outdoors like Winston.
He doesn't beg. I can put him in my lap while I eat dinner and he will just sleep.
He catches ground moles. He loves the water. Chasing fiddler crabs and swimming after horse shoe crabs. He likes trying to catch minos too. He loves the boat and will jump in the water so we have a lime green life jacket for him.
He loves to watch racoons and tries to play with my moms chickens. He loves the outdoors more than playing with toys inside.
He is afraid of thunderstorms and fireworks so I keep his thunder shirt on him in times like that. He doesn't like it when I put it on him but it does work. His fear includes real thunderstorms and fireworks as well as those on our TV. He sometimes has to wear his thunder shirt durning movies.
He also has a dog carrier he loves to get in we call his bucket. If you ask him to get in his bucket he will gladly do so. He especially loves it if you carry him around in his bucket.
He loves to go bye byes. He rides in booster seat that has an orthopedic cushion for his safety and mine. I have a booster seat for Winston and his brother in both of our cars.
I groom him myself but he isn't a huge fan of the whole process. But he is a trooper.
He is so excited to see me when I come in the door. He runs around and puts his head on the floor with his butt in the air for me to pet him. He knows how to really cuddle.
He snuggles at night in the bed. I could probably go on and on but I will stop here.
He makes my heart happy. I am so grateful he is in my life.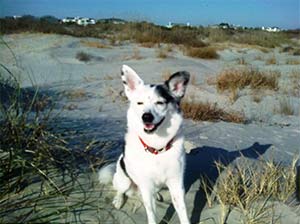 Pet Owner(s): Bill & Julia Reed
Pet: Bailey (Border Collie)
Bailey was a rescue dog, she and he brothers and sisters were found left to die in a shopping cart behind a NC Walmart. She was 1 pound when we saved her and now she 15 and happily living in Mount Pleasant with her loving family.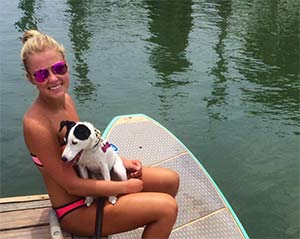 Pet Owner(s): Catherine Ratliff
Pet: Jackie (Jack Russell)
Santa Claus delivered Jackie to me 13 years ago and she has been my best friend ever since them. She is so loyal and stays by my side during life's ups and downs. I left last year for my freshman year at The University Of Tennessee and sweet Jackie slept in my room every night waiting for my return. Jackie is the true meaning of a girls best friend.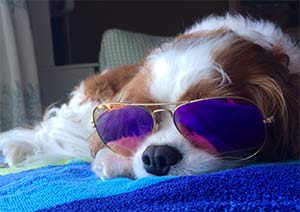 Pet Owner(s): Libby Ratliff
Pet: Willie (King Charles Cavalier)
Willie is the man! This boy is so much fun and keeps me active. Gentle soul and loves everyone. Because he is a sweet little guy who loves to give hugs.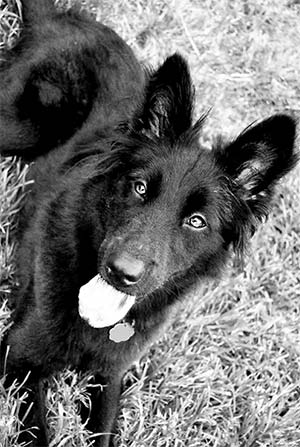 Pet Owner(s): Celess Titus
Pet: Ellie (Collie Chow mix)
Ellie was a rescue. She was found with another litter mate who had a broken leg. When we first adopted her they thought she was about six months old. She was afraid of everything. She was afraid of cars, her leash, other dogs, men, women, a kennel, noises, and sleeping alone. We acclimated her to life pretty quickly, and she now loves to run at the dog park, play with my husband, stare down squirrels, go to the beach, and she is very obedient. We knew we needed Ellie as much as she needed us in her life. We love our pup and want to show the world how lucky we are to have her in our little family!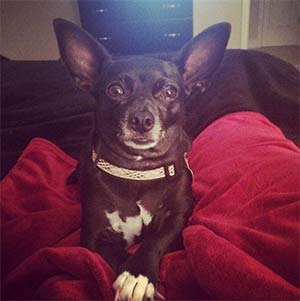 Pet Owner(s): Haley Carter
Pet: Olive (Chihuahua)
I rescued Olive a few years ago when a friend and I went to my hometown to see where they filmed the horror movie "The Strangers" not far from the house I grew up in. While driving down Oliver Rd we saw a small dog in the middle of the road who had been in some way been hit by a car. We rushed him to the nearest emergency vet where they were able to tell me that he was going to be OK and that "he" was actually a "she". We decided to change her name from Oliver to Olive and she has been mine ever since. She is now healthy, happy and loves to play outside with my family's dogs. She brings so much happiness to myself and yes–even to strangers!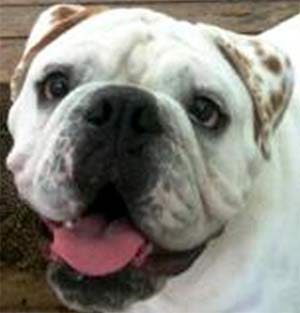 Pet Owner(s): Teresa Eichman
Pet: Wilson (English Bulldog)
Even though he drools soooo much, you gotta love him. He makes you smile and he will say mama and I love you. He brings me my mail if you ask. Just like my two daughters, he makes my life great!!!!!!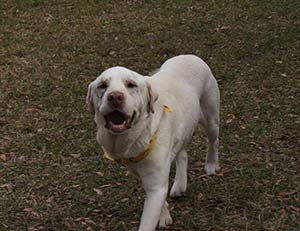 Pet Owner(s): Cheryll Woods-Flowers
Pet: Howard (English Labrador)
In December 2012 we lost our sweet Golden Retriever Idgy and we were heartbroken. Already a home with a dog and a one eyed cat that had been rescued, we we very fortunate to have an opportunity to fill the great void created when we lost Idgy by fostering Howard from Lowcountry Lab Rescue. He came to us heartworm positive, with infections in both ears, and needing some surgeries to remove tumors but we fell in love with him! In June 2013 he officially became a member of the Woods-Flowers family! He is now heartworm negative, weighs 95 pounds, and his nickname is Ferdinand the Bull because he is such a gentle giant. We are so very thankful for Lowcountry Lab Rescue…we like to say that Howard rescued us!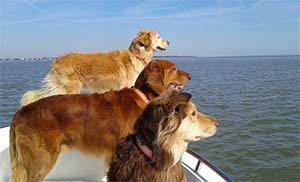 Pet Owner(s): Wendy Weisner
Pet: Sullivan, Walker, and Fievel (Two Goldens and an Australian Shepherd/Golden mix)
They are unique because they are all rescues. They love the water, and are the best dolphin spotters East of the Cooper! Walker the Red is Mr. Personality. Sullivan the Blonde, is a little Buddhist, and Fievel the Caramel Macchiato is a little old soul in a young dog's body. He was found on a Native American Indian reservation in Arizona, commonly called a 'res dog'. A happy little pack of beach walking, boat loving, swimming with the dolphin water dogs.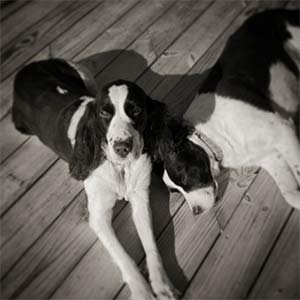 Pet Owner(s): Brian M Carroll
Pet: Layla & Basil (Springer Spaniel)
Layla and Basil are simply put…the BEST DOGS ON THE PLANET. They give love unconditionally at all times.
What more can you ask for 🙂 Layla is my heart and soul., she is my loyal companion. UNCONDITIONALLY !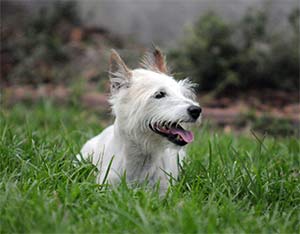 Pet Owner(s): Brian M Carroll
Pet: Winston (Wire Haired Jack Russell Terrier)
Winston The Wonder Dog. Winston has now passed and crossed the rainbow bridge. He is running around up there looking for a ball to chase. He was 17 years young. Still thinking of you every day little buddy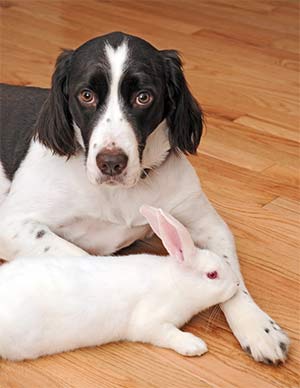 Pet Owner(s): Brian M Carroll
Pet: Layla & Ears (Springer Spaniel and Rabbit)
Layla is unique because of her motherly skills, although she never had the chance to be
a mom she has always chosen to nurture any other babies that we brought into our home. We LOVE Her !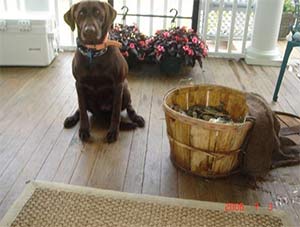 Pet Owner(s): Thomas Kuppens
Pet: Queenie (Chocolate Lab)
Good natured lab that loves to fetch, imagine that! She also gets the newspaper every day.

Pet Owner(s): Tracy and Thomas Musiol
Pet: Jordy 'Bubba" Musiol (Black Domestic Cat)
Jordy is a rescue from the Charleston Animal Society. We fell in love with him and his sister. We brought them both home and at the time they were fine. We found after a few weeks they both had some medical issues. We had to put his sister down due to her illness and Jordy is blind in one eye. However that does not stop him from being a love bug and such an important part of our family. He loves string in any form. We get gifts of string a few times a day he balls them all up and brings them to us as presents. He has figured out that the string is in the pantry closet and will go inside and pull it out. He loves to play with the many toys that we have for him in the toy box. Everyday he brings us so much joy and happiness to our lives. We don't know what we would do without our boy. We love coming home at night and he is at the window waiting with his one paw on the blind as if touching you to welcome you home.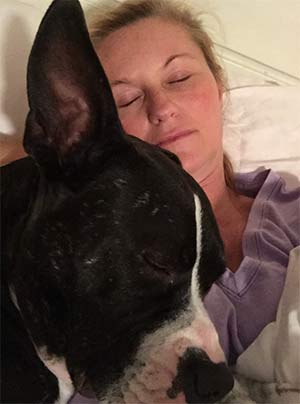 Pet Owner(s): Faith Blackburn
Pet: Louis (Pit Bull)
Louis was a stray who manages to get himself hung upside down in a tree, impaled on a limb for 48 hours ! I fostered him and we feel in love , he's a keeper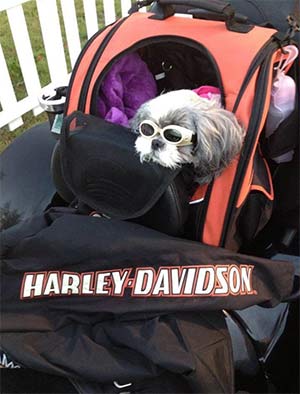 Pet Owner(s): Joy Foster
Pet: Phoebe (Shih tzu)
Phoebe was a rescue who had been neglected. After rescuing her and getting her severe skin allergy under control, we discovered she loves to ride on our Harley Davidson motorcycle. When ever she hears it start up she runs to get on it.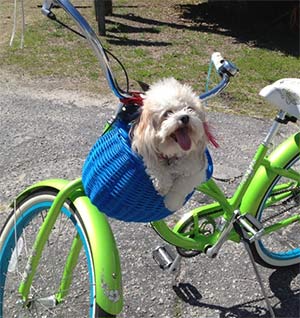 Pet Owner(s): Janet Millimet
Pet: Cabo (Cavachon)
He loves going for bike rides around Sullivan's Island & he's cute and the easiest dog ever!!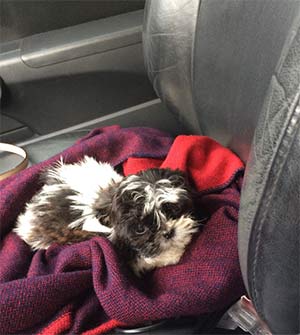 Pet Owner(s): Elba M Moisa
Pet: Oreo (Shih tzu)
He is lovable, a cute cotton ball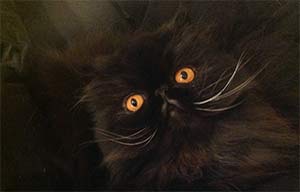 Pet Owner(s): Sonja Teichner
Pet: Sammy (Persian cat)
Sammy is an 8 year old solid black male Persian cat. He has two sisters, one is one month younger than him and the other is a year older than him. Sammy is very friendly and loves people. Sammy's favorite holiday is Halloween because he likes to greet all of the trick-or-treaters when they come to the door. Sometimes he even wears a costume. Since he is an indoor cat his hobbies are are watching movies (The Cat Sitter) and playing games on the iPad. The games he likes the most are Pocket Pond and Cat Fishing. But most of all Sammy likes napping and snuggling.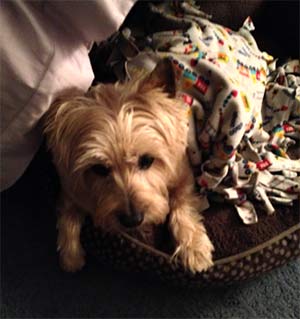 Pet Owner(s): Pat Riley
Pet: Mick (Cairn Terrier)
Mick spent over 5 years in multiple "Puppy mills" when we adopted him at over 5 years of age his paws had never touched real grass. He had never seen a butterfly, nor had meals he did not have to fight for. When he finally entered rescue he weighed a mere 12 lbs. (he now weighs 25),
Mick is the most loving and thankful pet. He loves to walk, and play with toys which he had never done before. He is social to people and other animals. Since coming to be our "Son" 3 1/2 years ago we make sure he knows nothing but love and he reciprocates every waking moment. He still has some "Hangovers" from his puppy mill days- moving vehicles like bicycles, runners, an tall men.
I think everyone should have a rescue dog. They appreciate every moment of their loving lives. Many have known abuse or being cages, not being stroked or held or the feel of freedom and grass between their paws.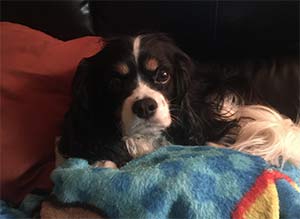 Pet Owner(s): Trese Freitag
Pet: Bob Marley (King Charles Spaniel)
Marley is as cool and as Bob Marley. He is great with my autistic son, who generally doesn't get along with any animals except for Marley!

Pet Owner(s): Jessica Hecker
Pet: DeeBo (Flat Coat Retriever Mix)
DeeBo was found in a dumpster and brought into an animal hospital where I was working. He was about 4 months old, emaciated and sick. I took care of him for a few months, and when it came time to find him a home, I couldn't imagine him going home with anybody else.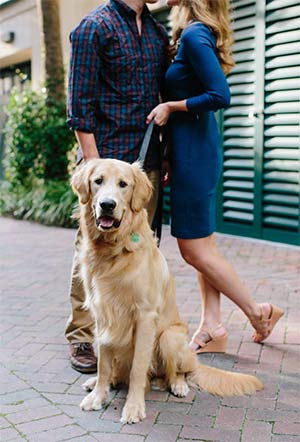 Pet Owner(s): Jonathon Ashley and Jordan Jaime
Pet: Moose (Golden Retriever)
Some like to call him Clifford, others Eeyore, but we prefer Moose! Our sweet pup is the largest Golden Retriever our Vet, at Park West Veterinary has ever seen! Just about to turn 1 year and coming in at 92 lbs. but he still acts like he did the day we got him, just a little bit bigger. He crouches to the ground when he meets anybody then instantly rolls to his back assuming your going to scratch his big ol' belly. We really did get the perfect fit! Plus his Dad, Jonathon is a C-17 Pilot stationed at Joint Base Charleston, the C-17's nickname, Moose! We just love him!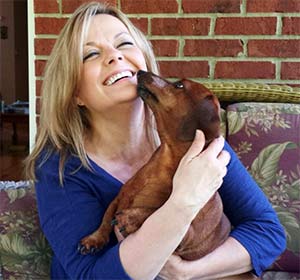 Pet Owner(s): Pamela Mason
Pet: Skeeter (Dachshund)
He is so loving to everyone who meets him. He loves other dogs too. He has often been referred to as the big Brother to any new pets in our neighborhood.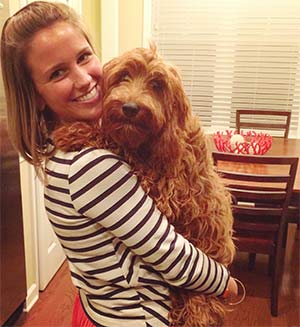 Pet Owner(s): Ashley Cashon
Pet: Finley (Irish-doodle)
Finley is a 8 month old mini Irish Doodle who has a huge personality and a lot to say. This little red dog is constantly talking through whines, grunts, and dramatic sighs to let you know exactly how she feels. Be very cautious of her hugs, she will not allow you to walk in a room without picking her up so she may hug your neck. We are just realizing this may be a problem when she gets older and bigger.

Pet Owner(s): Ashlyn Peterson
Pet: Tojo (Shiba Inu)
Tojo is A-W-E-S-O-M-E. He loves the chasing the hose, bubbles, playing catch, walks, bones & treats…. of course! He may look evil in this picture, but he is just chasing bubbles!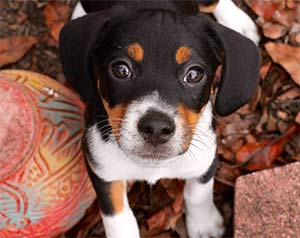 Pet Owner(s): Ashlyn Peterson
Pet: Lilli (Beagle Jack Russell mix)
Meet LILLI… she is a little punk, full of attitude and personality. She loves being outside, whether it's chasing bubbles, sunbathing, or chasing squirrels. When she is not outside, she is inside getting into trouble…. anything from tearing up toilet paper to chewing shoes. All and all, Lilli is an awesome puppy! — She still has a lot of learning to do, but we are moving in the right direction 🙂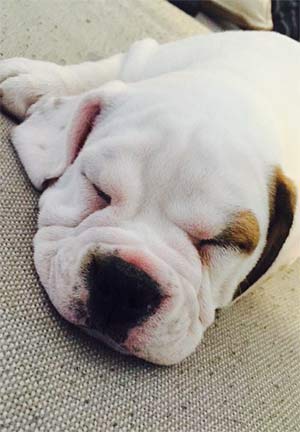 Pet Owner(s): Karen Dillard
Pet: Chubbs (Beabull)
Chubbs is one of a kind! She is 3/4 English bulldog and 1/4 Beagle. She has such a fun personality. She is smart, sweet, kind and hilarious. Oh, and she loves to sleep!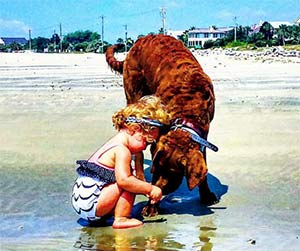 Pet Owner(s): Sindy Orvig
Pet: Huck (Chesapeake Bay Retreiver)
Named for western hero Doc Holliday – Cape Romain's I'm your huckleberry goes by Huck. The independent temperament and extreme loyalty that are key notes of the cowboy's legacy are heavily present in America's first registered breed of dog.
While he is just a year old he has been to almost every beach, creek, trail, restaurant (that will have him), and dog park in Charleston; however, we've only run into one other CBR. He's traveled to West Virginia, Arkansas, and everywhere in between with me but we always come home to Mt. Pleasant.
Born in McClellanville, SC and raised here in Mt. Pleasant, SC; Huck is a true Charleston native (a trait that is quickly becoming exceedingly rare).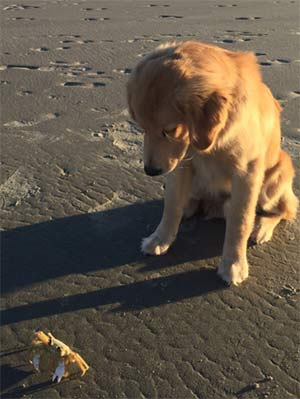 Pet Owner(s): Courtney Vorachek
Pet: Ranger (Golden Retriever)
Ranger is just over one year old and melts the heart of everyone he meets. His owners, who reside in Mount Pleasant, can't go far without Ranger getting attention for his sweet "smile" and demeanor. He is friendly beyond belief and loves to please everyone. Ranger enjoys the beach, kayaking with his owners on Shem Creek, boating around Charleston, eating out with his owners at all the dog friendly places in town and napping under the bed. Ranger got his name as a spin off from his dad Wrangler who still lives in Aiken, SC. Ranger is special because he an all American beauty and sweeter than all the sweet tea in the south!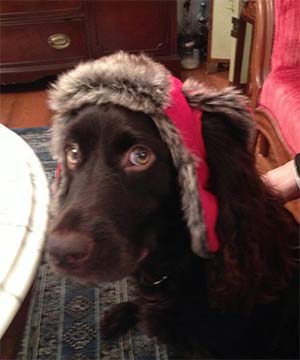 Pet Owner(s): Shelley Challoner
Pet: Morgan (Boykin Spaniel)
He is my best friend.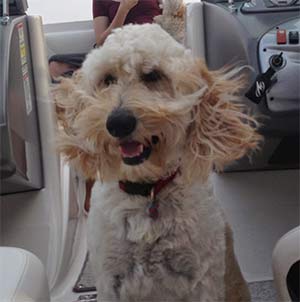 Pet Owner(s): Suzie Webster
Pet: Seamus (Golden Doodle)
Seamus loves his ball and it is always with him. He will chase his ball on land and sea. He is a happy, friendly dude who loves hanging with his family on the boat in Maine. He has traveled all over the country in an RV, but his favorite place is Grammy's house on Panther Pond in Raymond, Maine or Sullivan's Island beach for some ball time.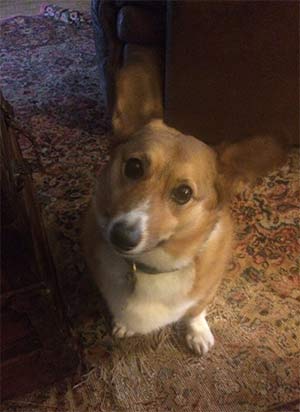 Pet Owner(s): Marianne Donato
Pet: Amos (Corgi)
Amos is a very loyal dog. He does agility and is good at it. Loves people. He is my buddy and loyal companion. He also knows a lot of words that you say. Like Ball, Play, Beach.

Pet Owner(s): Kelly Antonevich
Pet: Ollie (King Charles Cavalier)
Ollie is the best puppy!! He is super sweet and loves everyone! He loves the boat and lounging on the couch with his mom and brother.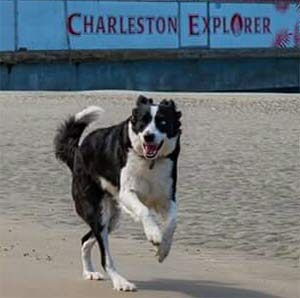 Pet Owner(s): Tripp Hanna
Pet: Marley (Border Collie)
Marley is amazingly smart and has endless energy.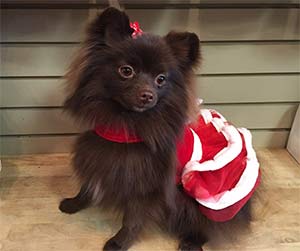 Pet Owner(s): Linda Hanf
Pet: Meena Bean (Pomeranian)
She is a very special happy girl. She is a therapy dog and makes all she meets happy. She plays well with other dogs. She is always happy to give kisses when asked and some without being asked. She is beautiful and brings joy to all that meet her.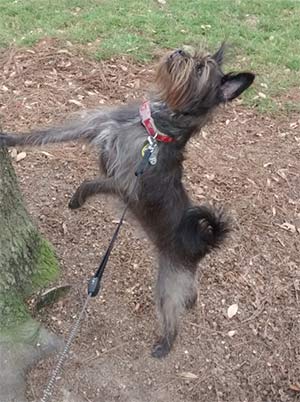 Pet Owner(s): Judy Harvey
Pet: Aggie (Mixed Terrier)
I adopted Aggie from Palmetto Paws Rescue. When people ask me what breed she is, I tell them – a cross between a goat and a flying squirrel! She loves to climb and jump! Her Uncle David Steele, DVM/Owner Advanced Animal Care here in Mount Pleasant, says she is the happiest dog he has ever seen. Best of all, she rescued me. I had waited five years to get another dog after losing my Shih Tzu, Tooter. Aggie makes me laugh every day and has changed my life. I love her so…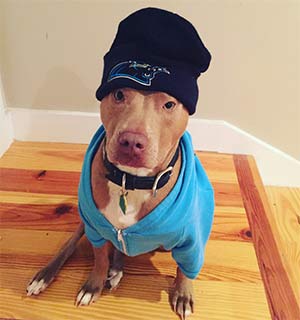 Pet Owner(s): Kelly Bridges
Pet: Jack (Pit Bull)
Adopted from Charleston Animal Society, Jack has bad back knees but has never let that slow him down!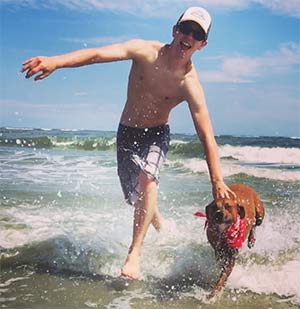 Pet Owner(s): Noah Buckhannon & Sadie Evans
Pet: Roxy (Pit Bull mix)
We adopted Roxy from Pet Helpers 2 years ago and she is considered our child now! She loves going on new adventures and takes every opportunity to dart towards the car for some cruising on a sunny day. She loves going to the beach, playing with her sister Maya, and her all time favorite- cuddling!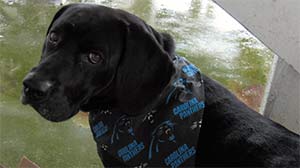 Pet Owner(s): Captain Tommy Edwards
Pet: Otis, the Creek Dog (Lab/basset hound mix)
Everyone in Town knows Otis. He loves to visit our local business and spread cheer. He is a sweetheart and very good natured . Two dogs long and one dog high.
He is the joy in our life!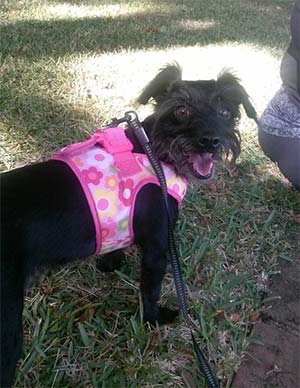 Pet Owner(s): Samantha Butler
Pet: Lulu (Poodle mix)
Lulu is my best friend. She is almost 8 years old, I have had her since she was a tiny baby. Lulu loves to dance, eat cheese, and go boating. My husband and I have no children so lulu has filled that void in our hearts. She's an wonderful little girl with a heart of gold and is the apple to mine and her daddies eyes.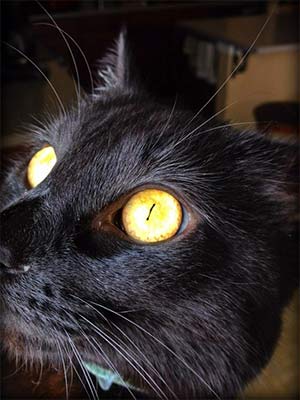 Pet Owner(s): Ashley McHale
Pet: Boo (Feline – domestic short hair; black)
I adopted Boo 5 years ago in Indiana. She is such a sweet kitty. She is great with my children who are 3&5 and she loves her kitty brother and sisters. She doesn't play fetch like a dog, but she will come running to you if you play the song Bicycyle Race by Queen, on your phone. But, expect to give her a lot of attention if you do. Keep in mind, it has to be just that one song.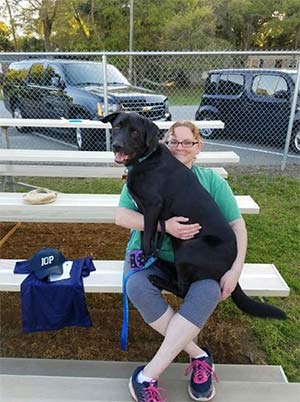 Pet Owner(s): Katie Preston
Pet: Olaf (Lab mix)
Olaf is the most loving dog I have ever had and is a total Momma's boy. He gives great hugs and melts into you! He is also convinced he is a lap dog. We adopted Olaf from Pet Helpers a little over a year ago and he has been the PERFECT addition to our family. He enjoys running laps, playing with his friends at the dog park and howling at firetrucks. He also goes to work with his Momma every day and plays the roll of office stress reliever. He's an all-around puppy hero!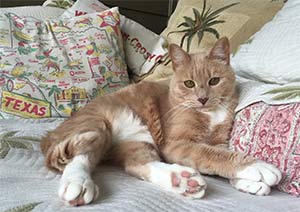 Pet Owner(s): Bill Frodyma
Pet: Annie (Domestic Shorthair)
Very much bonded with me. Follows me around like a dog. Very playful and smart.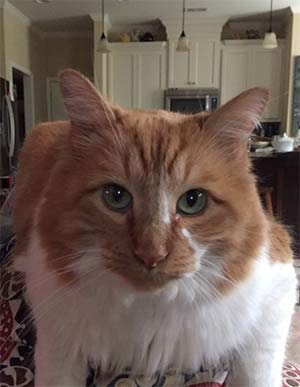 Pet Owner(s): Marilyn Pease
Pet: Monte (Maine Coon Cat)
Very loving and touchy-feely. Loves to spoon with me.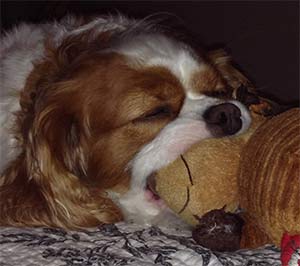 Pet Owner(s): Darlene Enroth
Pet: Chloe (Cavalier King Charles Spaniel)
Chloe is the "baby" in the family with two older furry siblings! She's the biggest love bug around but must also protect her toys so the other two don't steal them away. She solves that problem by sleeping with them in her mouth 🙂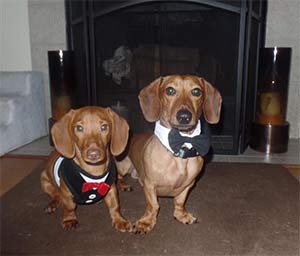 Pet Owner(s): Elin Philpot
Pet: Razzy and Toby (Dachsunds)
Our 2 dachshunds are like potato chips, you can't just have one. As a breed they have been known as stubborn dogs, but our weiners are pretty unique: combined they know 10 tricks, like : Sit, lay down, go to your bed, pray, give me paw, roll ower, sit up. "bang bang aka play dead", high five, lets go outside, speak, bring me your ball.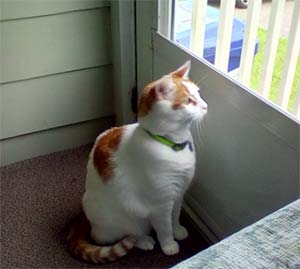 Pet Owner(s): Laurene S Cunningham
Pet: Harvey Cunningham (Turkish Van cat)
Harvey thinks he is a dog, not a cat. He can "sit" ,"roll over", and retrieve a toy on command. (But he hasn't learned to bark yet) He is very handsome with his one blue and one green eye, and such a little sweetie.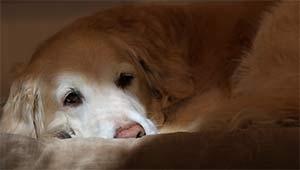 Pet Owner(s): Tom Dittrich
Pet: Annie (Golden Retriever)
World's most beautiful Golden Retriever, who knows how to relax Lowcountry style.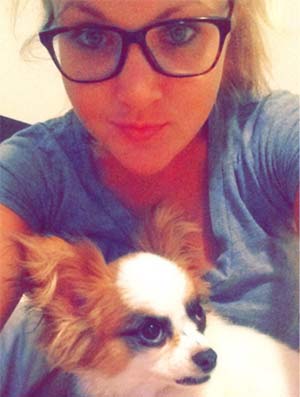 Pet Owner(s): Julie Cox
Pet: Foxy (Papillon)
Foxy is the best dog I have ever had. She just celebrated her 7th birthday! Weighing in at a whole 5 pounds, she loves to cuddle, play with her toy alligator, and has the biggest personality! When I say "I love you", she stops and her attention gazes on me like she knows exactly what I mean. She is so social, I can't take her anywhere without someone falling in love with her! I can't imagine life without her in it, when I get home from having a bad day and see that sweet face, how can I not be in a good mood!? See picture and you will know what I mean!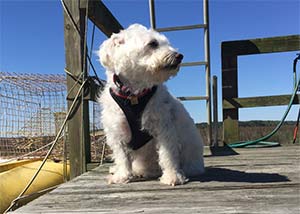 Pet Owner(s): Elizabeth Boineau
Pet: Jefferson Davis Boineau (Bijon and Jack Russell)
He's full of spunk, vim and vigor! He lives with me some, my mom some- so he has his own manor(s) downtown, Mt. Pleasant and Edisto! His eyes will melt your heart, and he's a bit spoiled having a doting mom and grandmommie too! We love our precious patriot!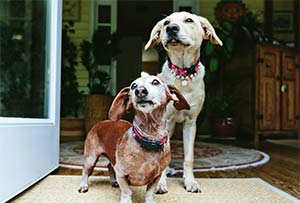 Pet Owner(s): Louis Yuhasz & Fred Wszolek
Pet: Frank & Beans (Daschund and Lab)
These guys are each other's best friends and partners in crime. Beans thinks she's Frankie's litter mate and Frank is without a doubt the mastermind of this dynamic duo! Always at each other's side, fiercely protective of each other and their dads these two are inseparable!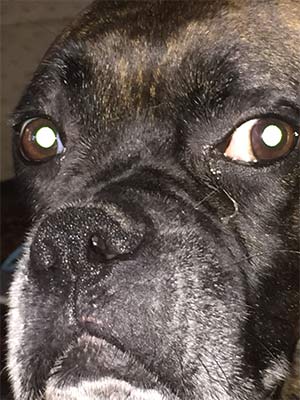 Pet Owner(s): Rich Phillips
Pet: Tyson (Boxer)
Tyson is a 10 year old with the energy and love of life of a puppy. He still loves running and playing with his human brothers, and shows no signs of slowing down.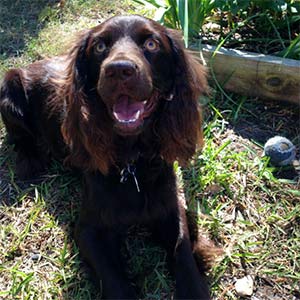 Pet Owner(s): Khris England
Pet: Rueger (Boykin Spaniel)
Our Rueger was the runt and now he is a beautiful part of our family. He is a beautiful example of our state dog.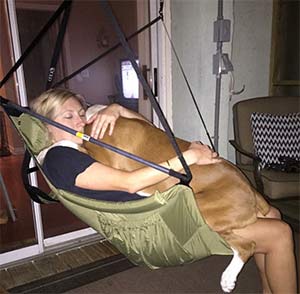 Pet Owner(s): Lindsay Gipe
Pet: Titan (Boxer)
Titan is amazing! I have wanted a boxer since I can remeber!!! So after waiting years and years and years my boyfriend surprised me with one for my 32nd bday. Its the best present I have ever gotten, love of my life so to speak haha. We are best friends. Titan is so smart, sweat, cuddly, personable and a showstopper! I take him to the dog park and I can hear people commenting "do you see this boxer?" He gets it all the time. He has pulled me out if a depression that I cannot explain and has showed me what it is to live again! So thankful for this fourlegged friend of mine my little Tnugs (aka poohbrear)!!!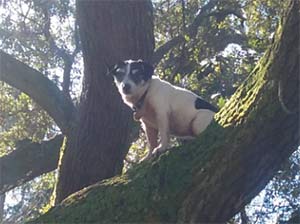 Pet Owner(s): Kathy Evans
Pet: Kolby Evans (Jack Russell)
Kolby is unique because he loves to sit in my angel oak tree in the back yard. However, I found out several months ago that he is allergic to Oak Trees…so he gets allergy injections so he can continue his favorite thing. Hanging out in Sotia. (Sotia is the name of the oak tree in my back yard)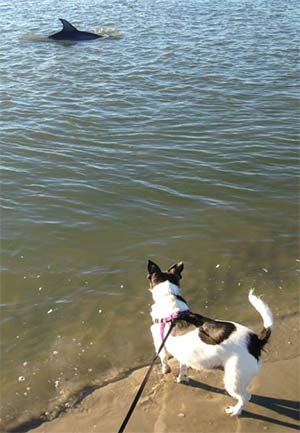 Pet Owner(s): Kathy Evans
Pet: Noel Evans (Jack Russell – Fox Terrier mix)
Noel is the most wonderful companion anyone could ever ask for. She picks up on my emotions and sticks with me thru everything. She sleeps against me every night. She is such a loving dog! Oh and she was quite intrigued by the dolphins at the beach on the IOP.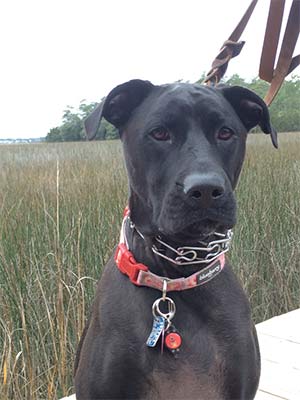 Pet Owner(s): Liz Thompson
Pet: Remi (Lab Mix)
This precious baby was rescued after she spent her first months of life being locked up in a puppy mill. My boyfriend, Jordan, and I fell in love with her the moment we saw her. Three years later and we're happy as ever with our daily adventures! Remi loves chasing dogs around the park, giving kids kisses, and, despite her size, loves to be a lap dog.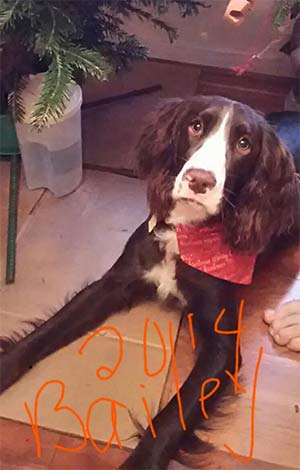 Pet Owner(s): Valerie Romanelli
Pet: Bailey (English Springer Spaniel)
She is a loving, sweet, dog. She is very attuned to each individual family member. She is adorable and we swear she has human emotions.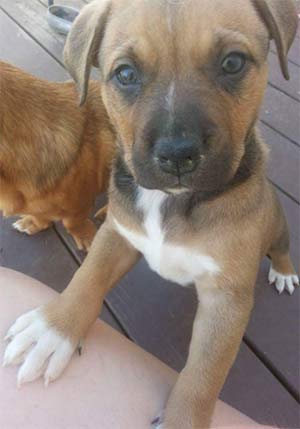 Pet Owner(s): Victoria
Pet: Xena (Staffordshire)
Xena is a sweet little puppy model for me. She has an extra dew claw, she chases her own shadow and barks at it, and she runs immediately to you whenever a camera is out.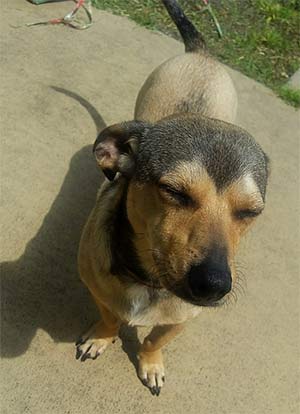 Pet Owner(s): Allison and Patrick Galentine
Pet: Bear Bryant Jr. (dachshund/ beagle/ shelter surprise)
His personality is most unique, his facial expressions tells you exactly what he is thinking. Like in this photo, it is like he is saying ahhh sunshine. He loves sunshine, digging holes just to sit it in them, snuggling, playing fetch with any toy, and eating. He hates and growls at the broom, balloons, and things out of place like a sock on the floor. He is our crazy little fur child.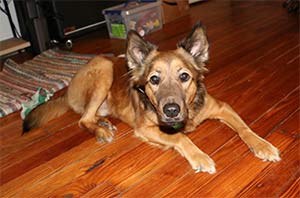 Pet Owner(s): Ellynn Decker
Pet: Gatsby (shepherd mix)
Gatsby has always been sassy since the day he was rescued from the Charleston Humane Society. He will huff and puff if he doesn't want to go to bed. He also will give you his input on any situation.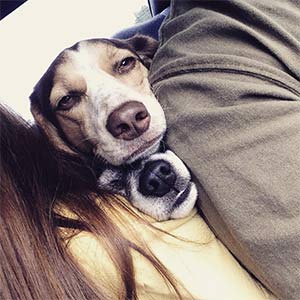 Pet Owner(s): Brandon and Ashley Croy
Pet: Lizzy (black lab) and Daisy (fox hound)
Lizzy is eight years old. We often call her "the little old lady" due to her being older and her short stature. She's gentle and a huge cuddler. Daisy was introduced to the family a year ago. She is a little over a year old. She is our free spirit and at times we call her "crazy Daisy" due to her way of running and hilarious faces. They both have became best friends, unable to leave each other's side. This photo is our favorite not because it's simple funny. As we always do on car rides, we refuse to let "the girls" come to the front seats while we're driving. This day in particular, they weren't taking no for an answer. Squashing their faces and standing on one another, they were dead set on getting to us.

Pet Owner(s): Jon and Tara Powell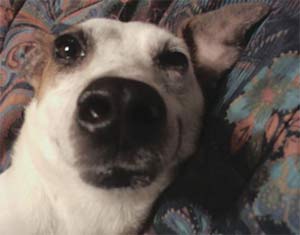 Pet: Bea (Jack Russell)
I sent by husband to the pet store for cat food and he came home with this little rescue. She had been a breeder dog and had escaped a life of 5 years living in a cage. We were head over heels in love. The vet came and said that she was 3 days from deaths door. We had her on many medications over the next year and held her continually and gave her lots of loving pretty much the entire year. her heart finally gave finally gave out and she went on to be with Jesus. She was the most living pup we ever had and she is sorely missed.

Pet Owner(s): Sidney Evangelista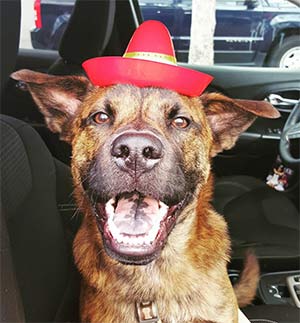 Pet: Tebow (Dutch Shepherd)
Tebow is the sweetest puppy. There is literally nothing that can upset him! He is best friends with pretty much every little insect or animal he runs into! Tebow often chases butterflies at the dog park and likes to play gentle with the small dogs and little puppies. Tebow has had a huge impact in my life and I could not be any luckier to have him as a best friend!

Pet Owner(s): Dave Simmons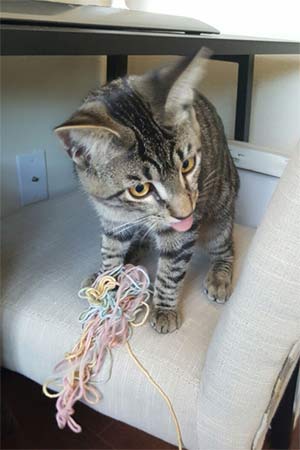 Pet: Cooper (Tabby cat)
Cooper loves to talk. He thinks he is a dog. There's never a dull moment when Coop is around. We caught him with mommy's yarn on this particular day!

Pet Owner(s): Xander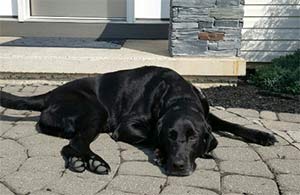 Pet: Bear (Black lab)
Bear is a very kind and non-aggressive dog. He loves people and he especially loves eating pastries! But he oddly thinks he's a cat.

Pet Owner(s): Brittany Laviana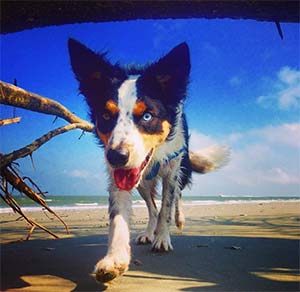 Pet: Zule (Border Collie)
Zule is a 4 year old border collie who survived being hit by a truck with a broken leg and collapsed lungs. Today he is the most active dog in Charleston! He runs every 5k in town with me, and loves boating, the dog park and ofcourse the beach!

Pet Owner(s): Ellen Frazier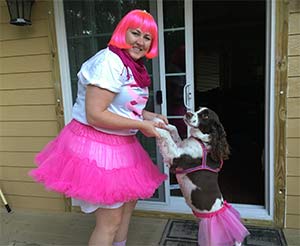 Pet: Maya Lani (English Spinger Spaniel)
She is the biggest spazistic dog, she constantly keeps me laughing and loves me unconditionally.

Pet Owner(s): Chris McMurray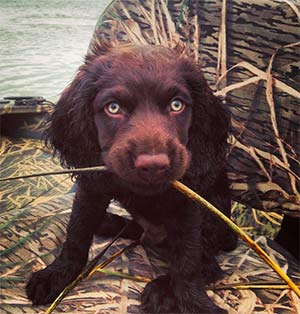 Pet: Quinby (Boykin Spaniel)
Quinby loves the water, he just jumps in to swim, wether it be in a straight line or a circle.

Pet Owner(s): Laura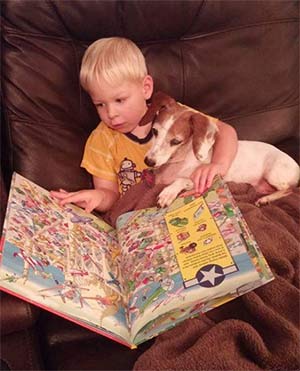 Pet: Libby (Dachshund)
Libby was rescued from a CA shelter 4 years ago at 12 years old. Over the past 4 years she has fostered countless dogs, moved cross country and become our sons absolute best friend. She is the reason I do senior dog rescue!

Pet Owner(s): Margaret Baker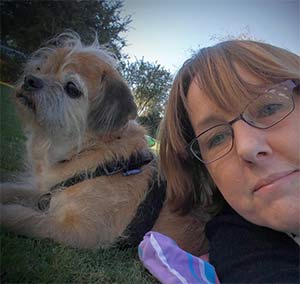 Pet: Pup Pup (Mixed Terrier)
My daughter was 4 months old when I took my mother to get Pup Pup. He was a little tiny thing with the sweetest face. Fast forward 10 years and Pup Pup was a constant companion for my mom til the day she passed away. I promised her I would take Pup as my own and would give him a wonderful life. He is now my constant companion and brings me wonderful memories of my mother. He meets me at the door everyday with a greeting so full of love. I can't imagine my life without him. He's a part of my family and he brings so much joy. He loves to ride in the car and just go places. He has a bum leg so walking long distances is hard so I take him places in a baby stroller. We get strange looks but people inevitably stop to pet him. I think he could be famous but I'd still be his No. 1.

Pet Owner(s): Libby Perry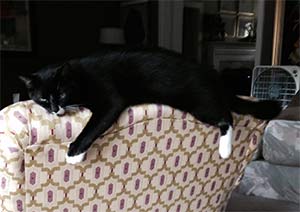 Pet: Lenny (Domestic cat)
He is our little piece of black and white America (named after rock star Lenny Kravitz) Just look at the picture! It sums it all up "he is one cool cat"

Pet Owner(s): Courtney Polin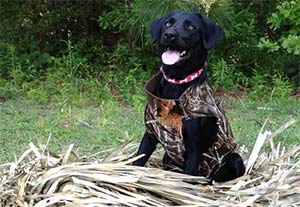 Pet: Bella (Black lab)
We got Bella when my son was just a few weeks old, she was also a few weeks old. It has been wonderful to see them grow up together. She watches over him and he is very sweet to her. They love playing fetch together and Bella also loves going duck hunting with my husband. She has been a great addition to our family!

Pet Owner(s): Alicia Banks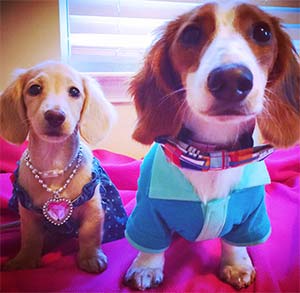 Pet: Mason and Pearl (Longhaired Dachshund)
Both are amazing dogs, very loving friendly and loyal. Mason is a mamas boy and goes everywhere with me including work, Pearl is a daddy's girl.

Pet Owner(s): Kelli Coulter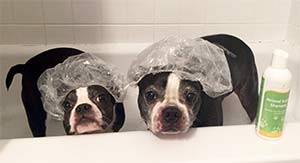 Pet: Louie and Lillie (Boston Terrier)
Louie and Lillie love to pose for photos…ok, not really but they will do it for bacon!

Pet Owner(s): Ellie McDermott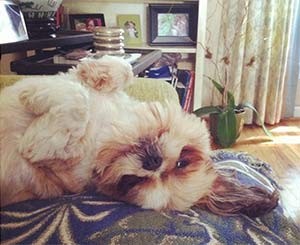 Pet: Murphy (Shih Tzu)
He is super clumsy but in the most adorable way and his favorite thing is to get his belly rubbed.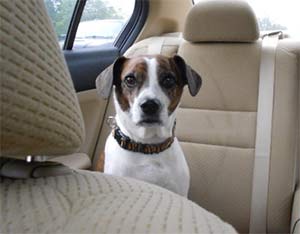 Pet Owner(s): Debbie Opachinski
Pet: Bree (Jack Russell/Bulldog mix)
Bree is the perfect dog for our road trips to New Jersey. She even enjoys the Lewes Ferry ride. Best "back seat driver !"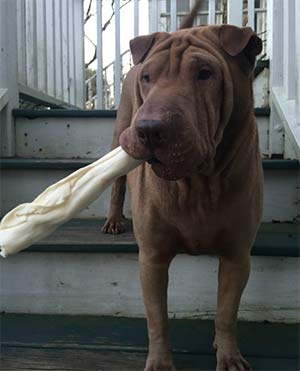 Pet Owner(s): Adrian Evangelista
Pet: Pepe (Shar Pei)
She loves everyone including her three cats! Her wrinkles, her take charge attitude, and most importantly her undying love for her family.

Pet Owner(s): Nikki Wood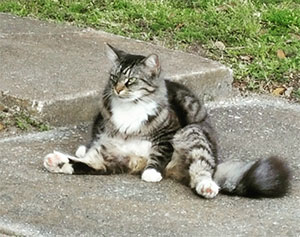 Pet: Lola (Maine Coon)
Lola is a special rescue that brightens up our lives daily. She even has her own Instagram account with over 2000 followers called Faces Of Lola to share with the world her silly antics.

Pet Owner(s): Paige Dagnan

Pet: Finnegan Wassamasaw (Corgi)
He is the corgi of corgis; the corg of corgs. Often he misbehaves and takes his mom's car out for a spin. But who wouldn't, when you're a stud trying to promote the low life scene of Corgis and cars everywhere? Finnegan the corgi runs his own Instagram (@corgsgotstance) where you can follow many of his wild and scandalous adventures. From skinny dipping at the beach to hanging out on the porch of his favorite little dive bar. Not only is he a smooth operator with the ladies, but he is also starting his own business. A nice car, swag, and bow ties for days; what more could you ask from a dapper guy like him? At only three years old (his birthday is coming up in August for all of you swooning ladies) he is at the top of his game.

Pet Owner(s): Rachel Campbell

Pet: Jethro (Beagle/ Chihuahua Mix)
Jethro is 3 1/2 years old Cheagle; Beagle/Chihuahua mix. He is a sweet and cuddly mama's boy but has the tenacity of a chihuahua. He loves to run and play fetch as well as track critters outside. He enjoys going on hikes in the mountains with us and has been to the top of several waterfalls and popular summits in North Carolina. Jethro has an endless sense of adventure and always loves to explore new places.

Pet Owner(s): Rache Campbell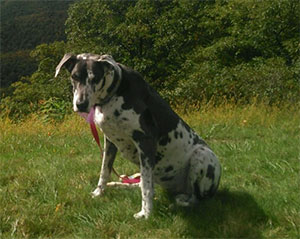 Pet: Wilma (Great Dane)
Wilma is from Waters Edge Great Dane Rescue and went from being tied up in the back yard all day to becoming the mascot for Indigo Creek Pet Supplies. She has overcome heartworms from lack of care in her previous life and now is healthier than ever. She enjoys coming to work with me everyday and greets customers as they come through the door. Wilma also enjoys going hiking with us and has also been to the top of several mountains. She is a master at napping and loves any treat!

Pet Owner(s): Jessica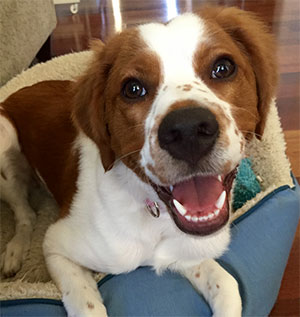 Pet: Roxy (French Brittany)
Roxy is a happy puppy (8 mos) with a love for everyone and scared of everything. She always has a smile on her face 😉

Pet Owner(s): Alyson Wiggins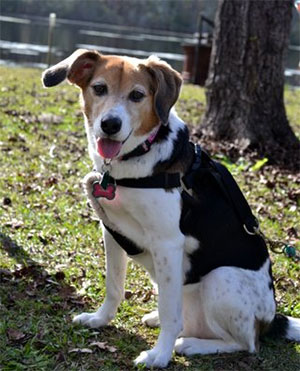 Pet: Hannah (Beagle)
Hannah came to us from the Charleston animal shelter. Hannah is very loving and caring. She brighten ups anyone's day. She really loves her human parents, when we leave she goes crazy. Hannah loves to take walks, play with other dogs and most of all she will work your hart! We think God brought us to the Charleston Animal Shelter, for her to pick us as her human family. She has become our best friend. We are so glade that Hannah found us! We love her.

Pet Owner(s): Amanda Martin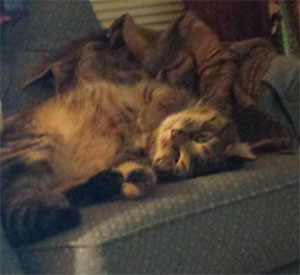 Pet: Frannie Mae (Tabby cat)
Frannie is a wild child. It is rare she catches a break

Pet Owner(s):Vicky Garner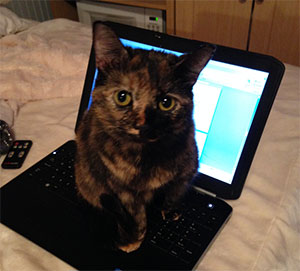 Pet: Cali (Domestic House cat)
I adopted Cali from the Charleston Animal Society where she was brought in with a litter of stray cats that had been rescued from Edisto Island. She was very skittish and afraid of humans and it has taken me 3 years to develop a bond of trust with her. Now, as a 3 year old, she is still afraid of strangers, but has warmed up to her mama and even craves attention when it isn't convenient to give it to her. Like when I am trying to do my homework. LOL. She has become a sweet, loving kitty who only trusts her mama.

Pet Owner(s):Lia Hautamaki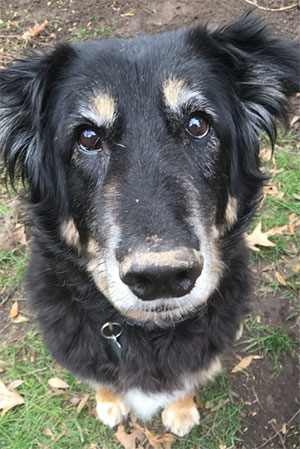 Pet: Koby (Collie mix)
Koby stole my heart during my last year of college. Between his dire need to be by my side and expressive eyebrows, he could always brighten my day. In the 8 years Koby has been with me he has adopted a cat and another dog sister who bugs him incessantly and he puts up with every second of it.
Koby is the exactly reason I will always adopt from shelters and insist my friends do as well. He was 1 1/2 when he came home with me and at 9 1/2 I still thank god everyday I have with him.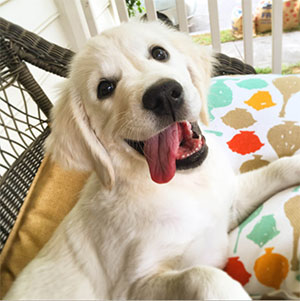 Pet Owner(s):Josh and Elise Nissen
Pet: Ava (English Cream Golden Retriever)
Ava is only 3 1/2 month old, but she already knows and loves many of her human and canine friends throughout I'ON where we live. She loves belly rubs and being the center of attention. She is currently enrolled in Kinderpuppy classes at East Cooper Animal Hospital.

Pet Owner(s): Carmela Jackson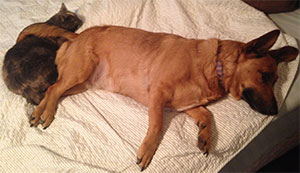 Pet: Lily (dog) and Kitty (mutt, mix)
Lily was rescued from a high kill shelter 5 years ago. She brings great joy & love to our home. Kitty, a stray was found on a highway and my animal loving son brought her home. Who said cats and dogs can't be friends?! They are like peas and carrots. True story.

Pet Owner(s): Becky Grantham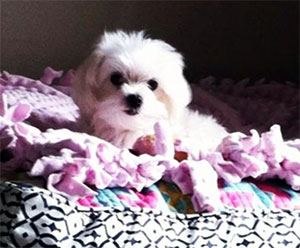 Pet: Lily (Maltese)
Before she was even a year old weighing in at barely a pound, she had to undergo a very complicated surgery to remove one of her kidneys and to relocate some other major parts for her other kidney. I was worried that she wouldn't make it her first birthday but thanks to the amazing surgeon at the emergency vet in Mount Pleasant we just celebrated her 8th birthday.

Pet Owner(s): Justin Smith and Staci Kelly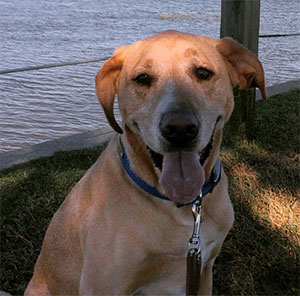 Pet: Cooper (Lab mix)
Cooper has so much personality! He absolutely loves to run in any open field and he's extremely friendly. This dog only knows love! He loves to cuddle and play fetch at any moment. Cooper is the best high-fiver!

Pet Owner(s): Vaedin Wiles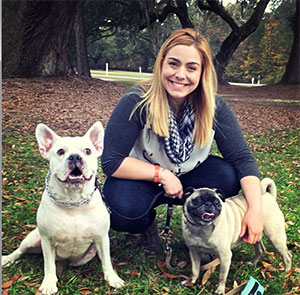 Pet: Ziggy and Lennox (Freelance Bulldog and Pug)
Laughs and snores galore! Ziggy is the dog park rabble-rouser! Always part of the welcome committee and sure to wear all other dogs out.
Lennox has never met a lap he didn't like! More human than dog, his thoughts are always clearly shown on his wrinkled face. You will never get away from these two without a head rub or a kiss!

Pet Owner(s): Bobbie Petersen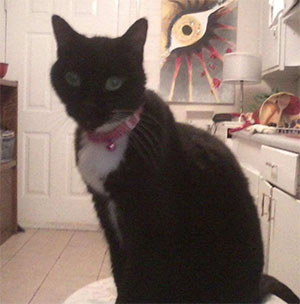 Pet: Snowboots (Tuxedo kitty)
She brings fallen camellia blooms to our front door.

Pet Owner(s): Kati Wilhelm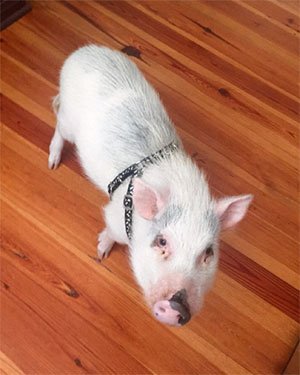 Pet: Scout (Julianna mini pig)
Scout is unique in that he is one of very few pet pigs in Mount Pleasant. He lives indoors, but he loves to spend time outside basking in the sun and eating leaves and acorns. He loves snuggling and belly rubs. And his favorite way to warm his nose is to sit in your lap and stick his nose inside your armpit. She will always be an indoor pet size, around 30 to 35 pounds.

Pet Owner(s): Gina Romanelli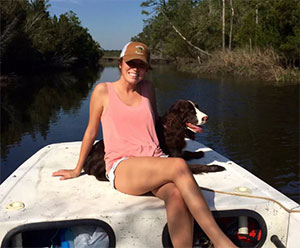 Pet: Bailey Romanelli (Springer Spaniel)
Bailey is surely something special! She loves boat rides and licking the lotion off your legs! She snuggles up close to you at night and she is the most loyal friend I have ever had!

Pet Owner(s): Stephanie Kramer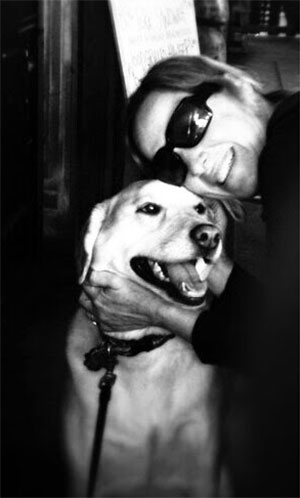 Pet: Finn (mutt)
He is the sweetest soul…I foster puppies and he is so kind and loving even when they are driving him crazy…I rescued Finn but really he saved me and has taught me so much…I'm a better person for being his doggie mom…

Pet Owner(s): Zoe Webber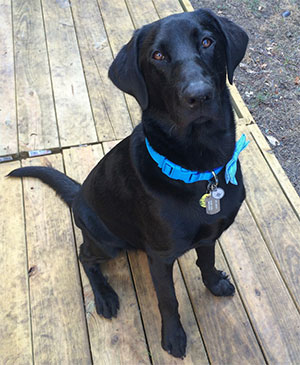 Pet: The Mighty Thor (American Lab)
The Mighty Thor is an ambassador at My Three Dogs and loves all animals, big and small.

Pet Owner(s): Dani Franks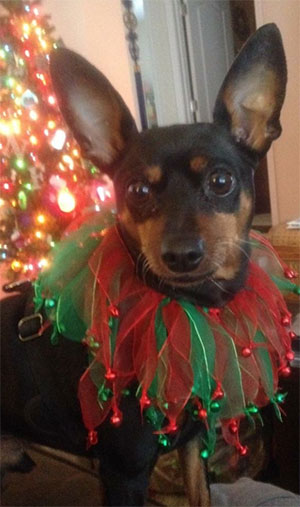 Pet: Chewie Franks (Min Pin)
My sweet boy has the most expressive ears! He's always excited to do whatever life brings!

Pet Owner(s): Sam Price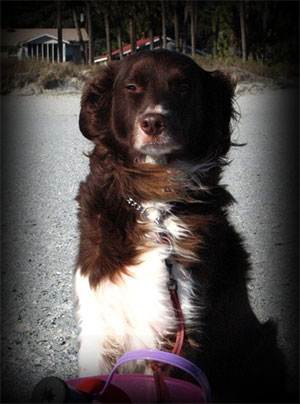 Pet: Buster (Border Collie Mix)
15 years and never a problem, never chewed up anything, never got into trouble. Sweet boy. Had to put him down today.

Pet Owner(s): Jennifer Gnann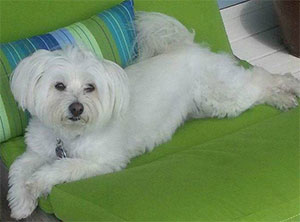 Pet: Maggie (Pomapoo)
Maggie is the Queen Bee at our house. She is vocal and lets you know that she's in charge and at 9 years old maybe she thinks she's the wise elder! She's also sweet and likes to snuggle but being outside is her favorite!

Pet Owner(s): Paul Guest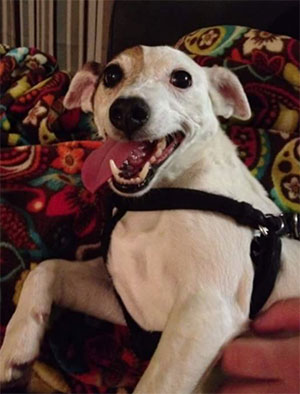 Pet: Ripley (Jack Russell)
Always a happy boy always glad to be around people super friendly loves kids and the beach.

Pet Owner(s): Jason Kechijian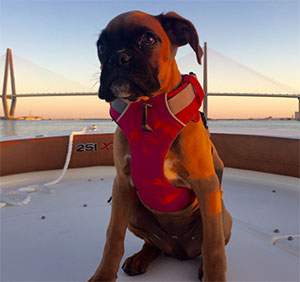 Pet: Rhonda (Boxer)
Rhonda brought me out of a slump after my Layla passed away unexpectedly at the beginning of the year. She is so unique to me because she shares the same bloodline as Layla. She is the calmest and laziest puppy I have ever met, she does not like to get up in the morning…haha….She is a doll, loving, and a joy to be around.

Pet Owner(s): Halee Montie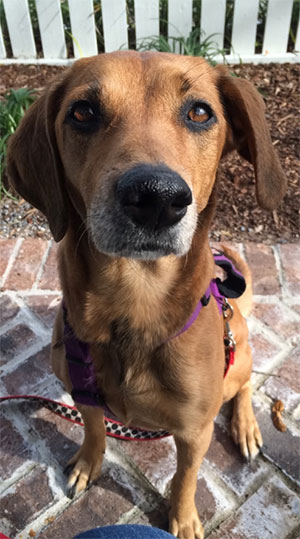 Pet: Darla Jean (Miniature Lab and Rhodesian Ridgeback)
Darla Jean is a one-of-a-kind fur baby. She loves to be carried on your back or your hip rather than walking herself sometimes. She's excited to see and meet everyone and she cuddles like a baby every night.

Consider adopting an animal this summer. Our stories make evident the amount of love they can bring into your life.