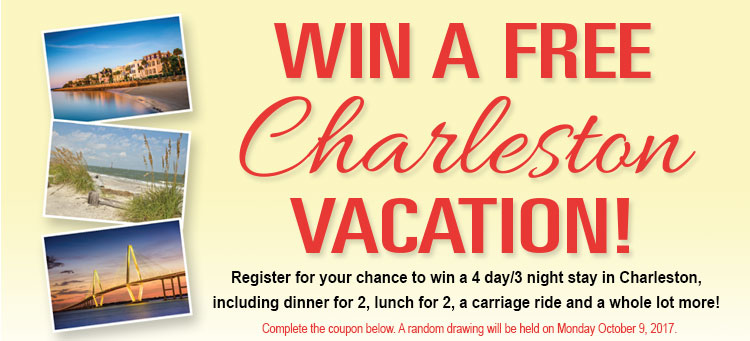 ---
CHARLESTON VACATION GIVEAWAY OFFICIAL RULES
1. ENTRY: No purchase necessary to enter or win. One entry per person. This contest is sponsored by Media Services Inc. dba Mount Pleasant Magazine and is subject to all federal, state and local laws and regulations and is void where prohibited by law. To be a valid entry, ALL information must be completed on coupon. All entries must be postmarked on or before Wednesday, October 4, 2017.
2. ELIGIBILITY: This contest is open only to legal U.S. residents, over the age of 18. No Media Services or Medical Marketing Group advertiser is eligible to participate. No Media Services or Medical Marketing Group employee or member of any employee's immediate family, including spouse, roommate or significant other, is eligible to participate.
3. WINNER SELECTION: A winner will be chosen at random on October 9, 2017. All decisions are final.
4. PRIZES: Winner will receive one 4 day / 3 night stay in Charleston, SC along with dinner for 2, lunch for 2, a carriage ride in downtown Charleston and other prizes to be determined. Winner will have up to sixty (60) days to choose dates of vacation. Dates of vacation must be between November 1, 2017 and May 11, 2018 (excluding all Federal holidays and 2/16-18/2018.) Incidental expenses and all other costs and expenses which are not specifically listed as part of the prize are solely the responsibility of the winner. All federal, state and local taxes associated with the receipt or use of any prize is solely the responsibility of the winner. Prize is non-transferable. No substitution or cash equivalent of prize is permitted.
5. WINNER NOTIFICATION: Winners will be notified via email within 48 hours after the contest ends (midnight on Wednesday, October 4, 2017.) Each entrant is responsible for monitoring his/her email account for prize notification. Inability to contact a winner within forty-eight (48) hours may result in disqualification and selection of an alternate winner. Winner will be required to complete IRS Form W-9. Any tax consequences are the sole responsibility of the winner.
6. GENERAL CONDITIONS: Participants hereby grant Media Services Inc. dba Mount Pleasant Magazine a non-exclusive, perpetual, worldwide license to broadcast, publish, store, reproduce, distribute, syndicate, and otherwise use and exhibit their names, voices, and/or likenesses) in all media now known and later come into being for purposes of trade or advertising without further compensation.
7. USE OF CONTEST INFORMATION: All entries become the property of Media Services Inc. dba Mount Pleasant Magazine. Mount Pleasant Magazine reserves the right to use any and all information related to the contest, including submissions provided by the contestants, for editorial, marketing and any other purpose, unless prohibited by law.
8. NOT ENDORSED BY FACEBOOK, TWITTER OR INSTAGRAM OR ANY OTHER MEDIA OUTLETS: By participating in this contest, you acknowledge that this contest is in no way sponsored, endorsed or administered by, or associated with, Facebook, Twitter, Instagram or any other media outlets and release Facebook from any and all liability arising from or related to this contest. The information you are providing for this contest is being provided to Mount Pleasant Magazine and not to these entities, and will be used to notify you if you have won, and to inform you about special offers from Mount Pleasant Magazine and our trusted partners.
9. CONDUCT: All contest participants agree to be bound by these Official Rules. Mount Pleasant Magazine, in its sole discretion, reserves the right to disqualify any person it finds to be tampering with the entry process, the operation of its web site or is otherwise in violation of these rules.
10. LIMITATIONS OF LIABILITY: If for any reason, the contest is not capable of running as planned, including infection by computer virus, bugs, tampering, unauthorized intervention or technical failures of any sort, Mount Pleasant Magazine may cancel, terminate, modify or suspend the contest. Entrants further agree to release Mount Pleasant Magazine from any liability resulting from, or related to participation in the contest.
11. WINNERS LIST: The names of the winner may be obtained by sending a self-addressed stamped envelope to: Media Services Inc., 1013 Chuck Dawley Boulevard, Mount Pleasant, SC 29464.